A fairy tale ending
Vanessa Aniteye brings home 800-meter national championship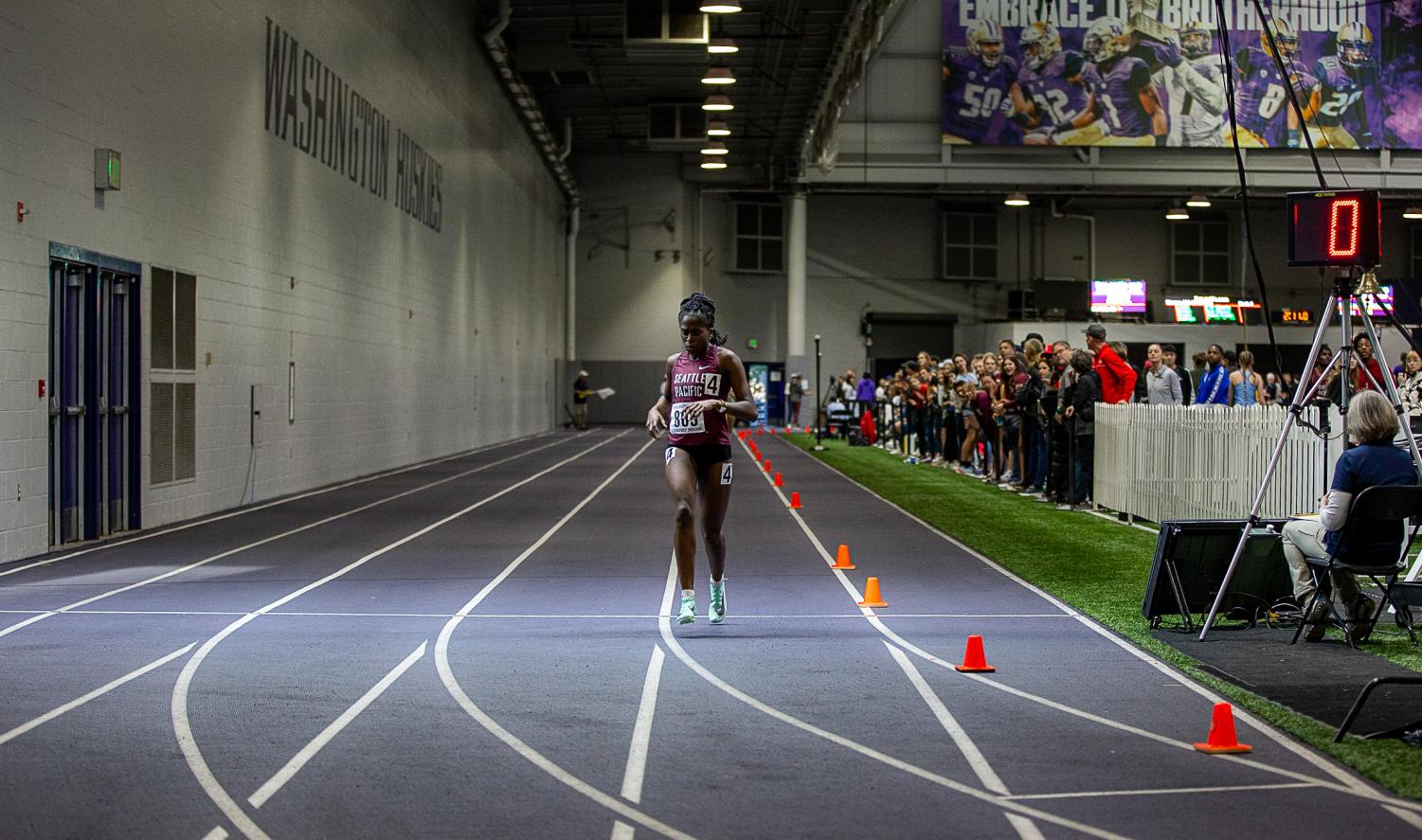 On Saturday, Mar. 11, 2023, the National College Athletics Association's indoor track and field championship was held in Virginia Beach, Virginia. Representing Seattle Pacific University was Vanessa Aniteye, a fifth-year senior and exercise science major.
Aniteye began her college career at Alaska Anchorage, where she ran track for three years before being forced into two-year a hiatus by COVID-19. During her time away from the sport, Aniteye married her husband and gave birth to their son.
Feeling like she left unfinished business in 2019 and with another year of eligibility remaining, Aniteye transferred to SPU in 2021.
"I needed some change. What I did in Alaska, I was able to achieve some good things but to make a big change, sometimes you need a change of training, change of environment." Aniteye said. "In the pregnancy … I definitely missed track, but I also felt like 2019 was one of the first times I got close to running my best in the 400, so I just felt like I wasn't done. Knowing that I still had that year of eligibility, I just wanted to see what I could do, because there was more and I wasn't able to show what I could really do." Aniteye said.
Aniteye finished first in the 800-meter with a time of 2:06.84, over three minutes faster than her qualifying time in the preliminaries: 2:09.56. Her win brought home SPU's 8th indoor championship since 2005. This marked the school's first indoor championship win since 2010 as well as the school's first championship in the 800-meter ever.
"I think being from a smaller school and being able to bring home a national championship title is an honor. I feel honored I was able to do that. I am grateful I got to represent SPU and also able to show that you can be a mom and you can be an athlete. That was just like [a] fairy tale ending to my story, to be able to do that … When I first walked in here with the idea to return to the sport, I don't think they were thinking I'd be a national champion, let alone in an event I started less than four months ago. I feel extremely blessed for sure." Aniteye said.
While her victory came in the indoor 800-meter race, this was not her original event. Aniteye initially ran the 200-meter outdoor event when she first began at SPU, and she was even an All-American last season in the outdoor 400-meter event before switching focus to the indoor season.
"That was not my idea … That was [the coaches] idea, that was something they came up with that they thought would be a good fit for me … Given that indoor was a pretty short season, they wanted [me] to make the best out of it. The idea was for me to build up during cross country and hopefully take that strength to the track in the 800, and be able to use my last season to the best of my ability." Aniteye said.
With her time at SPU coming to an end, Aniteye's plans following graduation are uncertain, but she knows she will keep running. Until then, all she plans to do now is support her teammates as they finish their outdoor seasons.
"I think I'm definitely not done running. You guys might see me doing different things … We'll see what doors might open. I don't have a sponsor or anything like that, but … I'll be running for a little bit longer for sure. I'll think about maybe getting a Master's degree and whatnot, but [it's] not decided yet." Aniteye said. "My teammates still have outdoor, so I plan to still be around and support and set a good example, so … I'm not gonna disappear just yet."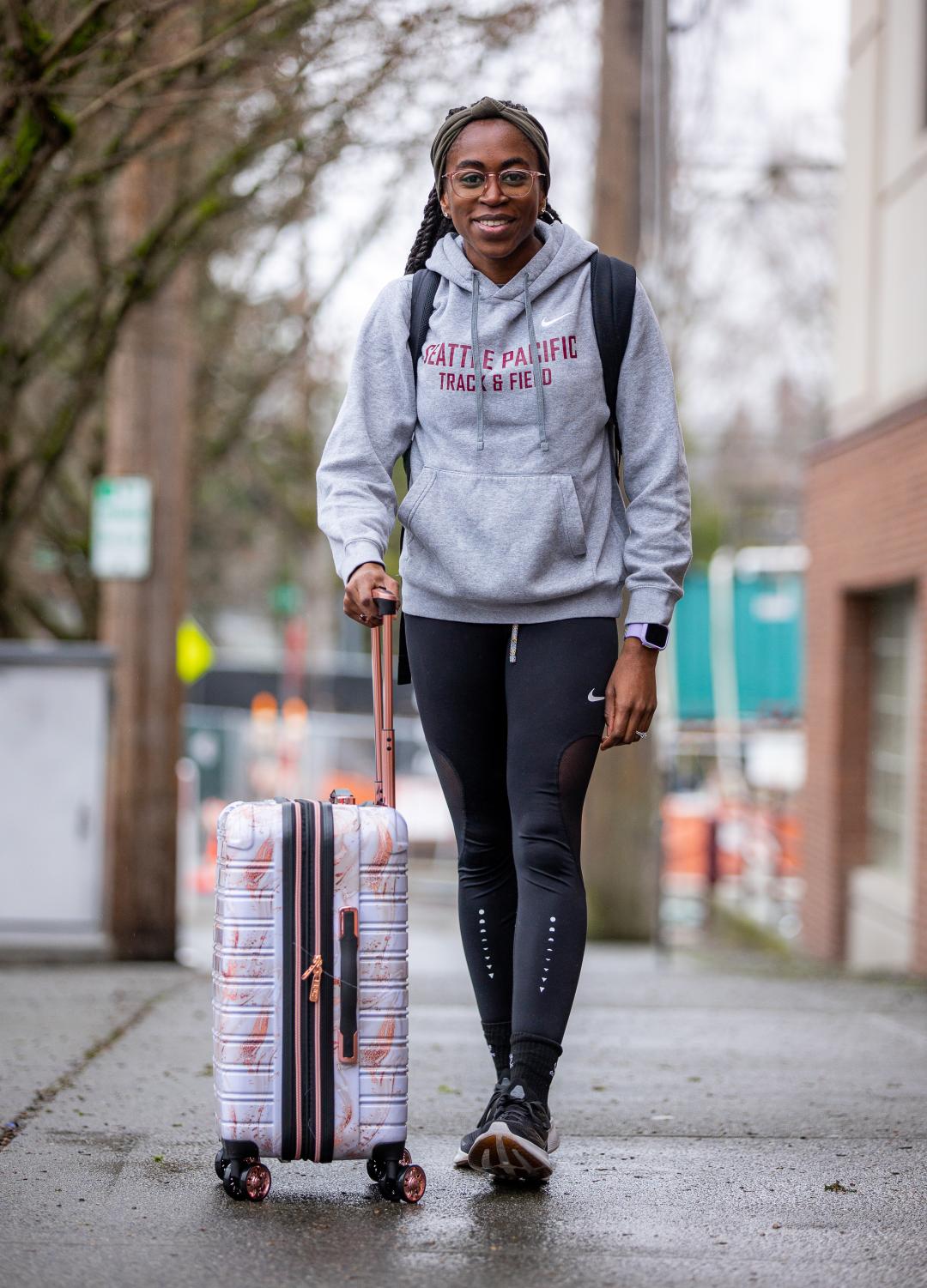 Head Coach Karl Lerun and Associate coach Chris Reed are very proud of Aniteye and all she's accomplished in her time at SPU.
"We're proud of the whole process. We're not just proud of her winning this title … I think the process is what I'm most proud of: a young woman coming to a new school … changes her event focus … commits to cross country. It's quite a journey for a sprinter to go and win an 800-meter distance national championship. That's what separates her title from all the other titles … I'm curious where her running will go next … I'll be excited to watch and find out." Lerum said.
Reed especially commended Aniteye for being able to change her specialized events and bring home a title when it was far from what she intended when returning to the sport. He also believes Aniteye deserves praise for who she is off the track as much as for her championship win.
"She didn't come here with the intent to win a national title, she came here with the intent to finish what she started and write the last chapter of her collegiate story. It wasn't even until this winter that a national title entered our conversation. She was able to change her goals up, which [is] hard to do, especially this late in her career … It's hard to do, [and] Vanessa deserves a lot of praise [for it]." Reed said. "Her journey [is not] just about a national title. She represents more than just a typical student-athlete. She represents foreign exchange students, she represents international students, she represents mothers, she represents wives, and a lot of those groups are not well-represented in the NCAA, so she's championing a lot of people right now."
Returning home a national champion, Aniteye has made her mark at SPU and completed her collegiate story in the best way possible.
"Overall, I'm just extremely grateful that I had the opportunity to come to SPU. When somebody has a child, it's hard to believe in a vision that you see, and I'm grateful my coaches gave me a chance to show that those things are possible. I think we all achieve something great with that."