Fifth-year strong
Women's volleyball player successfully leads team with integrity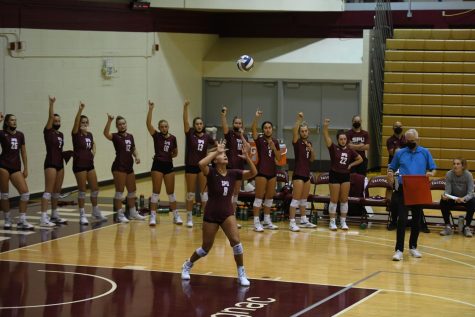 COVID-19 put a damper on both the beginning and ending of life's many chapters. Despite the desire to live normally, time marches on, and many are left to deal with the circumstances they are presented with. However, rather than admit defeat, some prevailed. 
Fifth-year senior Maddie Batiste did not give up when last year's fall season was canceled due to the COVID-19 pandemic. Instead, Batiste was determined to properly conclude her time at Seattle Pacific University. 
"I remember when fall got canceled," said Batiste. "Abbie [Wright] called me and said 'Our season is canceled, what are we going to do?' We were both freaking out, but I told her 'I'm staying. I'm not ending like this.' I knew I had to stay. I knew my work wasn't finished both on the court and in people's lives."
For the 2020-2021 season, all senior athletes from the 2020 season qualified for an additional year of play after their time was cut short or canceled due to safety concerns. 
With another chance at a competitive season, Batiste chose to invest greatly into teamwork, which is a value she gained at an early age playing volleyball with her sisters. Batiste and her sisters attended Central Catholic High School in Portland, Oregon.
"My sisters had a huge influence on the sport of volleyball and why I love it so much," said Batiste. "We went to the state championship all my years, we got second every year except senior year which we got first, but that first year was almost the most special because my sisters and I all played in the same championship game together."
A robust sense of teamwork was instilled within Batiste at a young age, but her role as a leader and skilled player did not take place immediately. It took grit, discipline and humility. 
"I came in, quite frankly, with a huge head. I thought, 'Oh I'm going to SPU, and SPU is a really small program; I'm about to make this my team and I'm gonna start and I'm gonna play all four years. Instead, I was humbled right off the bat," said Batiste. 
Self-achievement coincides with team achievement, and Batiste realized that her goals could only be met with attention to the other players. 
"After I was humbled, weirdly enough, I still wanted those things for myself, I just tweaked it towards the idea that if I can do that, the team will go further," said Batiste. 
Fifth-year seniors often are instilled with experience and wisdom when it comes to athletics. Though a top-down leadership style may seem like a given, Batiste wanted to close the gaps between teammates and build a stronger sense of community. 
"I like to think of it as mentoring, like taking people out to get coffee and seeing how they're doing outside of volleyball," said Batiste. "It works better when you like working together and you put yourself in the younger girls' positions and try to be a servant leader. It's something that I've really really tried to establish in our culture, servant leadership."
The 2021 Tokyo Olympic games brought forth many advocates of mental health. Simone Biles and Naomi Osaka are popular names for the public, but members of SPU's volleyball team know that Batiste prioritizes mental health too. 
"Your mental health is more important than playing volleyball," said Batiste. "If you are not right mentally, you're not going to be right physically. If you're not right mentally for yourself, then you can't be right mentally for the team."
The toil of COVID-19 posed an obvious threat to mental health and the integrity of the volleyball team, but Batiste claimed that the pandemic was an opportunity for her to help the team flourish rather than falter. 
"I think of it as one of the best and worst things that could happen to this program because it forced us to build on our culture, make goals, make a mission for our program and make a vision for our program," said Batiste. 
The 2020 fall season, or lack thereof, posed many challenges to the all athletic teams, but some rose to the occasion. Now that games are back in person, Batiste's leadership as a fifth-year athlete plays an integral role in the team's success. She is currently leading her team in kills with 179, and has the second most digs on the team at 158. Her efforts inspire her fellow teammates to find success in both their games and relationships. 
Abbie Wright, head coach for SPU's volleyball team, reminisced on her first encounter with Batiste and how she had grown throughout the years of their partnership. 
"Maddie was my first recruit ever," said Wright. "She loves the sport but also loves people, so I couldn't have asked for a better first commit and fit. She's such a sweet story in my coaching career and an athlete I will always look back on fondly."
Fortunately for Wright, the season is not over yet. Batiste is not yet done with SPU volleyball and plans on continuing with athletics throughout her life. 
"I'm still so focused on this program before I give my energy to another," said Batiste. "I want to play more volleyball. I want to play volleyball until my body says no more volleyball."