More options than milk or sugar
Make Tea Republik your next stop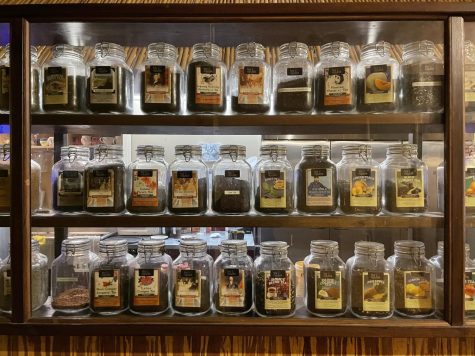 In TJ Klune's "Under the Whispering Door," a tea shop serves as the setting for people crossing over into the afterlife. This book provides a quest: finding a similar location. A repeated line in the book emphasizes that sharing tea moves someone from stranger, to honored guest, to family.
Tea Republik's warm atmosphere proves this to be true. 
The University District is home to an under-the-radar rainy day oasis. Sandwiched between a pizza joint and a Korean restaurant, Tea Republik stands out as a neighborhood favorite due to the welcoming environment and friendly service.
Its dimmed lighting makes passersby squint in the shop's front window. Bamboo runs alongside the tan walls. Lantern lights hang above each table, ranging from blue to pink to yellow. These elements help to make the space feel familiar, even for first-time customers. It feels like being greeted by an old friend. The pleasant atmosphere makes it a wonderful study joint.
People type away at their computers, conduct work meetings, pore over reading assignments and converse with friends. The music is so relaxing that people don't even bother putting in their headphones. Some days the music is string instrumentals, other days it is indie music or Taylor Swift.
The best accompaniments to a great study spot are flavorful food and drinks. Tea Republik manages to provide both.
Their tea offerings range from artisan to fresh fruit, sweetened, green, black, white, chai and more. Loose leaf teas are arranged on shelves, and customers can purchase them in bulk. Other menu items include breakfast bagels, croissants, muffins, french toast sandwiches, danishes and various cakes. There is little chance for disappointment.
Tea Republik's most popular menu item is the lavender creme earl grey tea. A blend of creme earl grey black tea and lavender herbal tea, it feels like a perfect rainy day beverage. This drink has a warm and sweet flavor that is not overpowering. 
The foggy taste of the earl grey pairs flawlessly with the floral hints of lavender. If people decide to dine in to drink their tea, the shop employees serve it in a teapot with a small ceramic mug.
A snack that best compliments the lavender earl grey tea is a poppy-seed muffin. Between sips of the rich drink and bites of the lemon-hinted pastry, this is a delicious pairing worth sharing.
If people want something less warm and more fruity or summer-like, another popular menu item is the Waikiki tea. This beverage features the flavors of apple, peach, raspberry, passionfruit, and various other citrus.
Tea Republik has options for every feeling. Often, people try to find places that feel like theirs. Look no further. Tea Republik is the embodiment of this feeling. Friendship. Community. Warmth.
"The first cup moistens my lips and throat
The second cup breaks my loneliness…
All the wrongs of life pass through my pores
At the fifth cup I am purified."
–Okakura Kakuzo, "Tea and Me"