Tacos for two
Unleash late-night cravings at Memo's Mexican Restaurant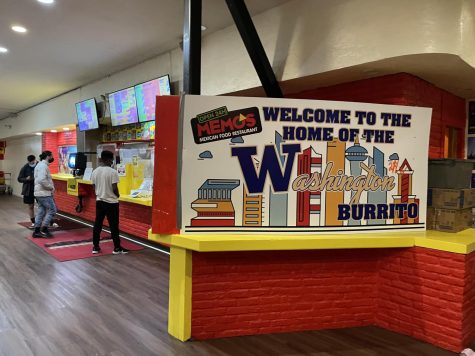 Every day, Seattle Pacific University students fall victim to late-night cravings brought about by dissatisfying Gwinn dinners and overly-expensive groceries. The quest to find cures to this affliction can be difficult, but with a variety of options all over the Seattle area, a solution is never far away.
Screech through the sharp turn onto University Way from the uphill thoroughfare of 50th Street and one will encounter the white walls surrounding Memo's Mexican Restaurant, which prides itself on low-priced burritos.
Memo's Mexican Restaurant is a low-priced local establishment, open from 6 a.m. to 2 a.m. and is known for its burrito variety and affordability. The original location on University Way has been a Seattle staple since 2008. Due to the proximity to the University of Washington, it has become a primetime destination for college students looking for a cheap late-night meal.
The colorful restaurant automatically makes one feel at home, and the open-concept nature of the space gives customers the opportunity to remain socially distant. The cashier sits close to the restaurant entrance, with a huge area to the left that contains maybe a half-dozen tables.
The ordering process can be difficult during busy hours as the thick plexiglass, in place for pandemic protection between the customer and the cashier, blocks most of the sound necessary for effective communication.
Customers are of all ages, but being near UW, it becomes clear that this affordable dining spot is a favorite for young college students searching for a tasty dinner on University Way.
Items on the menu include tortas, tostadas and a breakfast menu from 6 a.m. to 4 p.m. that features dishes like a chorizo breakfast or huevos rancheros.
The prices are enough to make a poor college student weep tears of joy. Burritos range from $6.50 to $8, a seemingly impossible convenience in a robustly expensive city like Seattle.
The waiting time is about 10 minutes, a little much for one burrito, but not completely unreasonable.
The food that came out was plentiful in its portion size and was more than enough to fill the stomach of the average human being—or possibly college athletes at UW and SPU.
The wet burrito can lead to mixed reviews. The enchilada sauce was a chorus of tomato and pepper, but the inner contents of the burrito had a less diverse flavor palate. One giant tortilla stuffed to the brim with beans topped with bland cheddar cheese leaves the entire ensemble grasping for a bit more flavor.
While the burrito was not to the liking of some, the zesty ground beef nachos were not only affordable but tasty as well. The structure of the dish included crispy tortilla chips, a Mexican blend of cheese, topped with refried beans, savory ground beef, chopped onion, refreshing pico de gallo, zingy sour cream and fresh cilantro.
The crunch and spice of the beef nachos paired perfectly with a flavorful soft-shell corn tortilla chicken asada taco topped with guacamole and Mexican salsa for only $2.75 extra. The delectable duo was a wallet-friendly meal for a late-night on the town.
They claim they are the best authentic Mexican cuisine in the Northwest, so if customers are in need of catering-sized orders, Memo's Mexican Restaurant offers party trays for bigger groups with dishes like super taquitos, super nachos or super quesadillas.
With steady business and the local college-student following, Memo's Mexican Restaurant has locations in Seattle, Des Moines, Everett and Tacoma.
While this spot may not feature state-of-the-art cuisine, it is an affordable option for students with several items on the menu that are of high quality and good taste for a reasonable price.