Shenanigans at Shapadooah
Students enjoy final all-student event before summer arrives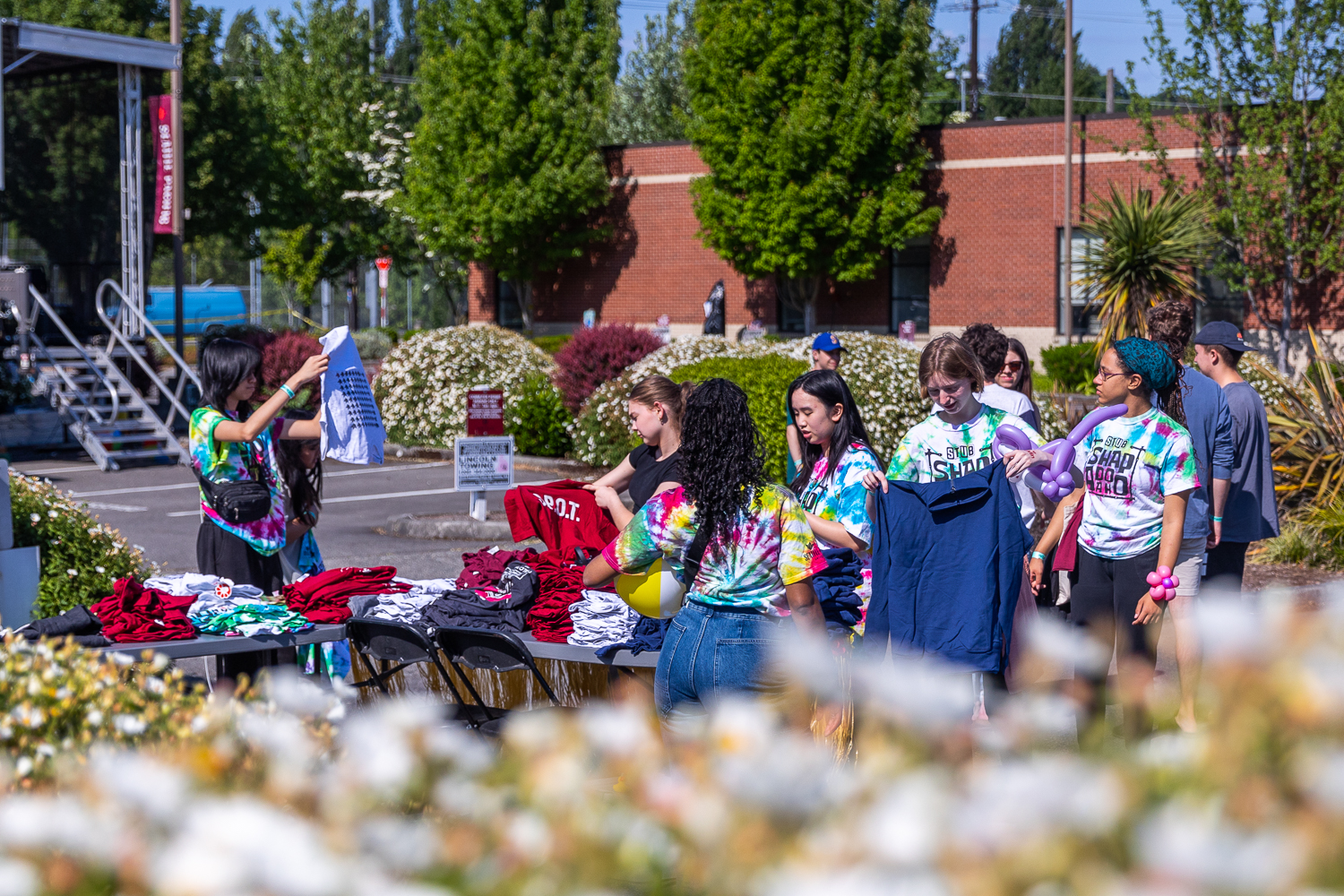 On Thursday, May 25, SPU's Student Union Board partnered with some of Seattle Pacific University's most creatively-inclined clubs to bring its students together for one last school-wide event before parting ways for summer.
The event centered around the musical components of three local bands spanning over four hours. The stage was impossible to miss with so many students dancing with pool floaties and playing with beach balls, along with others who wisely brought blankets to sit on. Even better, three food trucks with a variety of foods were parked at the entrance of the event, ready to serve anyone looking for something tasty to combine with the music.
The food trucks sold a range of foods from burgers and tater tots to tacos and burritos to acai bowls and poke. Refreshments were sold as well with the highlights being ice cream, smoothies and Jarritos. The students who tried the burgers and tater tots said they would definitely get them again in the future, and there were  many people carrying acai bowls.
Victoria Thornton, a senior Business major said that if she could, she would have gotten the tacos because of how delicious they looked. She recalled, "One of my friends got them and if they were a little cheaper I probably would have too."
If students were looking for something active to do, STUB offered something for them too. Toxic Waste, an inflatable wipeout machine, dared students to last as long as possible jumping over one bar and immediately ducking to avoid the next. Many students tried it for the first time with their friends, some taking it as a serious challenge while others laughed at the sight of their friends getting whacked with padded bars when they could not jump quite fast enough. If someone needed a break, they could always stand off to the sides to catch their breath from the workout. Along with Toxic Waste, students were provided with games like corn hole and plenty of beach balls to play volleyball with while waiting for each band to play.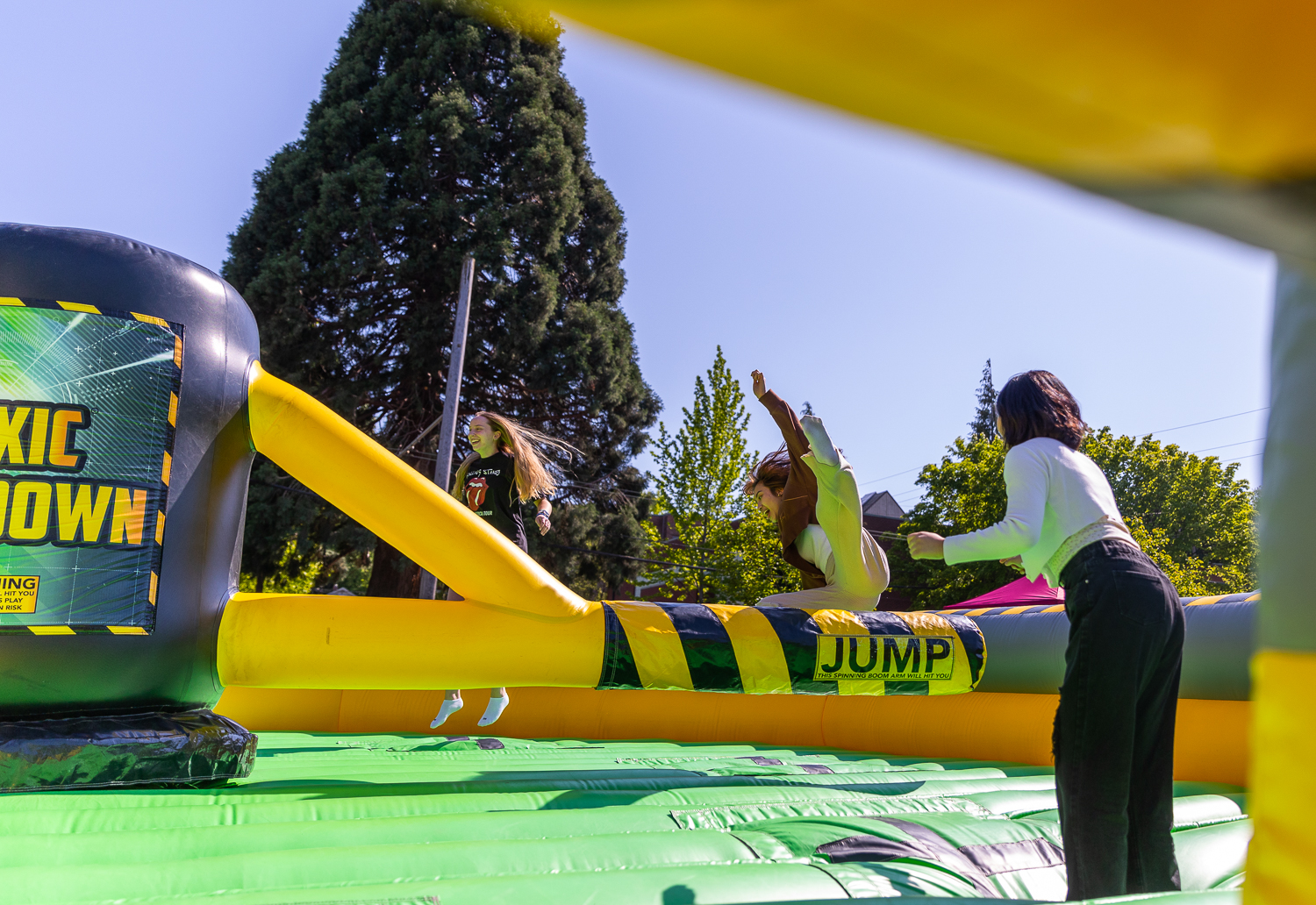 Max Vance, a first year honors and music major, was one of the students looking for something active to do. 
"I got wiped out a couple times, but I think I won. I beat the machine," Vance said. "The mathematics of this machine are such that the middle turns faster and faster. So you duck and then you jump and then you duck and then you jump. And then all of a sudden you duck and then you duck because it turns around. So then it keeps going and then eventually one of them either sweeps your legs out or it hits you in the face. And then you keep going, unless you're a quitter, and then you stop."
Even students who were unsure of their capability of taking on the challenge were free to try it out. First year music and honors major Elizabeth Thompson commented on her prospects of trying Toxic Waste. 
"Well, I'm thinking I'm grossly uncoordinated, but it looks like such a fun time that I'm tempted to do it, but I'm also a little bit afraid that something will go wrong."
For the students who love free merch, University Ministries was giving away free extra shirts and coverups they had accumulated over time. All students had to do was pick a rubber duck from a kiddie pool with a number on the bottom of it. If the bottom had a gold duck, students still got free stuff, instead in the form of a beach ball with the word "Shapadooah" written on it.
Headcount handed out free chocolate bars for anyone who had already registered to vote before the event. For those who hadn't registered yet, volunteers for the non-profit were ready to help anyone with any desire to register to vote or answer questions students had about registering or updating their information. West Coast Regional Supervisor of Headcount, Anne King, did not expect as many students to sign up as they did on Thursday. Not as many people sign up to vote with them at the concerts she volunteers at, so she was quite happy about the turnout.
And for imaginative students and staff alike, a balloon station was set up, manned by Rebecca "Becca" Wegener, who is a graduate assistant with University Ministries. If students wanted a balloon animal or accessory, all they had to do was find a photo online, and Wegener could whip it up. 
"My favorite balloon to make was definitely the flamingo hat, and the hardest one to make was a jet pack," Wegener said. "Anytime I get the opportunity to make young adults balloons, it's really fun because they are just more confident in their choices, and they ask for really cool things. And then the patience level of young adults is honestly the best ever."
The other clubs who attended included KSPU, The Falcon and Lingua, who make up a majority of the student-led media groups on campus. Lingua's spring issue came out at the event, and early on in the evening, they were selling copies of their journal to any who were interested and giving their contributors a free copy so they could enjoy their work. If students wanted free art stickers, Lingua provided different variations so students could choose the color combination that best suited their vibe.
After University Ministries cleared out their booth of tattoos and instruments to help students get involved in the music, The Falcon moved in. This booth included copies of the adventure-themed newspapers handed out within the past month, and totebags that were sold for five dollars each.
KSPU helped to provide the music at the event, including the songs in-between the bands that played and brought the bands THEM, Hi Crime and artist Sydney Sprague. 
The first band to play at Shapadooah was THEM, which features 4 women, Thompson, Hudson, Ellie and Maia, all of whom are between the ages of 17-21. The group has shared bills with acts including Duckwrth, Blu DeTiger, Dayglow, Jens Lekman and MICHELLE. 
The next band to play was Hi Crime, an indie-pop group started in 2015 with songwriters Brielle Rutledge and Mitch Etter. They expanded into a full band in 2017, and have been playing shows in Seattle ever since. 
The final artist to play was Sydney Sprague, a 29-year-old from Phoenix Arizona with an admiration of Avril Lavigne and a talent for writing her own music. Her first songs began coming out in 2021, and her most recent song was released on May 12, 2023.
Thornton, a member of OSIL and a former STUB member, reflected on how she learned about which bands were going to play at the event.
"Kevin Deschler told me that she [Sprague] would be performing when he was planning Shapadooah because I work in the Office of Student Involvement and Leadership," Thornton said. "So, we checked out some of her music. It was cool. I know he was super excited about all the artists, and I think it's really cool that we have a lot of local Seattle artists too. I've been impressed by them."
Between each musical act, STUB made sure students were always entertained. With all of the booths set up, students had so many activities to choose from, though most chose to spend the majority of their time listening to the music with their friends or dancing along. With this as the last all-student event on campus this school year, students are finally ready to welcome the summer.