Esvelt runs wild
Cross country runner continues impressive first year ahead of NCAA Championship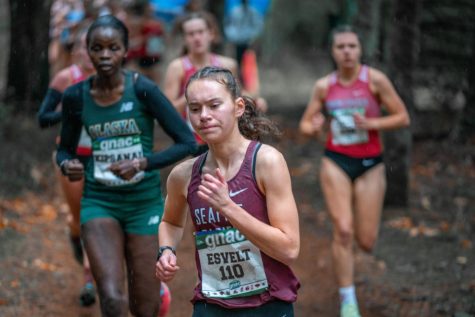 Sophomore Annika Esvelt has had a phenomenal start to her cross country career. She finished third in the season opener, had two first place finishes at the Pacific Lutheran Open (PLU) and the Chambers Creek College Open, and placed 19th in the Western Washington Bill Roe Classic. This is Esvelt's first year competing for the cross country team, and she is making the most of the season. 
 Entering the Great Northwest Athletic Conference (GNAC) Championship, the first postseason event of the season, Esvelt ran to a ninth place, all-conference finish at the championship on Oct. 23. She led the women's team to fifth place in the GNAC standings. With a time of 20:06.30, she beat her previous best by nine seconds, which she had achieved at the PLU Open earlier in the season. 
"The season has been a lot of fun, I have really enjoyed staying healthy, growing in fitness, and getting to know my teammates more," said Esvelt. "I have also enjoyed having such a small team this year because we are tight knit. Because we do not have a lot of distance runners, we have been able to get to know, and push the limits of, some of the sprinters who have raced for us." 
Along with the amazing season Esvelt is having, she is more than just a runner and takes pride in the activities she does outside of SPU athletics. 
"Outside of running, I find joy in a lot of activities, like school and piano, in which I have developed several favorable character traits like perseverance and patience, but neither those, nor running, really represent who I want to be." Esvelt said. 
Majoring in applied human biology, Esvelt wants to be an occupational therapist, a physical therapist or a physician's assistant because she sees herself as empathetic and fair-minded. She believes that people can be better understood and helped when you look at one's whole self.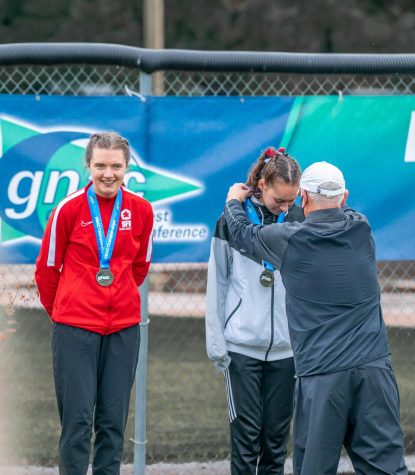 "I think it's important to take care of each other because people are so much more important than the little things that take up a lot of our time and thoughts. It's not just about giving people equal amounts of respect, but also about giving everyone love," Esvelt said. 
Esvelt's passion for connection and love translates into her role as a runner on the cross country team. One of the highlights of her season has been spending time with her team and creating long-lasting memories with them. 
"One of the best parts of this season so far was going to the pumpkin patch with the distance squad and having dinner together. Each of the years brought a part of the meal and we ate a fall-themed meal together," Esvelt said, "Another awesome part of this season was taking a couple of trips out to Whidbey Island for workouts. The view is super beautiful over there, and the ferry ride can be a bit of an adventure."
 While she is enjoying the cross country season, Esvelt is excited for the first indoor track meet in the winter. 
"I am definitely looking forward to our first indoor [track] meet in December because it will be in my hometown, Spokane, and I will get to see all my family and friends," Esvelt said. 
For the track season, Esvelt states that she will mostly focus on the 1500 meter event for both indoor and outdoor track seasons, but also wants to do the 3k event during the indoor season and 5k during the outdoor season. Esvelt is also open to competing in the 10k, 3k steeple, or the 800 meter events. 
Next up on the calendar for Esvelt is the NCAA West Regionals, which will take place in two weeks time, on Nov. 6. Esvelt says this race is one of the most difficult on the schedule, but that's what makes it the most fun.