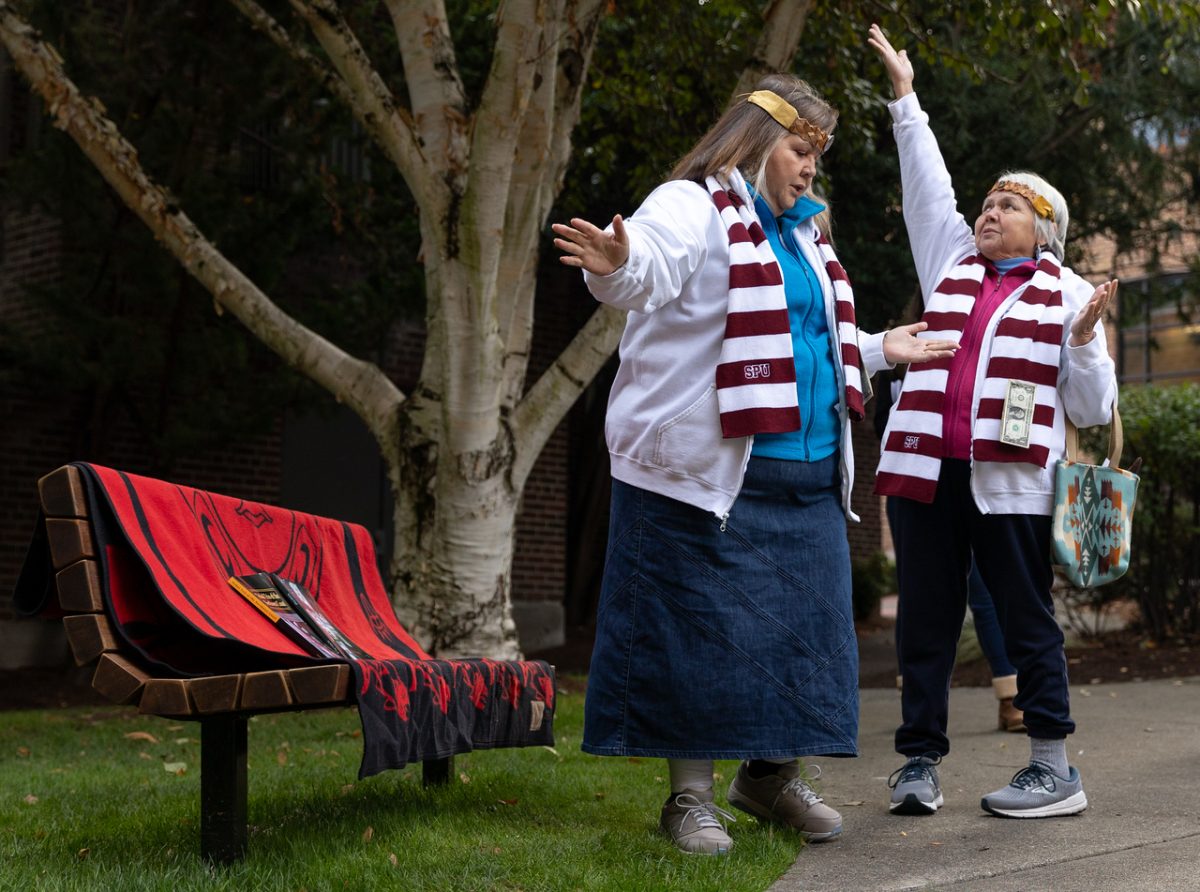 In late October of 2023, Seattle Pacific University faculty, staff, students and friends gathered to honor the legacy of the late Professor Emeritus of Anthropology Ken Tollefson with the installment of a friendship bench. 
Friendship benches have grown in popularity in past years as an alternative and more interactive way to honor those who have passed. The idea is that the bench will allow for further camaraderie and connection to be made in honor of loved ones and community members who have passed. 
Tollefson joined the SPU community as a professor and Resident Life Coordinator for Hill Hall in 1965, quickly becoming a pillar of faith and activism. Tollefson worked throughout his time at SPU with the Snoqualmie and Duwamish tribes to make the Snoqualmie Falls a historical site and establish the Duwamish tribe's legal acknowledgment. 
Susan Siverson, budget manager of the school of education and daughter of Tollefson, remembers seeing her father's unparalleled commitment to justice and service. 
"He was just very passionate about his work. It was also part of a ministry for his life. It went beyond just getting up and going to the office and doing his duty; if he saw something that needed to be done, he just jumped in and did tasks," Siverson said. 
One of Tollefson's crowning achievements was constructing and implementing a Tlingit-carved traditional story pole behind Alexander and Adelaide Hall. The Tlinglit tribe, who inhabit a small remote island of Alaska, Angoon, embraced Tollefson into their community. Tollefson felt called to work alongside indigenous communities, advocating for their rights and acknowledgments. The story pole has become a place of reflection and tribute to the ancestral land upon which SPU is built.  
While not all his efforts were realized in his time, his work alongside indigenous tribes earned Tollefson lifelong bonds based on mutual reverence. University registrar and daughter of Tollefson Kenda Gatlin felt deep gratitude and amazement seeing all people come together to honor her father's legacy. 
"I was just in awe that someone who retired decades ago is still remembered and is still one of the ideals for someone who does the trifecta: the teaching, the research and the care of others and students in particular," Gatlin said. 
Dr. Brian Lugioyo, dean of the school of theology, was inspired to add a friendship bench overlooking the story pole to pay tribute to Tollefson's genuine work and relationship with Alaskan and Coast Salish tribes and communities. 
"His love and advocacy with our neighbors [the Snoqualmie, Duwamish and Tlingit tribes] beautifully modeled the Christian life of friendship," Lugioyo said. 
Though Lugioyo never met Tollefson, having only been a part of the SPU community since 2021, the significant effect of Tollefson's genuine character was apparent. 
"I would hear stories about him from his colleagues that are still here. I quickly came to know that he was an SPU saint beloved by his colleagues," Lugioyo said. 
Lugioyo decided that the Friendship Bench would be dedicated in both English and Lushootseed, the language of the Coast Salish people, symbolizing not only Tollefson's inspiring work and character but also a tribute to the communities he worked with. 
"This bench not only honors my dad, but it also honors the carver [of the story pole], the different native or first people groups; it was a marvelous tribute to a hardworking guy," Siverson said.  
Dr. Ken Tollefson continues to remind the SPU community to lead their lives with a thirst for knowledge and fellowship. 
"He's one of our saints, and this bench will help us in the discipline of remembering and living into friendship with our indigenous neighbors," Lugioyo said.