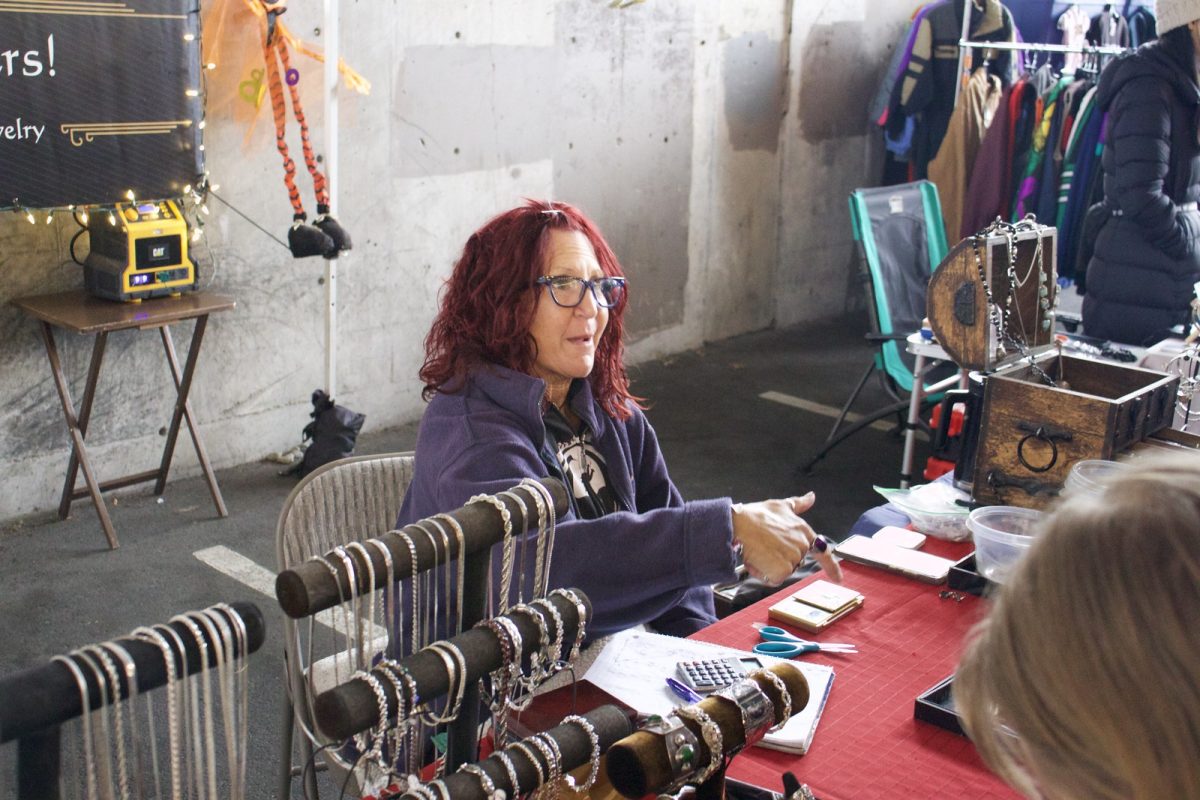 Sherri Morse sits at a table littered with boxes on boxes of jewelry over a red tablecloth every Sunday. Her booth, "Finders Keepers," is crowded by Fremont-goers as long as the neighborhood's Sunday market lasts. Known as 'The Ring Lady" by those who frequent her selection, she wears the title well.
With two silver, gemmed rings to a finger, Morse bustles to the grocery deli table I have chosen. She drops her water bottle on the table, and, already walking away, tells me to hold tight while she uses the restroom. I haven't said 'Hello' yet. When she's seated, she leans forward, the twinkle in her eyes hinting at the surprises about to break loose.
Morse has been 'The Ring Lady' for nine years, a single mom for fourteen, and, before she retired, a competitor in barefoot water skiing for nearly twenty.
"I started dating this guy, and he was in a boat. He crawled out there and skied on his feet, and I was like, 'Oh. My. God,'" Morse said, emphasizing every syllable with a slap on the table. "If you can do that, I can do that."
Fifteen years later, she was a world champion in the sport.
"It was my life," Morse said. "I traveled the world – all over the U.S., Africa twice, New Zealand, Australia, Germany. It's who I am today."
Training on a private, man-made lake for the greater part of every week, Morse honed her skills in forward and backward skiing, perfecting nearly every trick in the book. When her nemesis could not compete at the world championship, she knew her time had come.
"They took the total for three events – I was just okay at two events, okay, but solid – the other one, I was so far out there," Morse explained, reaching her left hand far to the side to demonstrate. "And the number one was me."
After waking up at 41 with a feeling it was time to move on, she retired from water skiing. A couple of years later, Morse woke up to a new feeling: she wanted a baby.
"I just got to a point where I needed, I don't know, I wanted to have a life," Morse said, sitting unexpectedly still. "So I got a baby, and now she's 14."
Her daughter, likewise an athlete, expressed her interest in water skiing to her mother. Morse, as realistic as she is spunky, is encouraging her with minor hesitancy.
"She wants to be really, really good, and I'm like, 'Peyton, it takes a lot of time. It's not going to happen overnight.' It takes a lot of sacrifice," she pauses, making direct eye contact. "It's very isolating."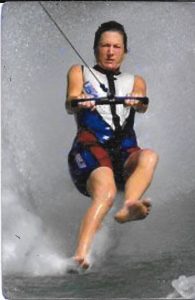 Barefoot skiing not only isolated Morse but hurt her too — the sport shot her legs, causing her to go through surgery for two hip replacements. Today, she walks with a hobbling gait.
"That's what did it. That's why my legs were gone, because of barefooting. It ruined my legs and joints," Morse said, tapping the table ting! ting! "You'll see the pictures and understand why."
Through obtaining champion status in barefoot water-skiing, being forced to retire from her day job as a loan officer, and heading back to school during the COVID-19 pandemic to study cybersecurity, Morse has seen quite a bit. After receiving an opportunity to obtain and sell mass amounts of silver jewelry, she opened "Finders Keepers" and now frequents markets around Seattle. It all started and continues in Fremont.
Morse has occupied the same spot since she arrived at the market, characterizing her corner with a crowded table and loud conversation. Diana Munoz, owner of the local business "Sunshower," fills the booth directly next to "Finders Keepers" with jewelry and suncatchers at the Fremont Sunday Market.
"She is really fun to be around," Munoz said. "She's always here, and the energy she brings to the market is great. She's a staple."
Morse sourced her rings originally from a silver-melting friend who offered a box of miscellaneous jewelry for her to try and sell. If she received 100 grams of jewelry and sold 30, she would owe her business partner 30 grams at the original price. If she paid $1 for a ring, then sold it for $30, she made a distinct profit.
"I just took her box, tried to sell what was in it and then whatever I brought back that order the difference. She'd be handing me hundreds of thousands of dollars worth of jewelry," Morse said. "And whatever profit I made on that was all mine. She just wanted to make sure that she got her box back."
Rylee Brown-Moore, owner of the clothing resale shop "Rylee's Runway," is just down the row from "Finders Keepers." She's a seller, but a buyer as well – of Morse's rings.
"I am a person who likes to have my fingers, like, look good," Brown-Moore said, showing off her silver bands, all of which came from Morse. "I frickin' love Sherri, she's funny, she's a li'l bit crazy! I've been wearing her rings for a really long time."
On Sunday, Oct. 15, Morse made a net profit of $1100 in five hours. The jewelry is largely what she dubs "grandma's jewelry box," full of unique pieces sold to melt.
"Everything you see on my table, everything I sell, is stuff that people throw away," Morse said. "That's the thing about this type of jewelry, right? It's differentiated. Nobody else has it. Nobody."
Because of her unique jewelry, Morse remembers hands and faces, particularly those of her very favorite customers: college students, especially the ones right across the canal.
"I call you guys at the college 'my kids.' You guys are the people that drove my business from COVID," Morse said. "Thank your friends for that."
Every Sunday, Morse greets her customers in Fremont with a wide array of silver, speedily calculating prices and keeping up one, two, three conversations at once. Beneath her loud countenance and successful business, Sherri Morse boasts a love for and a past full of the unexpected.