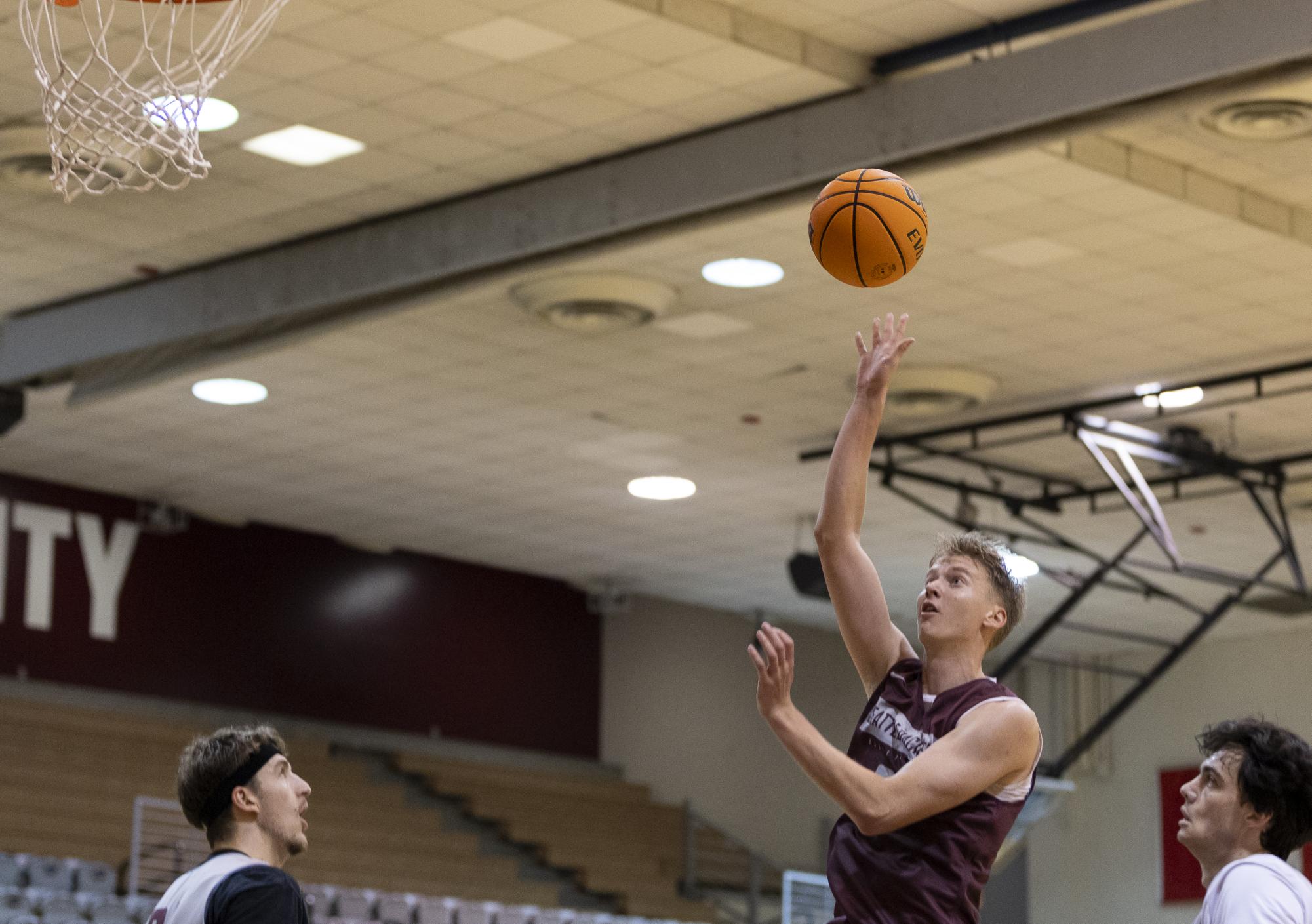 University of Washington graduate Kyle Luttinen decided to prolong his basketball career by taking his talent a few miles down the road, transferring to Seattle Pacific University. 
Luttinen finished his second season with the UW Huskies in March of 2023 and graduated in June with a degree in finance from the UW Foster School of Business. With another two years of eligibility left, Luttinen had to decide the fate of his basketball career.
"I had to decide whether I wanted to stay at UW, stop playing ball and get a job, or enter the transfer portal and find a new place, which is what I did," Luttinen said. 
Growing up in Seattle, the close proximity to home was another key factor that led to Luttinen's decision to play for SPU, having an established history with the players and coaches. 
Interim SPU men's basketball head coach Keffrey Fazio has known Luttinen since he was 10 and coached against Luttinen in his last high school basketball game. 
"It matters at this level that there's some familiarity and a pre-existing relationship. That's not the only thing. When you got a good player who's talented, fits a need and there's this relationship, it's kind of a no-brainer," Fazio said. 
Furthermore, Luttinen and SPU point guard Maui Sze were both thousand-point scorers at Roosevelt High School in Seattle's reputable Metro League, sharing the backcourt for two years. 
"We always had a great connection on the court, and we would hang out on the weekends. When I found out he was thinking about leaving [UW], I told him, 'It would be awesome if you came here. We could play together again and run it back,' and it all lined up perfectly," Sze said. 
While playing on the court with Sze for the first time in four years, Luttinen feels a sense of deja vu.
"The difference between now and high school is we've been coached in college more, so you'll see less errant shots from us combined. But our chemistry is better than ever, and when I'm on the court with him, he knows what I'm thinking, and I know what he's thinking," Luttinen said. 
One adjustment that Luttinen faced early on was the transition to graduate school, seeing apparent differences between being an SPU graduate student and a UW undergraduate student. 
"Grad school has got a little less in-person classes, more [work] outside of class. Many friends I grew up with were in UW classes with me, whereas here, I'm in classes by myself. I got night classes now instead of morning classes, but over the last few weeks, I'm finding a good pace," Luttinen said. 
On the court, Luttinen brings a ton of experience to SPU. Coming from a Power Five Division I team, Luttinen has played against the highest level of competition that college basketball offers. It is unique for a Division II basketball player to have that kind of exposure. 
SPU assistant men's basketball coach Donald Rollman is excited about the presence Luttinen brings from his time at UW. 
"He's a comedian, he's very funny. But he gets after it too. Being at that level, he's got that experience with him. Even though he hasn't played a ton on the floor, he brings a veteran presence. He's been great with communication and has taken a leadership role that has come faster than we thought," Rollman said. 
UW assistant basketball coach and Seattle basketball legend Will Conroy may know Luttinen's game better than anyone, having spent countless hours in the gym with him over the last few years.   
"With us, [Luttinen] got better in a lot of ways. He got stronger. His shot became more consistent. He became a better ball handler and understood how to get his shot off against bigger, more athletic guys," Conroy said. "A quite underrated thing you'll learn about him is that he's a good shot-blocker. He's got a good knack, good eye and good timing for blocking shots."
Reflecting on his time with the Huskies, Luttinen will remember living out his dream of playing under the bright lights of Hec Edmundson Pavilion against the nation's top-tier talent. 
"I grew up five min away [from UW]. It was always my dream school. I will be a Husky for life. Traveling in the Pac-12 schedule, playing at big-time venues like Gonzaga and UCLA. But all that is minimal compared to all the memories with my teammates and relationships I will carry forever," Luttinen said.  
Looking forward, Luttinen is eager to compete for a conference championship and a ticket to the NCAA tournament. More so than anything, Luttinen is happy to continue playing ball in front of his family and friends. 
"My family came to every home game at UW, and they'll come to every home game at SPU. My brother and sister both live in Seattle, so them, my friends, family [and] girlfriend will all be here. I know I made the right decision," Luttinen said.