Balancing inexperience with leadership
Volleyball learning to gel together after bringing in eight new players
Seattle Pacific University's Volleyball team has begun a new season, and with this season comes many new faces as the Falcons bring in eight first-year players from various cities in the states of Washington, Oregon and Arizona. With four key players from last year's team having graduated, there will be open spaces ready to be filled by these newcomers. 
Eight players have returned from last years team, averaging out the team's collective experience. 
"There's a lot of fresh faces and fresh ideas, and everybody brings something important to the team and so there's a lot of new variety and depth to our team," said senior libero Mallie Donohoe. "And that's super exciting and I think all of our girls are really eager to learn, and really eager to listen and go far this season." 
It was a rough end to last season, as the team came up short in six of the team's last seven contests. Overall, the Falcons finished the season sixth in the Great Northwest Athletic Conference standings, with nine wins and eleven losses. 
"We had a lot of close games last year that didn't go our way," said three-year Head Coach Abbie Wright. "We're looking this year to be really good with our eyes and really good with reading the game and learning that, because I think the better we get at that, the more those tight games have more of a probability of going our way."
Coach Wright wanted to emphasize the team aspect of the game this year. One of her goals is to have a balanced and well spread out offense with many players helping to score points. 
Wright said that, "everyone seeing their role and seeing how important they are no matter what their role is" can help lead to building the comradery of the team and get them to work together better.
According to freshman setter Lindsey Lambert, "You have to get a good pass in order to get a good set and you have to get a good set in order to get a good hit, so just like depending on your teammates is really important and trusting them that they have your back." 
Volleyball is also a game of individuals, and one of the individuals the Falcons will be relying on is senior Gabby Oddo. 
On Aug. 26, Oddo, an outside hitter, was named to the All-Great-Northwest-Athletic-Conference preseason team for the third time in her career. Oddo also has a total of 1,119 career kills, forceful hits made by a player that the other team cannot return. This is a number that only four other people in the history of Falcon volleyball have ever been able to reach.
Still, Oddo sees team play as the key to the Falcons' success this year. 
"I think the biggest thing is just playing as a team and playing cohesively and making sure that everyone is doing their part and once that is done then everything will hopefully just flow together in the end," she said. 
The Falcons started the season by recording three wins and five losses in two separate preseason tournaments in California.  
The team's first win came in their first game of the season against Cal State East Bay, sweeping the Pioneers and winning all three sets of the match. Junior Maddie Batiste led the team with 14 kills and 10 digs. Oddo had five kills and 11 digs; Lindsay Lambert had 29 assists in her first collegiate match.
After three straight losses, the Falcons bounced back one week later to defeat Cal Poly Pomona in three out of five sets. Oddo and Batiste again led the team in kills with 15 and 13, respectively.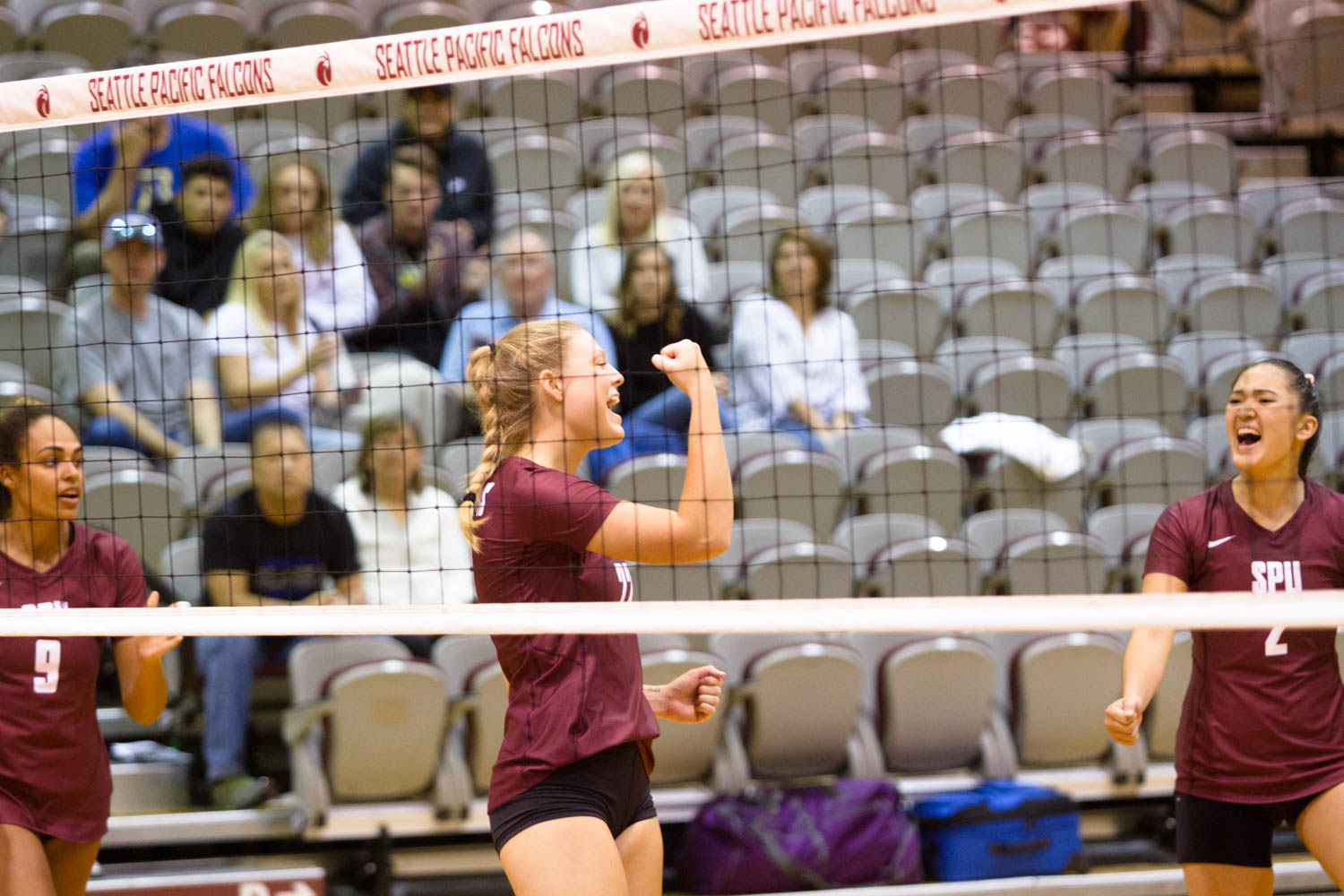 After two more losses, the Falcons beat Chaminade, winning three sets out of four. Taylor Alicuben had 26 assists for the Falcons, and Mallie Donohoe had 22 digs.
The Falcons hit another bump in the road last weekend when the University of Alaska Anchorage and the University of Alaska Fairbanks came into town and the Falcons opened up their conference schedule. In their home opener, Alaska Anchorage bested SPU in three straight sets, their narrowest margin of victory being seven points. The Falcons played Alaska Fairbanks much closer two days later but, again, lost each set to the Nanooks.   
From here, the Falcons will go on the road to face Central Washington University Thursday, Sept. 26, and Northwest Nazarene University Saturday, Sept. 28. After this, they will return home to take on Concordia University Thursday, Oct. 3 and Western Oregon University Saturday, Oct. 5.