All systems go for women's rowing
Women's rowing team set for 2023, strong start in PLU invite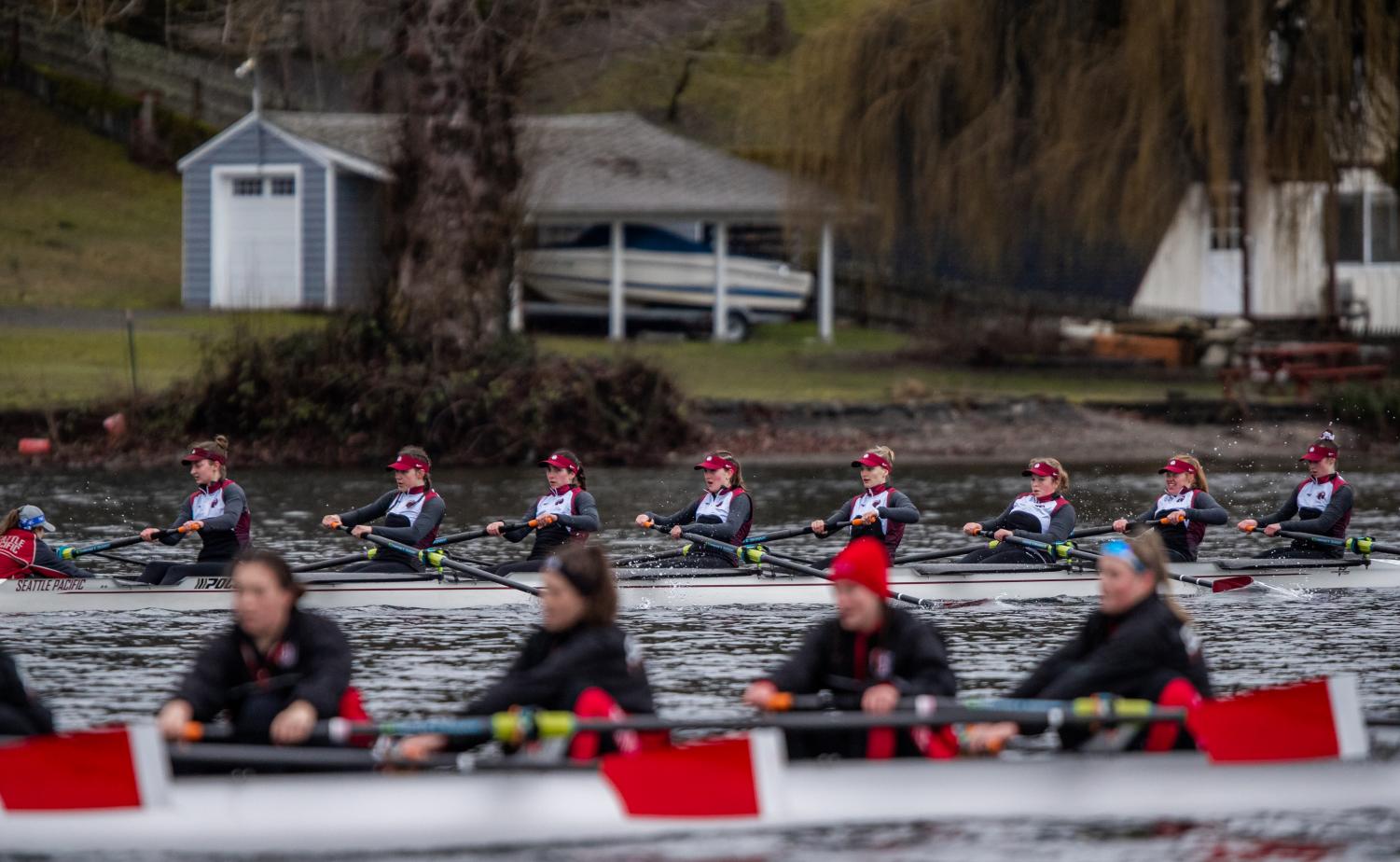 The Seattle Pacific University women's rowing season kicked off on March 4 at the Pacific Lutheran University invite. The team managed to place first in six out of seven races they competed in, putting forth a strong statement to other teams. The team also put up the fastest time of the day in varsity eight-plus with a time of 7:06.73.
The team was voted Great Northwest Athletic Conference crew of the week for the opening week of the season. This is significant because, unlike most sports at SPU, there is no regional meet in rowing and the team's fate as far as nationals are concerned is determined by their placement in the conference. Last year SPU finished second in the GNAC behind Western Washington University. The Falcons beat Western Washington in all four of their matchups on Saturday.
Head coach Caitlyn McClain made the following statement to SPU athletics following Saturday's regatta.
"While all of our boats performed well, the V8+ had the most competitive match-up with Western in the first flight and executed a mature race in coming from behind early in the race to a solid lead by the end."
The women's rowing team has been a very successful program. They have been selected to compete at the NCAA Division II championships in three of the last four full seasons, receiving invites in 2022, 2020 and 2019.
Senior rower Mia Ballard shared her excitement for the season along with how well she gets along with the team.
"I'm feeling really confident and excited about this season. I feel like the coaches have set us up really well so far, and I think it'll be awesome to see our hard work pay off," Ballard said. "I also just love the team and the dynamic that we have. This is the most supportive team I have been a part of, and we really know how to push each other and build each other up, which has been amazing."
Freshman Cookie Yitbarek echoed Ballard's thoughts on the team's chemistry.
"I'm so excited for this upcoming season, I feel like our race this past Saturday was a little taste of all the excitement that happens on regatta days, and it honestly just has me super hyped," Yitbarek said. "Overall, I love the team and my teammates, there's never a moment where I'm not smiling, laughing or huffing and puffing after a workout with the amazing people I've met, and I'm really grateful."
Rowing is the ultimate team sport; all rowers need to be synchronized and working together to succeed in a race. This is why SPU's prioritization of team chemistry has paid so many dividends over the years. This prioritization of team chemistry makes an extra impact given the nature of how the program fills its roster.
Unlike most college sports, which recruit highly from high school teams, many college rowers do not pick up an oar until they enter University. This means that college rowing coaches have much higher learning curves to deal with as far as fundamental aspects of their sport compared to others. SPU has done a fantastic job, over the last few years especially, of taking athletes who played other sports in high school and transitioning them to successful rowers. The program hopes this trend will continue in the 2023 campaign.
The SPU rowing team will continue their season on March 25 at the Husky Open on the Montlake Cut at the University of Washington.