Dual achievement
Vanessa Aniteye runs track and a family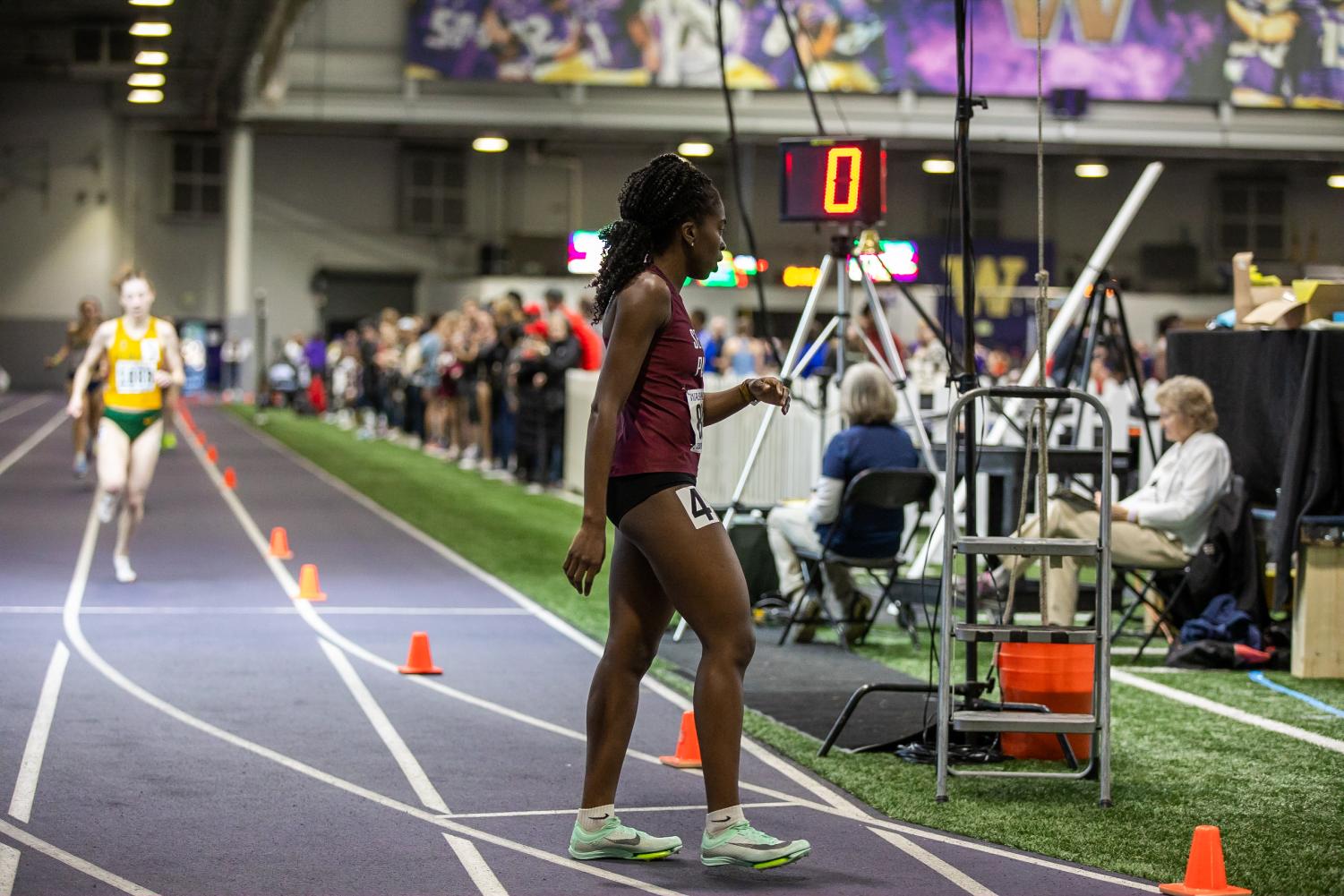 Over the course of athletic seasons at Seattle Pacific University, student-athletes achieve great things in their sport. However, not many do so while also rearing young children, and not many lead all of Division II in a category. Vanessa Aniteye, a senior exercise science major on the track team, is doing both. She leads all D2 runners in the 800 Meters with a time of 2 minutes, 7.53 seconds, a time which is also sixth all-time in Great Northwest Athletic Conference history, while also balancing life as a student and a mother.
Aniteye says that her perspective on running has changed over the years because of her experience becoming a mother during college. 
"Just being a student-athlete, it was all about times. Times are still important, but I think I have [a new] perspective," she said. 
Now, she views the on-field result as just one part of the story of her track and field career. 
"When I was pregnant I wasn't able to run … so I didn't have the opportunity to compete. And then, right after [having the child], I took some time to recover," she said. "And now that I'm running [again], it's more of a blessing that I'm able to. And I just know that I want to do well, but that at the end of the day, there are way bigger things than just your performance, … and I think it actually helps me perform better to have that outlook."
When Aniteye began her college career, she did not think of track as much more than the sport itself.
"My freshman year was 2017, so it's kind of been a while," she said. "I think that over time, I have found more purpose in running. I didn't necessarily have a purpose in my freshman year, I was just running because it was an opportunity to go to school and an opportunity to keep doing what I like to do." 
However, she has begun to view track as an opportunity for social engagement.
"Now I'm more in a place where I can use my running and my personality combined. It allows me to meet new people," she said. "It just makes the whole experience more fun for it to not just be about running."
She says that being a mother, student and athlete has made her manage herself in a different way.
"When I didn't have a baby, I had a lot more time than I probably thought, not to say that people aren't stressed," she said. "Obviously, when you have other responsibilities, you have to be a lot more committed to your timing and accepting that you might not be able to plan everything. I might plan to study at 7 p.m., but if I have duties at home that call, I am going to have to tend to those, so working ahead … so that I can avoid situations that I can't control, because life happens."
Luckily for her, the coaches are understanding of her situation and are willing to accommodate unexpected occurrences. 
"The people that coach me know that I have a child at home and that if something does come up, that's just how it goes," she said. 
Aniteye also says that she wants to continue doing track even after college but is still uncommitted as to her long-term goals. 
"I want to keep it going. You guys can definitely expect to see me at some races this summer, and then I will re-evaluate after summer and see how it goes," she said.
She feels happy with what she has accomplished, but that does not stop her from trying to accomplish more. 
"I think it's a blessing that I've done so well so far, but I think that what I have done now is sufficient, and everything else is just extra," she said. "I would say there has been beauty in how things have been going."
Finally, Aniteye emphasizes that she uses track to tell a story about herself. 
"When people see me compete, they might see a certain time, which is great, but at the end of the day, every time that I put a certain time down, I am also able to tell my story to people, and I think that's very impactful."