Protest flares in Seattle
Women's March takes on multiple issues, encouraging conversation
Produced by Sydney Lorton and Marissa Crane, Edited by Kenzie Shirey
"They say shut up! We say rise up! They say go away! We say no way!" chanted protestors marching through downtown Seattle. Over the weekend, Seattle's hosting of the annual Women's March began in Cal Anderson Park with a rally followed by over an hour of marching, chanting and singing in the streets.
Ending with a second rally by the waterfront, the march, which was packed with protesters, focused heavily on abortion rights. Chants of "Supreme Court, get out the way!" and "Keep your rosary off our ovaries!" rang through downtown Seattle. 
Several Seattle Pacific University students attended the march, including Madalynn Stark, a freshman majoring in ecology.
"The [marches] I've been to, the roads are blocked off, the city knows where we're going, and it's super easy and simple and safe. This march felt more like literally walking into the streets like, 'Don't hit us cars, we're here.' It felt more rebellious," Stark said.
The march focused on issues like ending the Senate filibuster, expanding the Supreme Court and implementing Medicare for all as well as just abortion rights.
"I think having [abortion] as a resource is really comforting. In case something were to happen, whether it was my choice or [not], I think it's nice to know I don't have to have a kid. I want to get my education and my masters and travel the world," Stark said. "I don't think abortion is fun, I don't think it's great, I just think it's better than kids suffering or women suffering."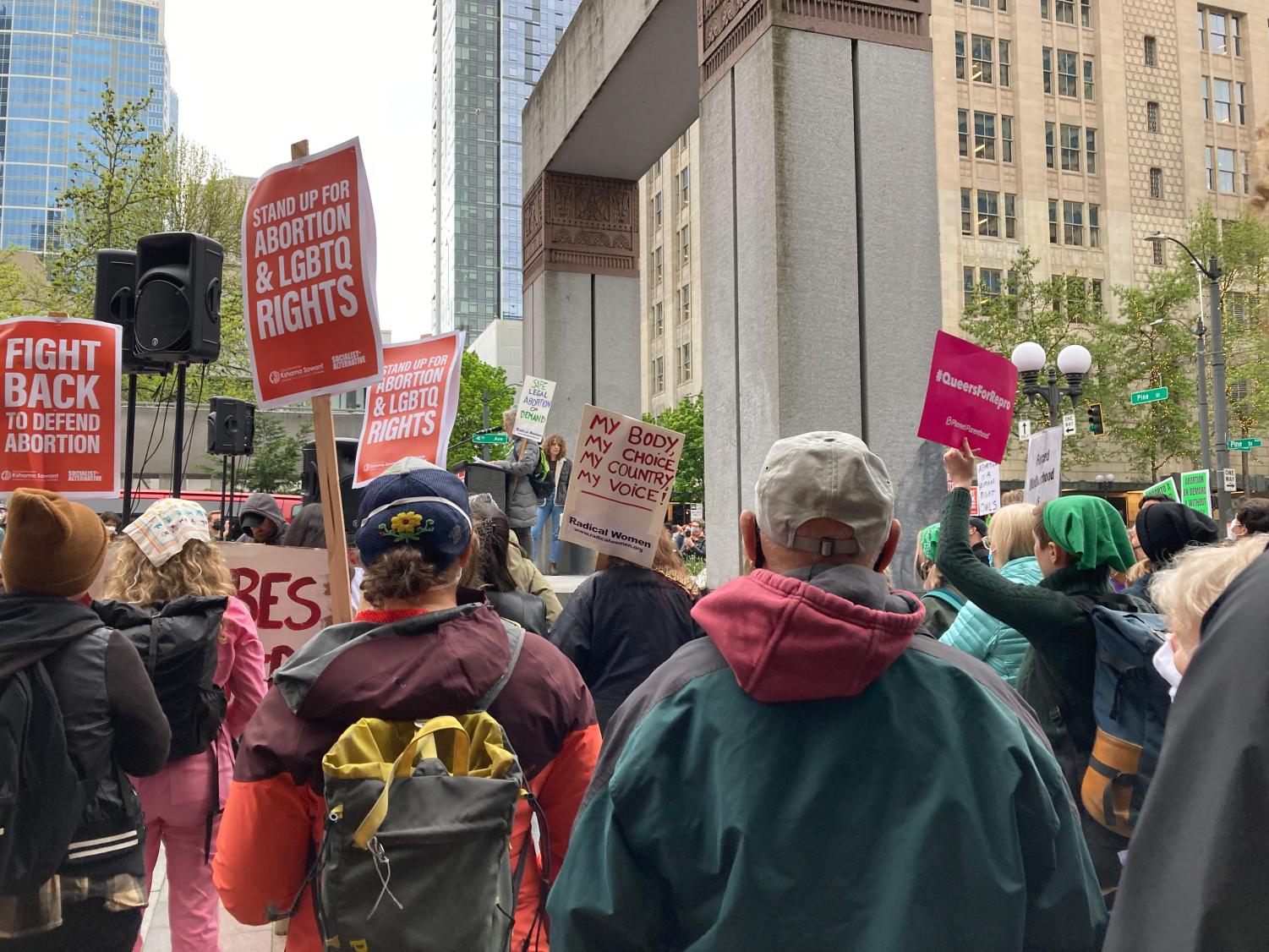 Lizzy Butler, a freshman majoring in music therapy, agrees with Stark and the march's points of interest, including Supreme Court expansion.
"I think the court should be more inclusive and expansion is important to get more ideas," Butler said. "But I also think there's a lot to be said for presidents picking people instead of community picking people."
Seattle is historically a liberal area of Washington and the United States. On SPU's campus, that trend continues.
"I like being around other people that think women deserve abortion rights. Where I'm from, I'd be nervous to say anything," Stark said. "I feel like with our generation, we are more accepting. We say, 'I don't understand your story but you should get to do what you like even if I don't agree.' It makes me like the world a little bit more because people try to be nice to other people and don't judge everyone else for their lives."
SPU hosts a multitude of political opinions, but Curtis Kitchen, a freshman with an undeclared major, thinks that people on campus who align politically with the march goals are probably more vocal.
"I think a majority of people would agree [with the protesters], probably not overwhelming though," Kitchen said. "I feel like there's some people who have the opposite opinion but are too afraid to state it."
An additional point of the protest's focus was introduced when the Women's March unexpectedly collided with a separate downtown demonstration – a group protesting Hazara Genocide. One Hazara rights activist spoke into the megaphone of an abortion-rights protestor. 
"I'm asking for all the women in the world to stand for the Hazara women in Afghanistan. Please be their voice today!" she shouted. "Stop Hazara Genocide!"
An afternoon of marching encapsulated the current campuswide, nationwide and worldwide discussion around women's rights and political beliefs. While not everyone at the protest agreed about everything, the march was still powerful.
"It was so cool. I got goosebumps," Stark said. "Even though we had different causes, we had mutual respect. We're fighting for something."