Uphill battles
"Stranger Things" season four depicts tear-jerking depiction of trauma responses
Dark, ominous skies littered with black and red cracks of lightning, disturbing monsters from an alternate reality, and a 1980s feeling fit with neon lights, arcades and skating rinks have been staples of the Netflix original "Stranger Things" since its inception in 2016. 
However, accurate depictions of real-life trauma and its connection to poor mental health stepped into the spotlight when season four was released on May 27, 2022. 
Maxine Mayfield, portrayed by Sadie Sink, was at the center of the season's exploration of these all too real issues that plague many teenagers and young adults. After watching her step-brother, Billy Hargrove, played by Dacre Montgomery, die in a horrendous final battle against the villain of season three, the Mindflayer, Max shows signs of depression and slowly slips away from those who love her most.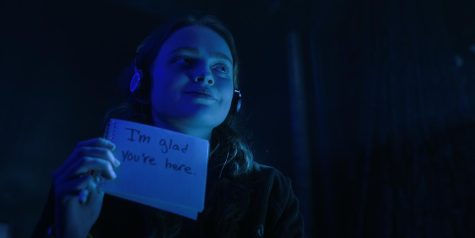 While other main characters such as Mike Wheeler (Finn Wolfhard) and Dustin Henderson (Gaten Matarazzo) are first seen paired with another well-known face from seasons past, Max is not. 
Instead of confronting the world around her and questions about her well-being, she plugs in her walkman and tunes out everyone around her, essentially and effectively isolating herself and wallowing in her trauma. Max's confrontational and avoidant behavior toward her friends, especially her recent ex-boyfriend Lucas Sinclair (Caleb Mclaughlin), indicated that she was in denial about how her brother's death affected her mentally. 
Avoidance and isolation are two things that can often occur in people who are experiencing adverse reactions to a traumatic event in their life. For them, appearing happy and unaffected is the goal, but it does not always come across that way to the people who love those struggling the most. They can tell that something is wrong and will reach out to help, but the hurt person will often reject their suffering and the help altogether. 
Sink's portrayal of this emotional disconnect between a young teen and her friends, who she fought so hard to find in season two after just moving to Hawkins, Indiana, was heartbreaking. Her trauma resonated with fans on social media, who outwardly expressed that they felt like Max's new storyline mirrored their lives and gave them someone who could personify their struggles and battles to overcome depression and other mental health obstacles. 
Stories of personal struggles and tears were shared amongst fans for all to see to understand how Sink's character had quickly become a symbol and advocate for those experiencing poor mental health. 
It is difficult to say that Vecna's arrival as the newest threat in the fictional town of Hawkins, Indiana, was the only thing that influenced Max's sudden willingness to interact with her friends. Her maintained distant behavior, even when thrown into sudden contact with Lucas, Dustin and Steve (Joe Keery), proved that she could have quickly slipped away from them once the threat was gone.
Luckily for fans, Max gets the chance to see just how much love her friends have for her as she battles to save her own life in the Upside Down against Vecna. She can physically see her happiest memories with them flashing through her mind as death approaches, and the song "Running up that Hill" by Kate Bush plays in the background, which gives her the strength to fight back and take control of her life.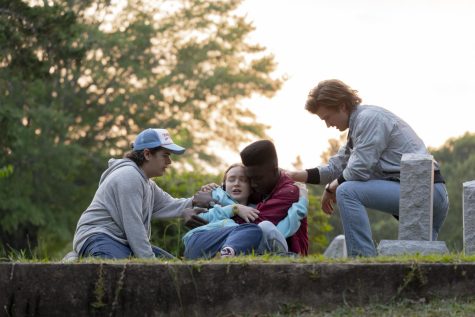 Her fond memories with her friends are the only things strong enough to assure her that her life is worth fighting for and help her "run up that hill." 
Although the battle with Vecna is one of a physical nature, it also symbolizes Max's fight with her mental health and depression. For her, it is an uphill battle that never stops even after she escapes, but Max is relentless and continues fighting to stay with her loved ones throughout the rest of the season. 
She becomes more vulnerable with them and even allows them to know how much she values their presence. Her story is a beautiful allegory of the difficulty of recovering from traumatic events, such as witnessing the death of a loved one, in one's life and tells viewers that it is perfectly normal not to be okay. It is okay to cry, and it is alright to allow people to see into your life and to let them help you, even when the world feels at its most hopeless. 
Fighting against one's self can be one of the most challenging battles to fight, but it is possible. The battle may seem to have no end, but the most important thing is to keep "running up that hill."