Silent no more
SPU athletes speak about how having fans back has changed the game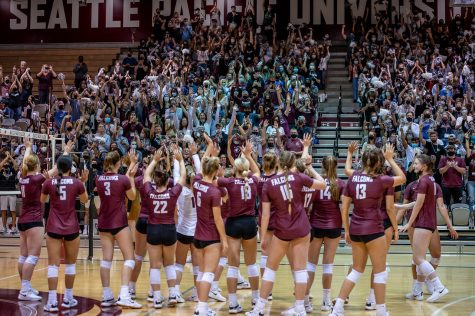 One of the most pivotal aspects of a sporting event is the electric feeling that comes from the fans cheering and engaging in the action. For the better part of two years, Seattle Pacific University athletics lacked the support and energy provided by fans packing the bleachers.
Athletes were left to try and create the same level of liveliness on the field without any encouragement from their greatest supporters to no avail. Having only teammates to cheer them on was just not the same.
Finally, on Sept. 9, it was announced that restrictions at SPU have changed and fans are allowed back at every Falcon sporting event this year. Athletes are now once again able to revel in the excitement brought to games by their fans.
Fifth-year communications major and volleyball player Maddie Batiste felt firsthand what it was like to hopelessly attempt to create the same magic that the fans did at every game, and the desire was never fully met until fans came back.
"The energy on our home court at Royal Brougham has been electric with the fans in the gym! Last spring, the team was forced to create much of our own energy, and it has been nice to feed off the energy of the crowd this season," Batiste said. 
Batiste is especially grateful that the fans are back in the stands at Royal Brougham Pavilion because it gives her and her team something to fight for. 
"I feel such genuine gratitude for the SPU community and the way they show up for our games. One of my greatest wishes for this program is to be a team that our school is proud of, and I think we are getting there," Batiste said. "I would love for SPU to be a volleyball school and for fans to go all out for our games. We appreciate the presence of fans more than they know." 
Fans and athletes have a unique bond that creates amazing and beautiful opportunities for engagement and community. Now that fans are back, the SPU athletic department and athletes have the chance to connect on a deeper level with their supporters. 
"Fan engagement is something we really look forward to when coming on the court. Our athletic department is always looking for ways we can be more involved with our fans," Batiste said. "In fact, we have a camp night where our summer camp kids can come and watch us play and get signatures post-game. I am very excited and proud of our program for our efforts in fan engagement,"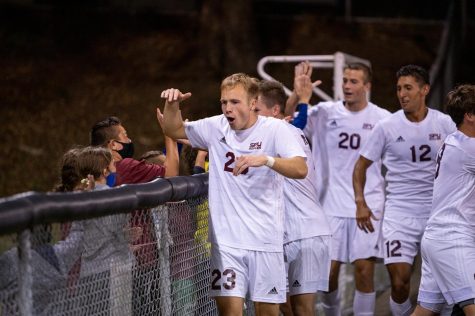 Nik Reierson, a senior exercise science major and defender for the SPU men's soccer team, is glad that the fans take time out of their day to come to watch them. The extra support provides them with a purpose to play.
"I feel blessed and grateful that these people care enough to come and support me and my teammates doing what we love. We hope that we can play in an attractive and appealing style that the fans can appreciate and enjoy," Reierson said. "I think the best thing is having people besides ourselves to entertain and play for. It was hard to not have the same energy at games."
The men's soccer team also has a unique way of engaging with their fans at the end of each home game. If fans stick around long enough once the game has concluded, they might just see Reierson and his fellow teammates clapping for them as a way to thank them for coming to the match. 
"I know for me personally, I talk with family and friends directly after the game as they have been supporting me for my whole life. I love that they are able to be back in the stands along with all the fans," Reierson said. 
Without fans, the stands are uncomfortably quiet. SPU athletes desperately need them to create the electric moments that form some of the best and long-lasting memories. 
"I think it just adds to our excitement and allows us to express ourselves more. I know the memories of overtime wins and celebrating with students and other fans are a lot of our favorite memories from our time at SPU. We missed the fans and are happy they are back in the stands!" Reierson said.