Fighting for awareness
Protestors gather to educate about the plight of Uyghur Muslims in concentration camps
Bengisu Cicek, a young woman, stands under a hand painted banner with a blue Uyghur flag flying from her back like a cape, facing a gathering crowd on the street below. She takes a deep breath and raises the microphone to her lips.
"No more violence! No more slaughter! Uyghurs have no food and water!" she yells. The crowd echoes her words in unison.
"China: release 3 million Uyghers from detention camps!" the banner above her reads.
Behind her and around the platform she stands on, other women holding flags and pamphlets busy themselves greeting newcomers, chanting as they move and only stopping to hug old friends.
"We are losing our voice for the voiceless!" explained another protestor, whose voice was indeed getting hoarse, more than an hour later.
The crowd, largely young and female, is loud and united in their messaging, their chants heard clearly across Westlake Park in Downtown Seattle.
Their hope is to raise awareness for the situation of Uygher Muslims, a Turkic ethnic minority group being put in concentration camps by the thousands by the Chinese Communist Party (CCP).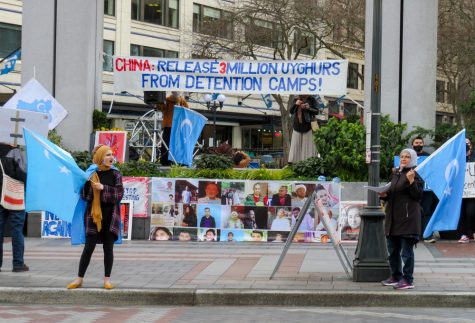 East Turkestan has been occupied by China since 1949, but in the last three years the political oppression has increased drastically. Protestors in Westlake Park on Saturday afternoon were hoping to inform Seattlietes about this issue.
"According to … many, many sources, there are over one million detainees in these concentration camps," Cicek said. "We cannot let history repeat itself. That's why we are out here today."
Many people at the protest were Uyghur themselves and have family and friends still in the area being affected by this injustice.
Turnisa Matsedik-Qira, of the Vancouver Uyghur Association, said that she comes out to protest for one simple reason: because she is Uyghur.
"I [haven't] connected with my family [in] more than one year," Matsedik-Qira said. "My mother, sister, brothers are all over there. I don't know what happens to them."
"From survivors [of the camps], there's a lot of horrible things you're hearing, and you wonder every day: has this happened to my family, my people, right now?" she said.
Cicek worries that many people in Seattle have no idea the extent of the violence and persecution on Uyghers.
"These concentration camps should be unacceptable. I guarantee you that if this were to happen in a European country, everybody would immediately put this everywhere on the news and the [United States] would do everything in their power to stop this," Cicek said.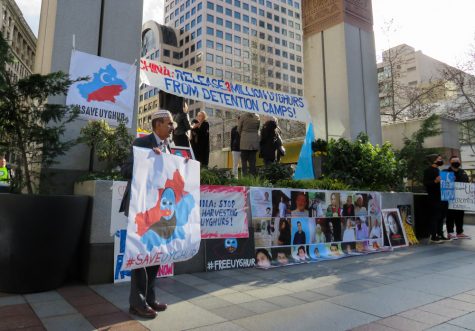 Xu Bian, assistant professor of Chinese at Seattle Pacific University, stood on the outskirts of the group, watching the scene.
Last week, she spoke at the News and Nachos event at SPU about the same issue. Both protests and informational events are important, she said, to help raise public knowledge. She came to support this cause and those behind it.
"I want to support them in a tangible way, not just get the news. I want to get a more real connection with the people," Bian said. "Not a lot of people are knowing about this issue."
At SPU, she hopes more students start to pay attention to these global issues.
"Justice is a part of God's mission, so as Christians we need to care about people who are created by God," she said. "We need to actually work to help them to share their stories. They are suffering, and if we do not pay attention and hear their stories, that is not God's way.'
Bian's friend, Northwest Regional Director at Peace Catalyst International Bill Clark, was also in attendance and seemed to know every organizer at the event. Nearly everyone who spoke on the stage came down to quickly hug and visit with Clark and his wife, Jill.
Clark also spoke at the recent News and Nachos event.
"I lived in the area for many years," Clark said. "I have many Uyghur friends, some of my friends are in the concentration camps."
He explained that Uyghurs should be much more well known and recognized worldwide: they are 12 million strong, "the size of Sweden" as Clark pointed out, and over 10% of their population are in internment camps.
"The whole essence of being locked away is that you don't have a voice. So I am out here to give them a voice," Clark said. "We need a public presence. If you ask anyone if they have heard of the Uyghurs, just even heard of them as a people group, 90% of the people that I know have not."
Protest attendee and army veteran Omar Abul Alim, whose voice was one of the loudest throughout the event, said that he supports this cause because of his religious beliefs as a Muslim, and the importance of standing with others.
As cries of "The people united will never be defeated!" repeated behind him while he explained why he is passionate about the issue.
"Injustice against one is injustice against everybody. And you have to stand up for everybody. I'm here because we are taught as Muslims, when one part of the Muslim [community] hurts, the whole of Muslims hurt. You should want for your brothers as you want for yourself," Abul Alim said.
"Genocide is wrong. It was wrong in 1945 what the Germans did to the Jews, and it's wrong now," he said. "That's why I'm out here speaking. It's the least I can do."
College students, he asserted, are historically a driving force of support for humanitarian causes and he hopes that today's students will pay appropriate attention to similar issues — such as the persecution of Uygher Muslims.
"Young people, especially college students, you are the voices. You were the voices during the '60s to go out and be these movements, to go out and vote, to [advocate] for the working class people, the poor people, people who are marginalized," he said.
"College students, you are the ones who can make change for the future. I encourage all of you to have a political, social and cultural awareness of what's going on."