Falcons finish 6th on men's, women's side at GNAC champs
SPU track and field team reaches championship season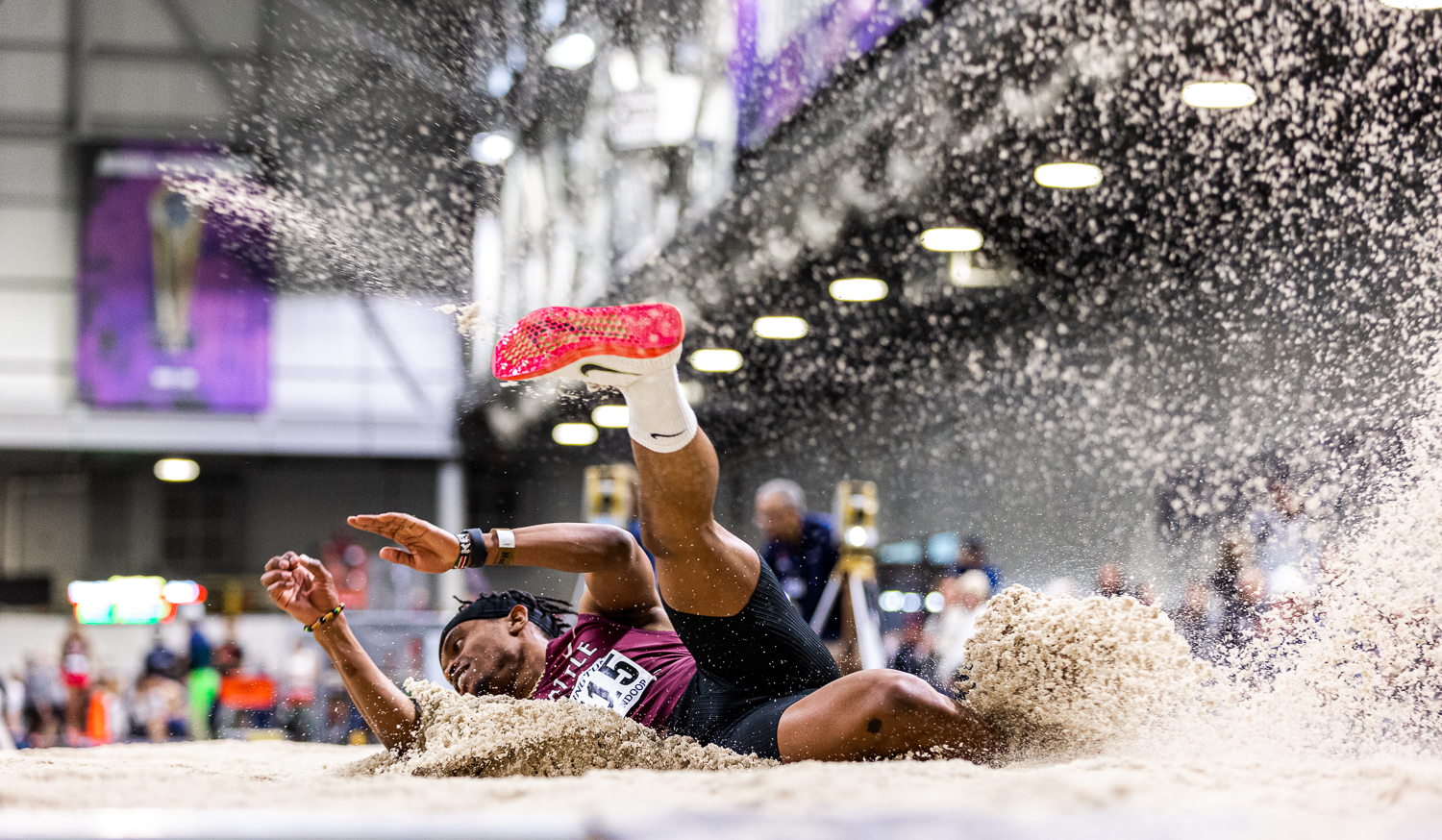 Most Seattle Pacific University track and field athletes reached the end of their season on Sunday, May 14, at the Great Northwest Athletic League Championships. SPU finished sixth overall in both the men's and women's divisions.
Junior nursing major David Njeri's strong individual performance was a highlight for the meet. Finishing as a league champion in both the high jump and triple jump, Njeri jumped a personal best in the long jump posting a mark of 23-7 ½, the first seven-meter jump of his career. Njeri said earlier in the week these were his goals. 
"In the triple jump, I'm looking forward to defending my title, and in the long jump, I'm looking forward to jumping seven meters as well. This year, I'm hoping to just have fun and compete and place top three in all my events," Njeri said.
Some other highlights of the meet were a second-place finish for the Falcons in the men's 4×100, Emily Thomason and Lizzy Daugherty finishing second and third in the women's pole vault, and Kainoa Lee and Brad Bowman getting third and fourth in the men's pole vault. 
Head coach Karl Lerum hopes his team feels rewarded for the work they put in.
"It's championship season. It's exciting for those kids who have qualified and get to compete, and we're just hoping to compete as close to our ability as we can," Lerum said. "As in all track meets, the goal varies depending on the person, but with this meet, we're going to compete and race against our peers in the GNAC and hopefully be rewarded for the work and the commitment that they've put in for months."
Besides himself, Njeri is hopeful for the rest of his team to qualify and advance to the national championships.
"I think most of us actually qualified. We have me and Nate in the long jump; we have the 4×100, that's me, Jeff, Julius, and Isaiah; and then Isaiah's also qualified in the 400 as well; and then the 4×400. I feel like we have a lot of people from both the men's and women's teams who are qualified, so I think we're really set for that."
Njeri went into the meet with ultimate confidence in himself and his teammates.
"The whole year is pretty much just preparation for now … I feel it's a surprise sometimes … [When] we go to the conference meet, we [could] come in ranked last and then maybe end up placing. I feel like there's no definite thing to say, but I feel like we have a good group that's going to go out there and perform," Njeri said.
Top qualifiers we be announced this week and some Falcons will get to compete in the NCAA championships from May 25-27 in Pueblo, Colorado.