A millennium in points
Seattle Pacific's Shaw Anderson reaches his 1000th point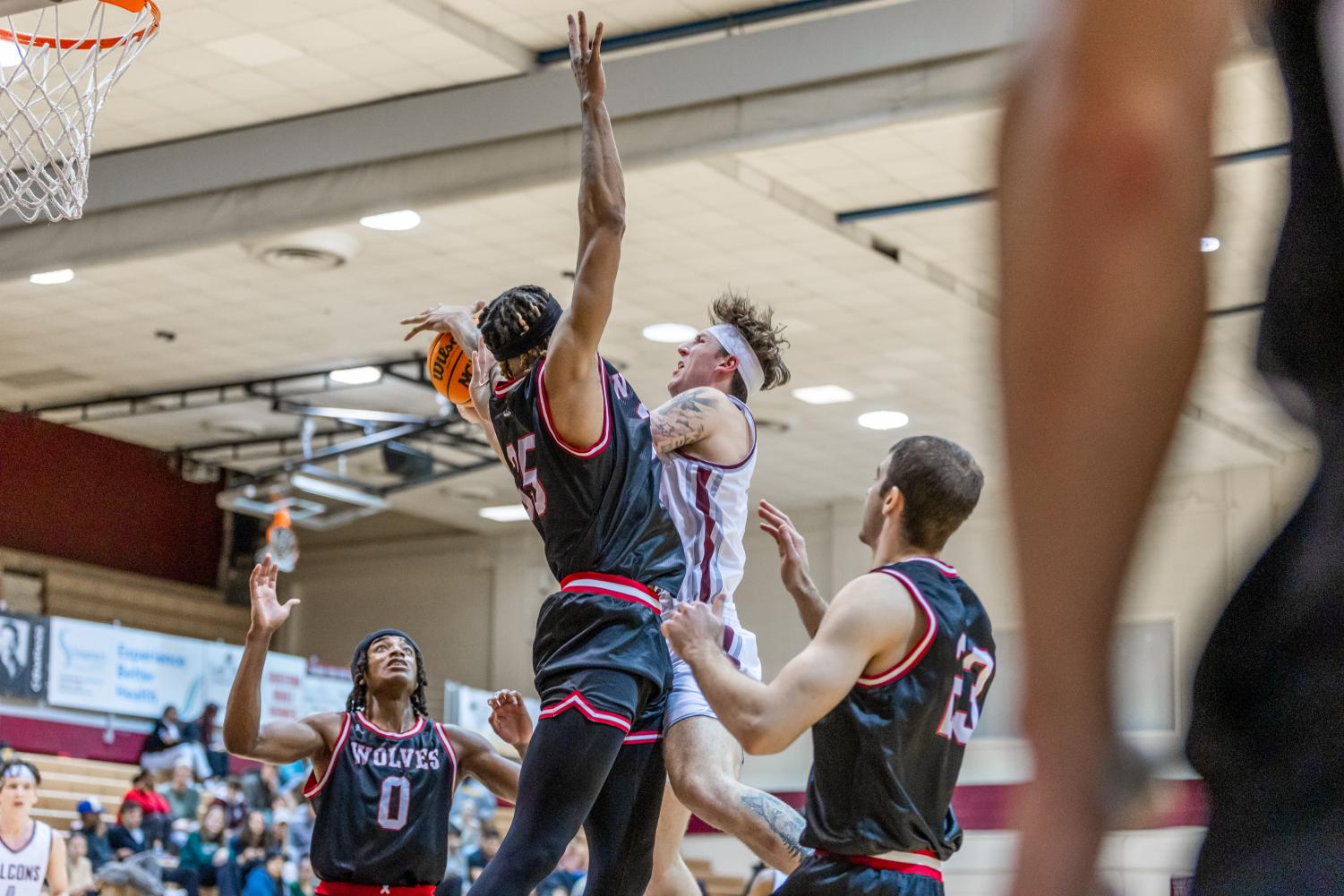 Communications major and business minor Shaw Anderson, a fourth-year forward, scored his 1000th college career point during the Seattle Pacific University Falcons' basketball game against Central Washington University on Dec. 31, 2022.
"I was super excited to get that done …" Anderson said. "It's a testament to the work that I put in, but also to my coaches and my teammates for putting me in that great position to be successful … I'm more just happy that I was able to do it."
Anderson's longtime teammate Zackary Paulsen, a fourth-year guard, commends Anderson for his accomplishment as well as the humbleness and skill he used to reach it.
"He's one of the most unselfish stars that I've ever seen. He's unbelievable on the court, but you would never know by the way he acts or treats people, and I just think that's super cool. I'm proud of him for sure," Paulsen said.
As great of an accomplishment as this is, Anderson has reached it before. During his four years playing varsity basketball at Kelso High School, he not only reached 1000 points but was also named their player of the year his senior year.
"My junior and senior year, we took sixth in state twice… but my senior year, I was the 3A player of the year, and I set the record for most points in the state tournament at the Tacoma Dome in four games," Anderson said. "I always wondered if I was going to be able to do it in college, and after my first year, I felt like I was able to achieve it, and I'm just glad I was able to in my three years that I played here."
Anderson is the third Falcon in recent years to achieve this milestone. Recently graduated alumni Devonte Moffit and Harry Cavill also reached their 1000-point mark during their time at SPU.
"I know Harry scored like 1400, and I don't know how much Devonte scored, but he was at the thousand-point number. I've been lucky enough to play with those two guys that are also in the exclusive thousand-point mark."
Due to the pandemic, the National College Athletic Association decided to allot all affected athletes one additional year of play eligibility, which Anderson hopes to take advantage of as a student as much as an athlete.
"I'm a fourth year, but I have a COVID-year, so I get a fifth year … That's where I'm going to finish up my minor in business because I'll be graduating with my communications major at the end of this year."
Anderson has decided to complete his business degree as a fallback for his plans to pursue a career in professional basketball.
"I'm definitely pursuing that, and hopefully, I'm lucky enough to be one of the few people that can… I have one more year here, but after that, I'll try to play professionally wherever I can." Anderson said. "After my career, I hope to fall back into some sort of business… I started off as a business major… and it's something I've always been interested in, so I'm just trying to get back into it."
Until then, Anderson hopes to continue to give his best on the court as a Falcon.
"I'm just trying to play the best that I can and kind of reach that personal level, nothing numbers-wise, but just trying to be the best player I can be …" Anderson said. "It's a lot more difficult at the college level. Guys are just bigger, faster, stronger [and] smarter. It's not always an even playing field … anyone can win on any night … so you really have to bring your best."