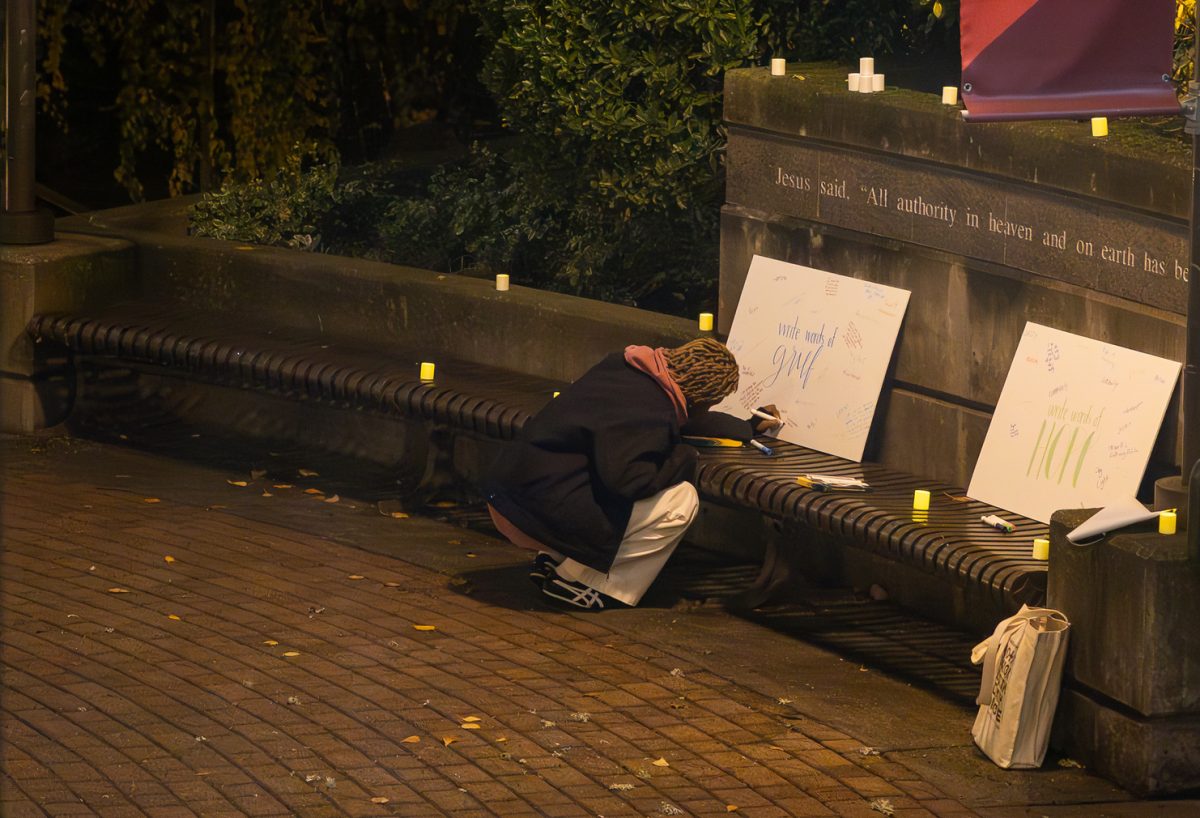 Never before has the American perspective on the Israel-Palestine conflict been so complicated. 
For a long, long time, there was a silent but significant pro-Israel bias on Capitol Hill that dominated the discourse without a second thought. Hundreds of blank checks were written to the government of Israel with practically no opposition. With the conflict in Gaza once again coming to a head, however, that is finally starting to change.
Because the status quo was set in stone for so long, many Americans just don't know much about the conflict and are unsure what steps they can take to enter the discussion. My peers have done a great job detailing the issue in previous perspectives articles, but I'd like to make it a little more accessible here at home as well, starting with the context you need to understand our national attitude towards the Israel-Palestine conflict.
Israel is by far the top recipient of American foreign aid. Number two, Vietnam, barely claims half the amount we've provided Israel ($185 and $318 billion, respectively). Our national veto power in the United Nations has been used almost exclusively to veto statements of condemnation against Israel. That is a lot of support for a country currently leveling the homes of innocent Palestinians; why?
Americans were quite sympathetic to the Zionist cause after World War II. The atrocities that the Axis Powers committed against Jewish people made the Allies eager to give them some amount of reparations for their extreme loss. 
That history, on top of Israel's status as an American military partner in the middle east, has kept anyone from thinking too hard about the steady stream of blank checks we've sent their way. Consider this alongside terrorist organizations like Hamas serving as convenient scapegoats, and the presence of big-time lobbyists in Congress like the American Israel Public Affairs Committee (AIPAC) with enough financial influence to change minds, it becomes clear why both sides of the political aisle are generally pro-Israel.
But times are changing, and we are finally starting to see some buck the status quo. Whereas Republicans are squarely pro-Israel, Democrats are currently somewhat split, with a more progressive left-flank like Alexandria-Ocasio Cortez and Ilhan Omar leading a minority pro-Palestinian charge against their moderate contemporaries. A recent bill to provide $14.5 billion dollars worth of support to Israel recently passed the Republican-led House of Representatives, but was shot down by the Democrat-led Senate. 
Just a bit later, a vote also passed the house to censure representative Rashida Tlaib, who posted a pro-Palestinian message to X (formerly known as Twitter) that included the chant "From the river to the sea," which she claims is a call for a ceasefire. That said, it's a phrase that has been historically categorized by Jewish organizations as hate speech for its nationalist messaging (that Palestine should expand into Israeli territory), so it has ended up a contested site of language.
The other notable news to come from the House was a bipartisan statement released condemning terrorist organizations like Hamas. On its face, this seems like a fairly obvious move to make, but some have panned for what it fails to say about war crimes committed by the Israeli state as well. Those critics say giving special allowance for Israel to violate international conventions has dangerous implications, so leaving them out of an address like this is a statement in its own right.
That's a brief overview of America's actions as of today. I also wanted to include a few important sentiments to keep in mind to promote an open and engaging dialogue around a topic that otherwise tends to get personal quickly:
1.Hamas is not Palestine: The Palestinian people have not been able to have an election since 2006, in large part due to the ongoing conflict with Israel. This makes Hamas a firmly separate entity from anything representative of Palestinian approval— though it would be foolish to say they have no local support, innocent civilians are by-in-large uninvolved.
2.Israeli does not mean Zionist: Much like the Hamas-Palestinian disconnect, just because someone lives in Israel does not mean they are Jewish, let alone supportive of Netanyahu's government. Multiple surveys conducted recently demonstrate widespread disapproval of current Israeli leadership and their decision-making on this issue.
3.To be pro-Palestine is not to be anti-Semitic: Again, this is not to say there aren't anti-Semitic people supporting the Palestinian cause. But many who support Palestine believe more that the current citizens of the state be allowed to remain there without Israeli interference/potential for violence than anything having to do with the religious affiliation of their occupiers.
With so much conflict happening in the world right now, it can feel overwhelming to try and keep track of all of it. Hopefully, this has provided you the chance to know this issue on a more intimate level than you had before. 
There's no shame in being uninformed about something like this, yet at the same time prioritizing awareness is important for those who do have the bandwidth to try and give or understand what they can. 
If you are interested by the little bit that I've given, do what you can to stay informed; I highly recommend starting with Al-Jazeera for live and relatively unbiased takes on the issue before taking those foundations and examining more Western news coverage.