Accreditors visit SPU, speak with students
NWCCU team lead student forum as part of their on-campus evaluation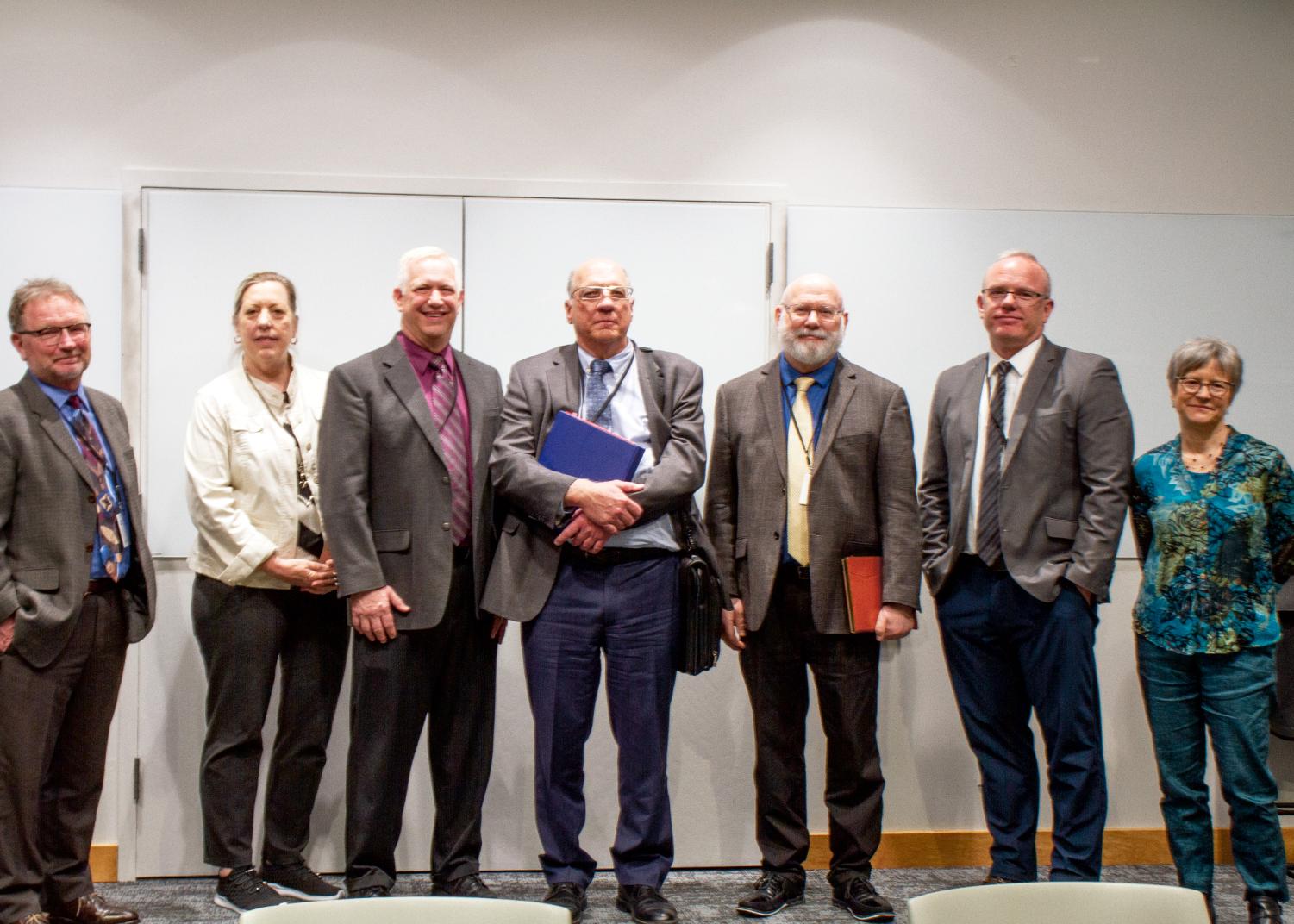 An evaluation team with the Northwest Commission on Colleges and Universities spent May 3-5 on Seattle Pacific University's campus as part of the accreditation cycle. On May 4, students met with the accreditors in Demaray to discuss student experiences and concerns, including student success, program cuts and communication within the university.
Accreditation aims to evaluate whether universities are structurally sound, educationally valuable and financially stable. Sheila Steiner, the assistant provost for institutional effectiveness at SPU, additionally holds the role of accreditation liaison Officer.
"The team is here because we're up for reaffirmation of accreditation," Steiner said. "The Northwest Commission has several standards that, in order to be accredited, you have to comply with. As part of that, they want to speak to as many different groups of stakeholders as they can to get a true sense of the institution."
The team met with upper administration, faculty, staff and students in separate meetings and forums to try and obtain an accurate, diverse understanding of the university. The largely unstructured student forum took place the morning of May 4 and ran till the very last minute.
The accreditors asked questions, and students gave answers regarding the student experience in specific programs, general campus life, institutional structure, academic counseling, the Banner program and more. Lillian Biddle, a junior special education major, attended the student forum.
"The accreditors were really listening and asked insightful follow up questions," Biddle said. "They seemed to value our opinions on all aspects of campus life. I said it in the meeting – I am really concerned about the lack of communication between upper administration and individual students."
The forum focused on a variety of topics, but focused heavily on how the student experience has changed with the board's recent decisions and actions. Biddle spoke of the disconnect she felt between the classroom and campus.
"My program is fantastic. The department of education is dedicated to diversity, equity and inclusion — I feel understood and trained to understand students, to meet them where they're at," Biddle said. "That so many students on campus don't feel safe, heard and understood is something I feel has been fostered by upper administration."
Students shared concerns about upcoming budget cuts, program changes and lack of communication to students. Maxwell Hayden, a junior majoring in honors liberal arts and politics, philosophy and economics, shared both his love for SPU's honors program and his concern for it going forward.
"It's really important for the people accrediting our university to know that we're going through a period of extreme downsizing and extreme shifts in the community," Hayden said. "With a board of trustees that's unwilling to engage the culture, it's really hard for people in this community to change the world because we have a board who won't even engage with us."
Sañata Li-an Dawa, a political science, cultural studies and honors liberal arts major set to graduate this year, focused on how the board's decisions and actions regarding SPU's hiring policy have affected student experience and success.
"I spoke about the ways that the negative publicity the school is getting has been impacting my ability to network in the law communities," Li-an Dawa said. "I've had great opportunities to meet judges and lawyers through my legal internship, but a significant amount of time I get with them is spent answering questions about SPU, which I don't think is true of my peers at other schools who get to talk about their education and goals to make a bigger impact on the people they're networking with."
Although a majority of the meeting was dedicated to student concern, many attendees also shared positive experiences, praising their professors, academic counselors and individual programs.
"The meeting is designed to be a safe space for students to speak candidly about their experiences, good, bad and otherwise," Steiner said. "The team wants to, as much as they can in 60 minutes, get a picture from the folks on the ground living it every day."
Students were satisfied with how the hour-long forum went. Follow-up questions were detailed, answers were well spoken and specific, and attendees walked away hopeful. 
"I think, if nothing else, the meeting was cathartic for the students," Hayden said. "It was a good opportunity for people to highlight little sparks of joy that exist in this community, while at the same time getting a chance to vent to people with authority about all the things we've had to go through."
The next steps in the accreditation process will be a report of the evaluation team's findings to the NWCCU, a series of further meetings and consideration, then, at the end of the academic year, results and directions will be shared with SPU.
"I do think a lot of change has to come to the school, but it would be a shame if we lost our accreditation. The education that I've gotten has been so good and my professors are incredible," Li-an Dawa said. "I just think upper administration needs a lot of help."