"Welcome to the culture wars"
Unrest on campus over removal of displays of support for LGBTQIA+ community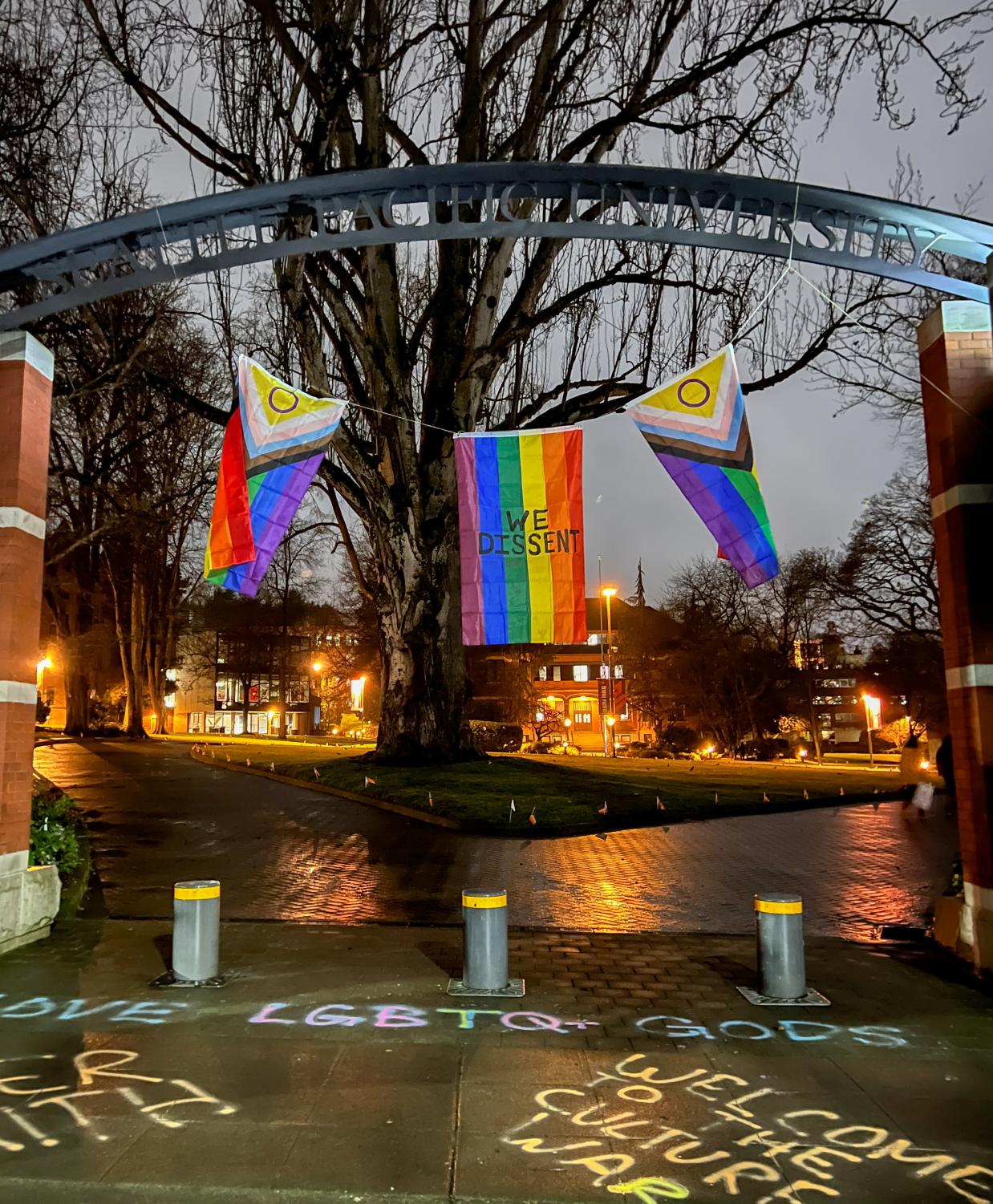 Early in the morning on Jan. 27, a group of students and alumni put up over 400 tiny rainbow flags, 20 large flags with different messages written on them, and covered the campus in chalk messages. Yet these were all taken down before classes started the same day.
The flags and chalk displayed messages such as "we dissent" "homophobia is trash" and "welcome to the culture wars." Other messages, such as "welcome Deana" were directed at Dr. Deana Porterfield, who was announced to be SPU's next president the day prior. 
While the protest occurred the day after Dr. Porterfield was announced, it had been planned weeks prior according to Rae Perez, a third year social justice and cultural studies major and plaintiff in the lawsuit against the school. The display was planned as a response to an email from SPU admin on Jan. 13, asking faculty to "take down any messages or signage that are divisive, polarizing, or show dissension." 
"What that was implying without specifying directly was that any of the signs faculty had in their office windows or things posted up around campus were not allowed to have signs that were pro-lgbt," Perez said. "The protest this morning was in response to that, which is why some of the flags said love is not divisive or welcome to the culture war."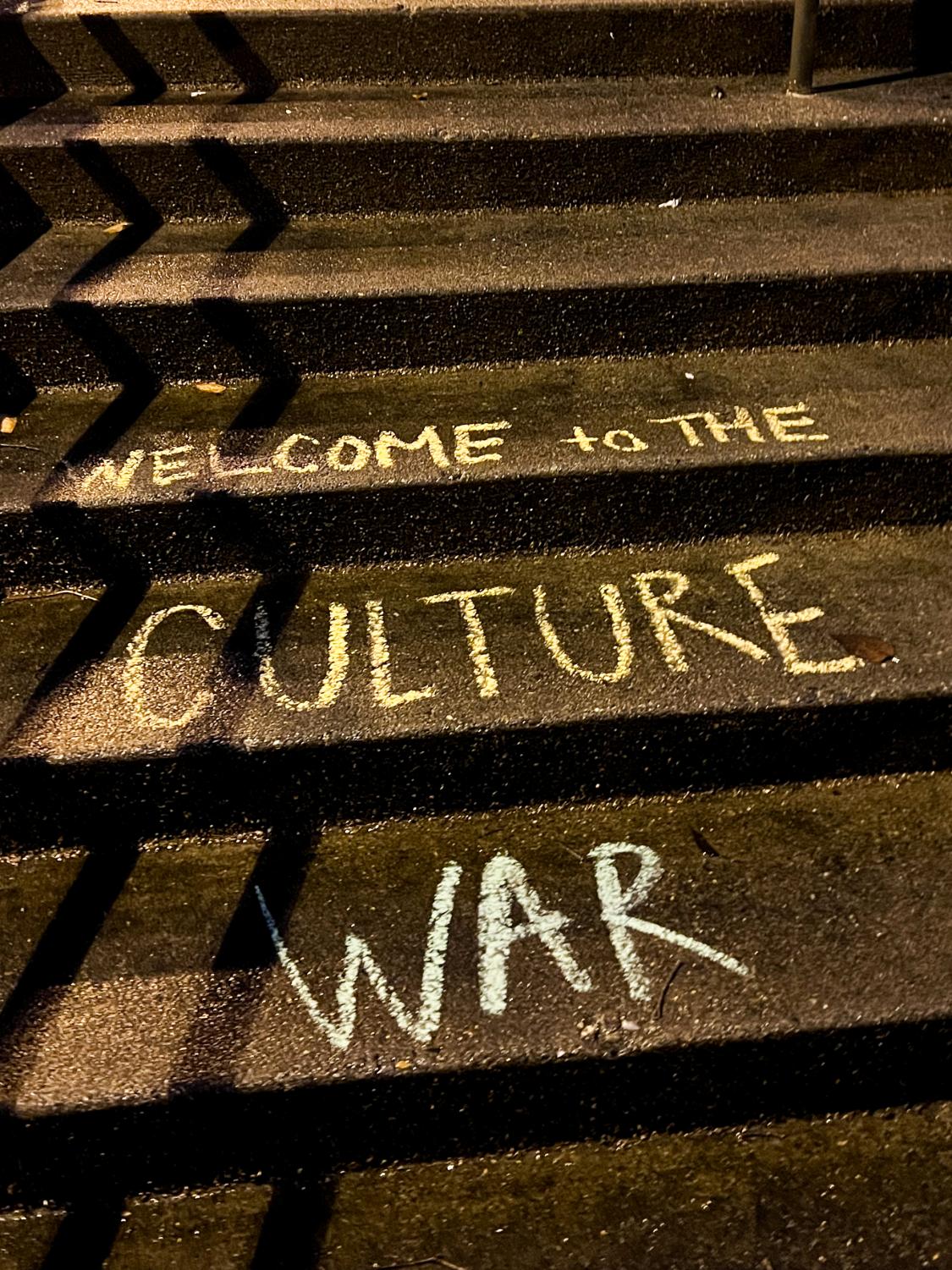 This is not the first time that SPU has removed signs of protest, yet is a continuing trend of SPU removing any displays that could be seen as controversial.
"Per university standards and precedent, SPU continues to remove signs, flags, and displays of any kind, regardless of content or purpose, that have been placed on campus without permission," SPU said in a statement responding to the incident. 
Many students on campus are frustrated with the way the university is handling this, including Elissar Hilal, a senior psychology major.
"You can't call this a free country if you don't have freedom of speech," Hilal said. "If the teachers want to extend support to the students, I think it's more detrimental to stop that than to just let it happen."
Early in autumn quarter, SPU also announced that changing the SPU logo is not allowed in faculty email signatures, preventing faculty from using a popular rainbow SPU logo at the bottom of their signature.
Many alumni are watching these events unfold and having to reflect on the time they spent at SPU, including Evan Engelmann, a nursing major who graduated in 2016.
"It pains me to see my alma mater continuing to double down on their clearly unpopular stance," Engelmann said. "They stand at odds with the broader trends of social progress being made."
Culture war is a term used often when referring to this, as it is a reference to both the SPU motto, as well as the Engayge instagram page.
"Within upper administration and the board they've used this language of culture war and its also been used in a lot of conservative christian spaces," Perez said. "We're taking that language back and turning it back on them, using their own language in protest."
Engayge called the removal "censorship", especially with how fast the flags were taken down by facilities this time.
"They used the term 'upper upper management' and also said something about 'sounding the alarm,'" Perez said. "What we guess is since the last protest, they have instituted a protocol for anytime this happens that they immediately take it down."
Some are concerned that SPU is trying to skew the narrative and remove signs of queer people on campus.
"It could be called censorship, but it appears worse than that," Englemann said. "It looks like erasure, actively removing all queer symbols and sentiments, trying to hide the fact that these identities exist."
As discourse on campus persists, members of the community continue to share their unique perspectives.
"There's no reason that you can't be Christian and be LGBTQ and be accepted," Hilal said. "There's no reason that we cannot work together as a school combining our faith and modernized views."