Lawsuit filed as SPU lands worst list
Seattle Pacific University lands 'Worst List' for second year in the midst of ongoing discussion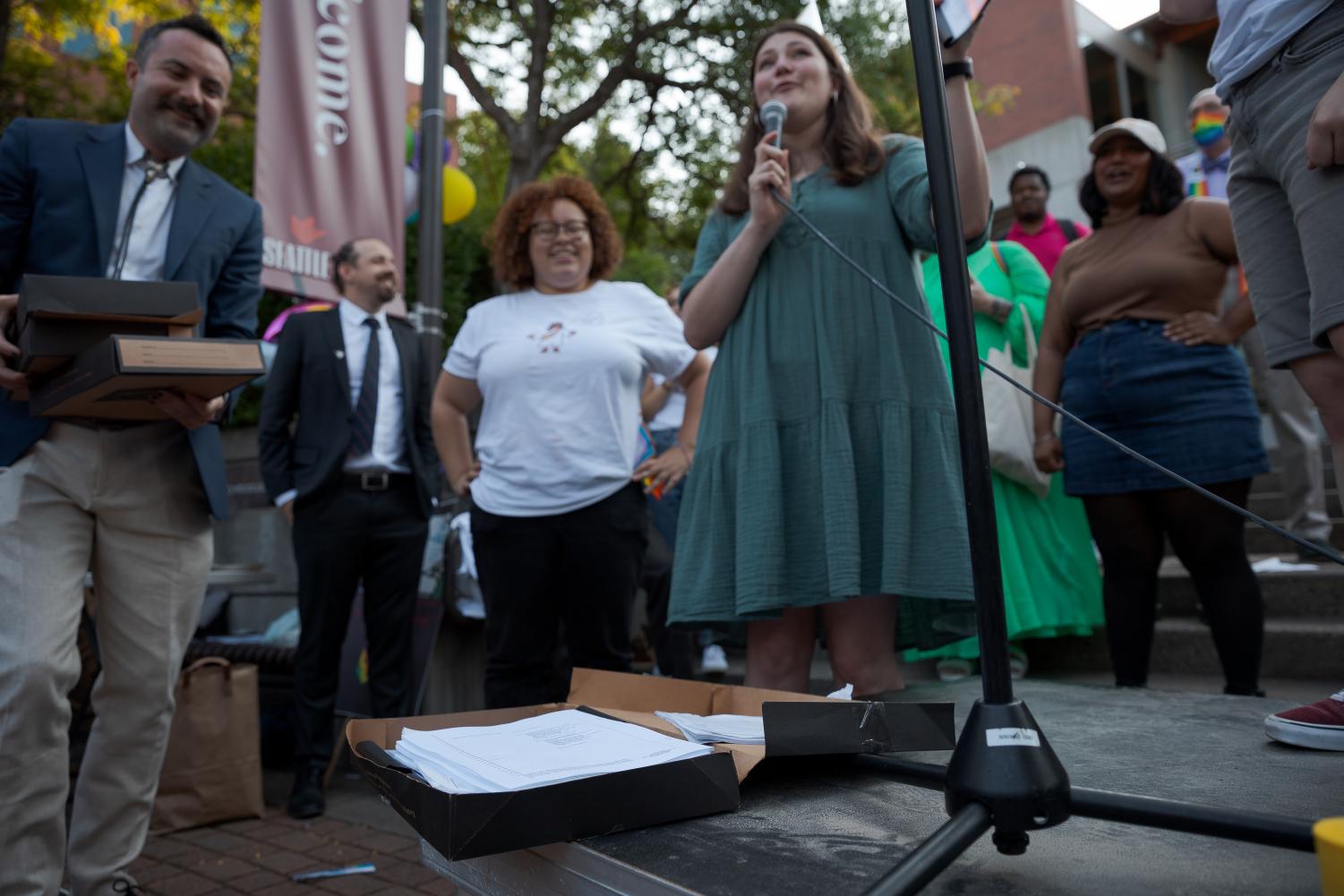 Students, staff and faculty gathered in Martin Square on Monday, Sept. 12, to protest the board of trustees' persistent position concerning SPU's anti-LGBTQIA+ hiring policy. However, among cries of anger rang shouts of celebration. Cheers, songs and even a cake commemorated the official filing of a lawsuit against the board.
Cambria Judd-Babbitt, a law student at Seattle University, graduated from SPU in June 2022. Judd-Babbitt was one of many students to participate in the months-long sit-in protest that took place earlier this year and continues her fight with involvement in the suit. She related how the protesting community, lamenting the lack of change and constructive communication, turned to legal action.
"We were talking about fiduciary duties and ways that board members are held accountable." Judd-Babbitt said. "We were basically like, 'What if we could find a way to sue the board?'" 
They began funding this legal journey by asking community members, staff, faculty, alumni and students to donate, and have already raised over $50,000. 
"[The money raised is] representative of all the donations that have been withheld from SPU during this time because of the policy," Judd-Babbitt said.
For English professor Traynor Hansen, while the lawsuit is not the only route students could be taking, it seems like a necessary one.
"I think the lawsuit is a right path. It's clearly not the only path that has been tried, and I'm glad that work is being done on other fronts, too," Hansen said. "The lawsuit seems necessary since other good-faith efforts to work with these trustees have been consistently thwarted through unethical means, as the lawsuit explains in great detail."
When asked about the lawyers on the team, Judd-Babbitt explained that Paul Southwick, founder of Paul Southwick Law and director of Religious Exemption Accountability Project, and his team have been a huge help and foundation to the SPU community's efforts.
"You can really tell that not only are they dedicated to helping us as clients succeed, but they are very personally invested in this case and seeing its success, not only for SPU, but for communities around the country. [We] are wanting to actionably show love and repeal the hate of the board, and they have demonstrated that in their legal work," Judd-Babbitt said.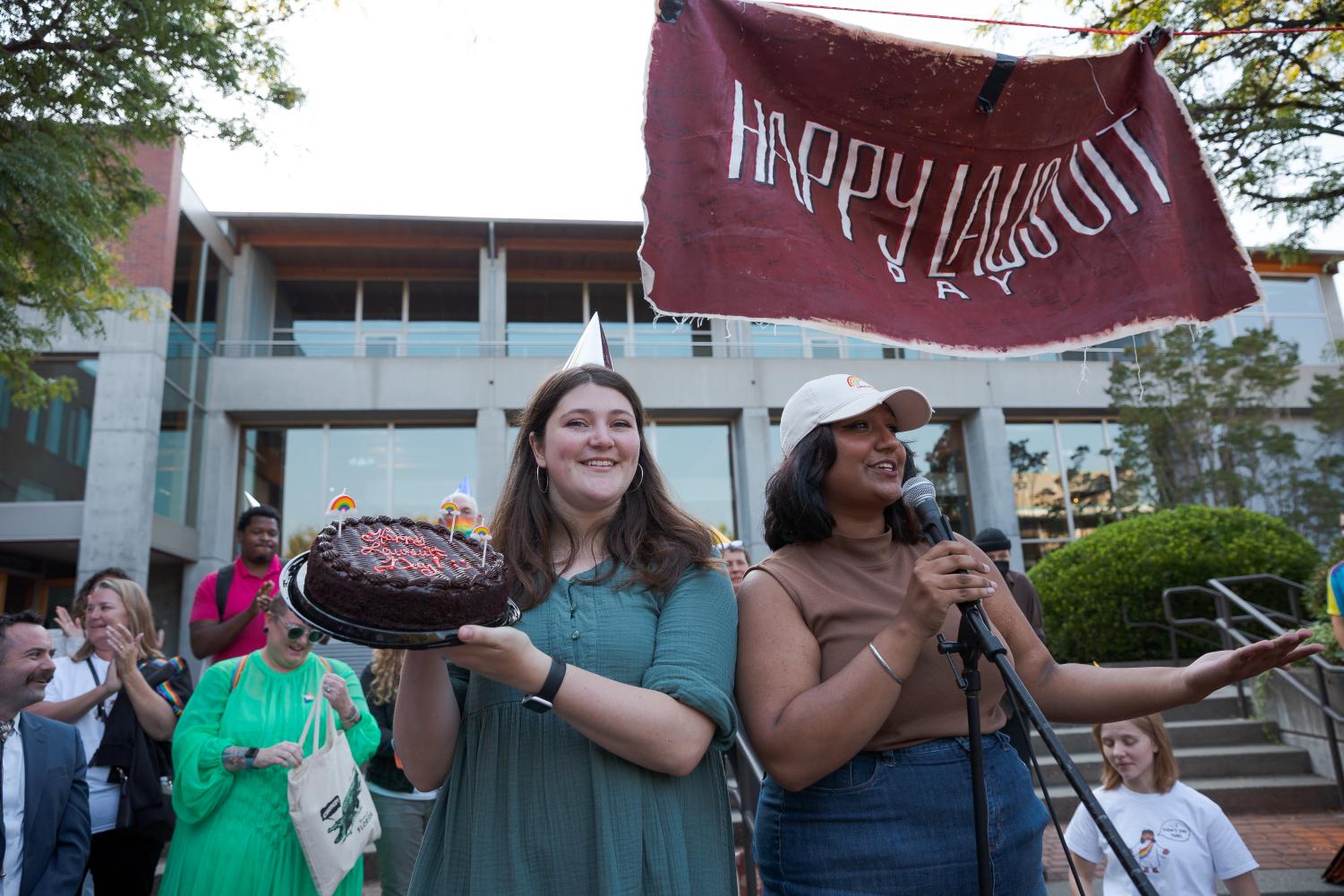 Putting together the lawsuit was and is still a complex process. Judd-Babbitt described the long process of putting together all the information as a complicated puzzle involving some inside and outside sources. 
"We did receive some insight from former board members, and that's about as much as I can say, but they did tell us that a lot of the things we were concerned about were very true," Judd-Babbit said.
The lawsuit is not the only LGBTQIA+ related issue exploding on campus as classes begin. Seattle Pacific University made, for the second year in a row, Campus Pride's Worst List. The Worst List attempts to highlight "The Absolute Worst, Most Unsafe Campuses for LGBTQ Youth," as Campus Pride's headline describes. It includes schools with historically and current anti-LGBTQIA+ policies such as Brigham Young University, Azusa Pacific University and, recently, Seattle Pacific University.
Emeri Beitler, a freshman at SPU majoring in fashion merchandise, shares the complicated feelings both this lawsuit and list invoke. 
"While it's uncomfortable to know that the board isn't with our community here on campus and people see us as an unsafe school, it's really incredible the amount of support available from students, staff and faculty," Beitler said. "It's upsetting that there are so many issues, but I think the inclusive community and campus here is a buffer for everything else going on with the board and the list."
Campus Pride's website lists SPU as having historically caused direct and indirect discrimination, harassment and negative harms as reasons for its place on the list. It also references the lawsuit's catalyst: SPU's employment policy requiring employees to refrain from same-sex sexual activity. The announcement from Campus Pride, in Hansen's opinion, just highlights what many on campus already knew.
"While I think the faculty and staff work hard to make LGBTQIA+ students feel welcome, cared for and loved, that work is severely undermined by the board's reaffirmation of the restrictive hiring policy," Hansen said. "It's a disservice to students and to faculty, since we are deprived of working alongside the fuller representation of God's beloved people that LGBTQIA+ folks bring to our community."
SPU did not have a comment on the list.