Visiting composer reinvigorates aspiring musicians
Joseph Daley inspires students with his reflective work "Seven Deadly Sins"
Friday night's concert at First Free Methodist Church, featuring guest artist Joseph Daley and his composition "Seven Deadly Sins," was a lively performance that left a major imprint on the members of the audience and inspired many for their future careers. 
The piece was very powerful. A mixture of ballads, jazz and upbeat melodies combined to bring these seven sections — one for each of the "deadly sins" — together. 
Joseph Daley is a composer and director of 30 years, well-versed in the ways of expressing himself and bringing musical pieces to life. 
He explained that the piece was influenced by a series of paintings created by Wade Schuman. The art inspired him to create a piece of music that complimented the themes portrayed by Schuman. In turn, Daley's composition excited many others and revived their passion for music. 
Daley is very passionate about his work and shared his love for performing. 
"It allows me to have a vehicle to express my love of the art form called jazz, but it also gives me a chance to experiment with a jazz ensemble," he said. 
When asked about the importance of his work, Daley shared his belief that music connects us all, and he hopes to convey this through his work.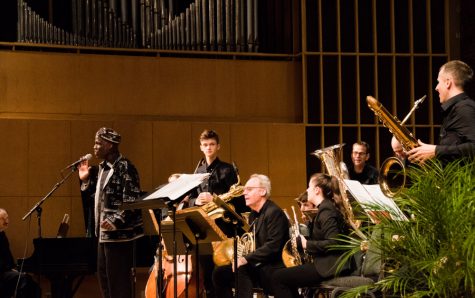 "Wherever you go in the world, people are the same," Daley said. "If you sit down and talk with people you realize they're all the same, everybody's trying to make it and live a good life … I want people to know that they're just like me and I'm just like them." 
Daley shared that this specific composition was shaped by a series of paintings created by Wade Schuman.
"Each painting brought a certain influence to me and I used the influence to build it into a composition."
Daley explained that "Envy," the first section of his musical composition, was crafted with Schuman's paintings in mind. 
"The flightless bird is jealous of the flighted bird. I tried to mix those melodies in. Some of the melodies were soaring to signify the flighted bird, others were for signifying the bird on the ground and it's frustration," Daley said. 
Daley said that the point of this specific piece was to evoke an emotional reaction from the audience. He hoped the audience would leave with a mindset of introspection. 
Music connects everyone, Daley explained, and sharing experiences like this, makes it evident that we are all more alike than we think. 
"With the slow pieces, I was trying to get a sense of beauty so they would enjoy it … with the percussion heavy pieces, I wanted them to feel like they could dance and be happy and joyful," Daley said. 
"Especially with the last piece, I wanted to end big and strong with a powerful ending, and I think we were able to accomplish that." 
Many of the audience members had great admiration for Daley and his work. 
"This event is very important to me and the music department because it allows for us, as musicians, to experience music in new ways," Cora Bruders, a freshman music major who attended the concert, said. 
Both Bruders and sophomore Eric Peterson, shared similar sentiments for the impact that Daley's piece left on them as artists. 
"It really reinvigorated me, and reminded me of the fun we get to have as musicians in this setting," Peterson said. 
Peterson also shared that a highlight of working with Daley was his bright personality and passion for music.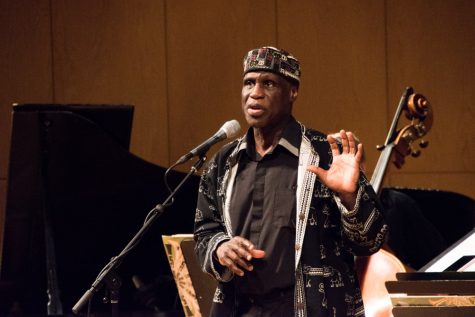 "His spirit is very kind and genuine, and it's really cool to be in a room with him and hear him talk. He really cares about his music. He's so talented and very humble," Peterson said. 
Students also shared that working with Daley and other professional musicians throughout the week gave them a glimpse of what their future could look like as professionals. 
"The musicianship was amazing, and it's something I aspire to," Peterson said. 
Similarly, Bruders said she was glad Daley visited the university. 
"Getting to see a composer direct their work of art is always a really emotional and special moment. Especially one to the caliber of the 'Seven Deadly Sins'. I am very grateful that this event was able to happen so close to me," she said.
She also explained that jazz has always been one of her favorite genres to listen to and play. Bruders expressed her love for the genre and excitement to hear a piece as transformative as "Seven Deadly Sins". 
"Hearing a composition as well thought out with new methods made me so excited," she said. 
"I was swaying along to the music the whole time and so captivated. It was one of the most immersive experiences in music I've been to in a while."