Tree damages roof, windows of SUB collegium
A tree fell onto the roof of the Student Union Building at approximately 7:50 p.m. on the evening of Jan. 31. The elm tree fell from Tiffany Loop onto the collegium, used as a common area for commuter students on campus. It is suspected to have fallen due to severe winds throughout that evening,
It appears to have broken several windows on the side of the collegium which faces Tiffany Loop, and damaged a portion of the roof in that area.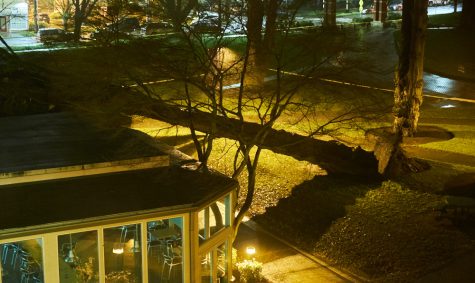 Safety and Security officers were unable to comment on the details of the incident or the extent of damages at this time. No students have been reported injured.
The SUB and Tiffany Loop have been closed off by the Office of Safety and Security for the time being, as a matter of safety.
Some students in Eaton Hall, just yards from the doors to the SUB, were able to see and hear the direct aftermath of the incident from Eaton before the area was closed off.
Junior Felix Amenyo said that he and about five other students studying in Eaton noticed the sound of the tree falling and reacted immediately, running outside to witness the damage.
"We were studying, doing homework, and then we heard a sound. We didn't know what happened, so everyone ran outside," Amenyo said.
The windows of the SUB shook from the impact for "several moments" afterward according to Amenyo. He reports that the roof above the collegium was punctured by the tree, as well as the more easily visible broken windows.
A student who had been walking in the loop called OSS to report the incident immediately afterward, he said.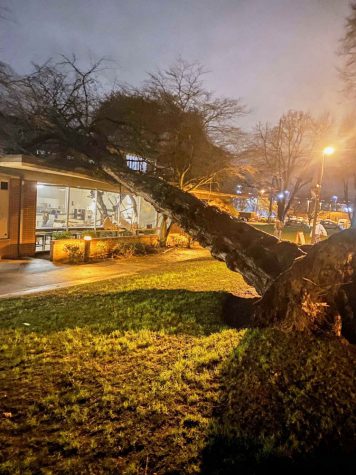 On the morning before the incident just before 10 a.m., the National Weather Service issued a "Wind Advisory" warning with "South winds 30 to 40 mph with gusts up to 50 mph," for the Seattle-Tacoma area, which will be in effect until 7 a.m. Feb. 1.
The forecast predicted that the wind would hit its peak in the evening of Jan. 31.
"Gusty winds could blow around unsecured objects. Tree limbs could be blown down and a few power outages may result," the National Weather Service said in the wind advisory warning.
This is a developing story, and more information should be available in the coming days regarding the extent of damages and length of building closures.