Curiosity in conversation
"No Small Thing" podcast prompts listeners to think deeper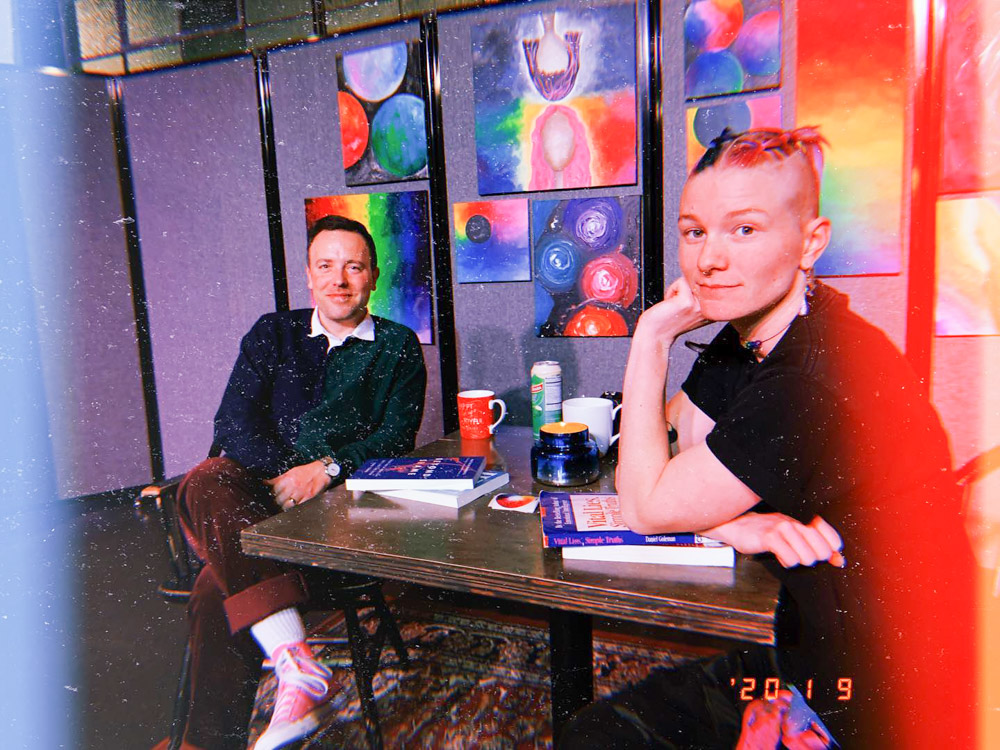 Scott Gronholz and Macie Mooney, educational ministry graduates of Seattle Pacific University, host the podcast "No Small Thing." They discuss a diverse range of topics that anyone can enjoy listening to, and they seek to inspire their listeners to not be afraid to chase their curiosity. 
Currently, both Gronholz and Mooney work at churches in Seattle, but they said that discussing topics like theology in college led them to realize they enjoy long conversations about niche topics. They were told to start a podcast and have been publishing episodes weekly for the past year. 
"We want to encourage people to live a less certain, more curious life," Mooney said in an interview. 
They discuss a wide variety of topics on their podcast including music, art, philosophy, theology and personality tests. Through their podcast they strive to inspire listeners to have more analytical and inquisitive conversations. 
One of these topics is the Enneagram Test, which they said they enjoy learning about because it gives them insight into who they are as people. 
"The Enneagram and defense mechanisms are two topics that help us to be a little more introspective. I love any topic that helps us get critical … that turns the microscope onto ourselves to learn about who we are and why we do what we do," Gronholz said. 
Mooney says having in depth conversations with one of her closest friends has been an experience she can grow from. Scott says that because they are different ages, they have different perspectives on topics and they can both share and learn from each others ideas. 
"Everybody has something to teach everybody," Mooney said.
Gronholz and Mooney also want to focus on recording a casual and entertaining conversation that is accessible to anyone.
"One of the things we think about when recording is the idea of tyranny of taste. Meaning, we let our taste dictate how we are going to make our podcast," Gronholz said. 
By talking about a wide variety of topics and questioning all of them they hope to inspire listeners to become more curious. 
"If people became more curious by listening to our podcast that would be gold," Gronholz said. 
Mooney emphasized they hope people take that curiosity and turn it into conversations with those in their lives. 
"I would hope that people are encouraged to have these kinds of conversations," Mooney said.
Mooney reminisced about how attending college launched her journey in thoughtful conversations about life purpose, religion and a number of other topics.
"This idea of embracing the mystery of both life and divinity grew its roots in my studies at SPU. I remember coming into college with a very particular lens that brought me towards more black and white thinking. College opened me up to the grey area," Mooney said.
Mooney described how it was unnerving coming into this new mindset of not always knowing the answers. The new way of thinking was, at times, difficult. 
"In college, while I was being moved towards this way of thinking it was really scary," Mooney said.
 "My encouragement is that you can find stability in that space, but it's also okay to be lost and confused."
Mooney said this grey area is also what their podcast revolves around; there can be lots of ways to view one thing. She emphasized that it is important to find people to lean on during times of uncertainty throughout college and in life. 
Gronholz discussed how the American school system requires kids to know who they are and even determine their career path from a young age. By the time they get to college they should know what they want to do with the rest of their lives.
Gronholz disagreed with this theory commenting how students should instead use this time to experiment.
"College is a perfect time to try on different friendships and personalities. That is a healthy thing."
Mooney and Gronholz hope their show leaves listeners questioning what they believe. 
"We want people to leave feeling pleasantly disoriented. We want people to feel intrigued," Gronholz said. 
He hopes that the podcast makes listeners feel included and provokes their own deep conversations.
"From the beginning we have hoped that this isn't just a Scott and Macie thing, that 'No Small Thing' is more of a group and a gathering. It's about community and people coming together to be more curious," Mooney said.  The "No Small Thing" podcast can be listened to at https://nosmallthingpodcast.com/ or on podcast streaming services such as Apple Podcasts. For more information, visit their Instagram @nosmallthing or email [email protected].