Swiping out hunger
SPU and Sodexo join forces to provide meal swipes for students in need.
The ramen noodle diet has become synonymous with college life. For students, a 12 pack of ramen retails for a little under five dollars and dinner is served.
Access to food in college is very different from previous high school years. Students enter campuses withdrawing from home cooked meals and transitioning to providing for themselves.
Living on campus means dining hall food that is prepared for them and relatively easy.
For those not living on campus, dinnertime means a ramen meal or asking an underclassmen friend to swipe them into the dining hall, desperate for a meal that they do not have to make for themselves.
"I swipe my sister in all the time when she doesn't feel like making dinner," freshman Austin Ibale said.
Sodexo and Seattle Pacific University are partnering to tackle insecurity on campus by partnering with Swipe Out Hunger, a non profit working toward minimizing college food insecurity.
"One in three college students face food insecurity, looking at campus that still is a lot of people and Swipe Out Hunger hopes to tackle hunger here," Hannah Waterman, student coordinator for Swipe Out Hunger, said.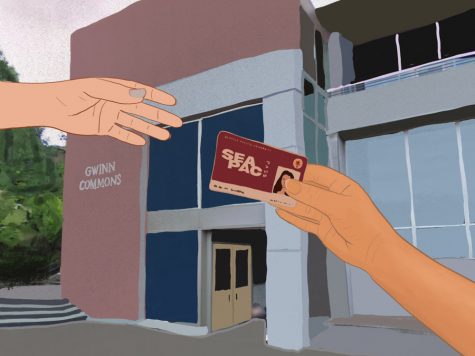 Sodexo is addressing food insecurity by partnering with Swipe Out Hunger, which is working to provide "two free meals for every full-time meal plan sold."
Addressing food insecurity on campus has been in the works since early 2019 and next week Swipe Out Hunger will have its pilot debut.
At a private liberal arts school where 70% of students receive need-based financial aid, a food initiative like this may be effective.
"Even on a campus in a nice Seattle neighborhood, food insecurity is still very much a reality," Waterman said.
SPU is one of 13 schools that will pilot the program starting next week to address college students' lack of access to food.
"It is something that is going to lead to more conversations about what it means to provide students with basic needs as a human being before we can support them as students," ASSP President Nathan Samayo said.
Swipe Out Hunger has impacted many schools such as Ithaca college where 1,678 guest swipes were donated in the 2018-2019 school year.
With numbers like that, Sodexo and SPU hope this initiative will do well on campus.
For some, Sharpen's post-chapel Tuesday meals provide one meal a week, however Swipe Out Hunger hopes to reach an even wider audience at Seattle Pacific.
Starting next week, Swipe Out Hunger will begin its meal swipe bank on campus where students can self-apply or be nominated by a friend or professor to receive meals.
"We have an email and website set up where people can make a request on their own or submit a request for a friend or classmate," Chuck Strawn, Dean of Students for Community Life, said.
Through this online interface, privacy is prioritized for students in need.
"We are asking folks to give a bit of information about what is going on for them — it's a confidential private submission that only I have access to. This allows me to understand who our students are and how the University can better support them," Strawn said.
After entering into the website, students will apply for meals and can be accessed through the Falcon ID card. Shortly after, an email will be sent to the student stating, "you have been approved to have x meals donated."
"There is some stigma and shame, so we are trying to make it as easy as possible," Strawn said.
Together, Sodexo and SPU plan for a two-day turnaround where the five block swipes will be put onto a student's card.
In the future, Strawn hopes for an interface where students with excess meal swipes can donate them to the meal bank.
"I've always had leftover meal swipes so the possibility to be able to donate those to help those in need is such an amazing opportunity," sophomore Taylor Hiroyasu said.
Students are allowed to apply for as many meals as necessary but, in hopes of tackling a larger issue, Strawn and SPU picture a conversation taking place to provide further assistance in students' lives.
This bank of meals is donated by Sodexo and Swipe out Hunger anticipates to kick-off this initiative with 1,300 meal swipes in a bank reserved for students in need.
"I hope it will become a reliable part of SPU life for students," Waterman said. "So if they are in need, Swipe Out Hunger is there to catch them."
Update February 3, 2020: The Swipe Out Hunger Initiative started this Feb. 3. Those who self identify as being in need can now fill out forms online or talk with faculty and staff who can fill it out on their behalf. Requests are confidential. Visit the website below for the form.
https://spu.edu/administration/office-of-student-life/community-life/swipe-out-hunger