Exploring campus accessibility options
Students at Seattle Pacific University complain daily about being out of breath, and it is not hard to see why — the campus is built into a hillside, requiring the use of stairs or steep hills to get around. As residents of Ashton hall may know best, this can be challenging.
Along with hills and stairs come an issue that may be less obvious to some: accessibility. Some students are unable to take the stairs, which can add time and difficulty to the process of getting to campus buildings.
Not all campus buildings have elevators–the SUB, Demoray, and Hill and Moyer Halls do not, for instance. Additionally, many buildings are difficult to access due to the many sets of stairs surrounding them.
"We are like many other colleges located in Seattle and around the state, some of our spaces are accessible and others are not as much," Annabell DuMez-Matheson, assistant director of SPU's Disability Support Services, said.
SPU has made recent improvements to accessibility, such as curb cuts in Tiffany Loop and between the SUB and the bookstore, which DuMez-Matheson said she is grateful for.
But some students with injuries that limit their mobility said that they wish that our campus was more accessible, an issue that can also affect some students with disabilities.
Junior student Kylie Reese, who has had several injuries to her ankle during her time at SPU, has used crutches and a scooter to navigate campus during these times.
"It's actually extremely difficult when I was on crutches and a scooter," Reese said.
She lived in Hill Hall during one of her injuries, which does not have an elevator. While DSS, with facilities, did offer to move her room, she thought that moving her things downstairs would be too much of a hassle.
"The center for disabilities helped me move my classes and offered to move my dorm room, so it was fairly easy — it just took a while," Reese said. "Like, it wasn't automatically, but they were very supportive."
The hardest part, she said, was navigating the hills and stairs between upper and lower campus.
"When I was on a scooter, to go from the gym to Gwinn you have to actually go up the hill next to Demarary, and then around to get to Gwinn. There's no direct way and it's really hard to get up that hill on a scooter," Reese said.
Zack Paulsen, a freshman whose recent surgery caused him to wear a boot, agrees that the hills and stairs are the most serious issue.
"It's definitely not as easy with the stairs, I have to scoot up hills, but having a scooter is definitely easier than having crutches," Paulsen said.
He chose a scooter over crutches due to the layout of the campus and how difficult crutches can be. He said that adding ramps to SPU's many sets of stairs would be a good start to making improvements.
Student Ashtyn Winter, whose ankle reconstruction put her in a cast and on crutches, had similar things to say about Demaray hall as the others.
"I wish Demoray was more accessible because there aren't any elevators in that building and the only way to access it was by stairs or a huge hill," she said.
DuMez-Matheson said that SPU facilities has been helpful in making modifications for students who may need them.
"They are great to work with, and even though sometimes it takes longer than I would hope, I know they are continually working on improvements and aiming at making this campus as good as it can be," DuMez-Matheson said.
"I have seen great progress in my time here and I hope to continue to see more, we are constantly evolving."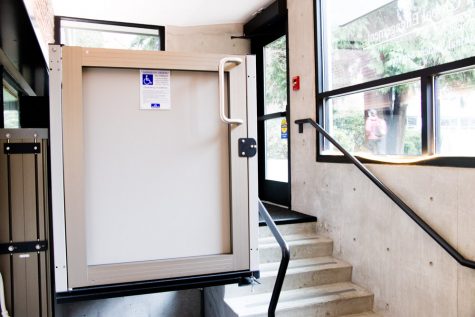 Whenever a student is scheduled in a classroom that is not accessible, the DSS office will relocate their classroom to a place that is accessible to that student, with the help of facilities and security. OSS can also pick up students and drive them to class if needed.
"Safety and security helped me," Reese said. " I lived in Ashton the second year when I was on crutches … they were very helpful in coming and picking me up and taking me wherever."
Winter recalls OSS coming to help transport her, but feeling stressed due to the time it took them to come and pick her up.
"When they do pick you up they, for the most part, aren't very helpful. Trying to get in a car with a backpack, crutches and a huge cast is very hard and I always felt very rushed," she said.
According to DuMez, the reason so many buildings on campus are not accessible is because they are old; they were built before 1990.
The Americans with Disabilities Act (ADA) was signed in July 1990 and prohibits discrimination against people with disabilities in all facets of public life, including buildings open to the general public. Meaning that all newer SPU buildings are accessible but older ones are not, unless they have been renovated.
For students whose classes are in located inaccessible buildings, DSS will move their classroom to a more accessible location. They also work to combat other problems with accessibility that students come across.
"Because each person's needs may be different than the next, we often have to think of creative ways to try to accommodate a student, and work towards solutions when we discover unknown barriers that exist," DuMez-Matheson said.
DuMez-Matheson recommends that if students want to advocate for their peers who need more accessible options, start by being aware of the accomodations that exist, then checking their functionality.
"Know the wiggle routes, know where elevators in buildings are, support continued growth of our accessibility on campus by reporting malfunctioning door openers, by noticing when something is blocking an entrance, or an accessible bathroom stall," she said.
"Think beyond your own ability and into the lived experiences of those who have different abilities."
DSS is unable to provide the names of students who use their services, and efforts by the Falcon to come into contact with such students were unsuccessful. However, we recognize that students with disabilities are real and important voices on our campus, with unique perspectives on its accessibility which are missing from this article.
For a list of all the elevators on campus see the accessibility map: https://spu.edu/campus-map/accessibility