Building the future of journalism
SPU alumni, professor and student reflect on the importance of student journalism
Students listened intently, nodding their heads along as one of Seattle Pacific University's journalism professors, Karen Rathe, gave a lesson on the importance of writing accurately to her Reporting and Storytelling class.
Classes in the journalism major, such as this one, prepare and equip students who aspire to become journalists with skills like media literacy, writing and effective communication.
The hard work that student journalists put into their major and activities, such as student newspapers, are celebrated every year on Jan. 29 with Student Freedom Press Day.
Student Press Freedom Day, according to the Student Press Law Center is, "a national day of action when we celebrate the contributions of student journalists and highlight the need to support their independence without censorship or threat to their advisers."
Those connected to SPU's journalism program see student journalism as worth celebrating because of the way it is preparing students for the future of journalism and giving them a platform to learn and share.
For Rathe, she enjoys being able to help her students with teaching the necessary skills to help them continue their journey to become journalists.
"I am glad to see young people in journalism. I have been really impressed with the students in this program. They are all impressive and I hope to see a lot of them go into successful internships," Rathe said.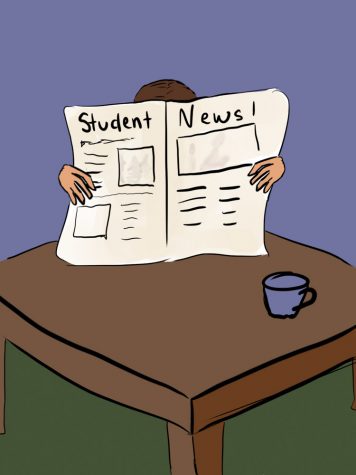 Tegan Johnson, a second-year journalism student in Rathe's class, plans on going into publishing and feels that what she is learning in her classes now are valuable for her future.
"I think student journalism is important because it teaches aspiring journalists on how to do good reporting," Johnson said.
"[In] the classes that we have to take we learn the ethics behind it, we learn how to write a good story, how to keep it true and make it what makes professional journalism so good."
This sentiment was echoed by SPU alum Manola Secaira, who graduated in 2018 with a degree in journalism. She worked for The Falcon for three years and now works for the Seattle online newspaper, Crosscut.
"It was so important. Some of the first big stories I wrote that felt big to me were at the student newspaper. Having a teacher there to really guide me was really important," Secaira said.
"I feel like a lot of people who want to write, it's hard for them to share their work publicly for the first time. And writing on a student newspaper allows you to do that in a really safe setting."
Her high school student newspaper and The Falcon were where Secaira was able to get her start as a reporter. To her, student newspapers are a place where aspiring journalists can start and learn the ropes. They are able to try and fail, and then learn from their mistakes to do better.
"I feel like everybody needs a place where they can publish their first work and have it be a safe space for them to do that and really explore their interest," Secaira said.
The Falcon was a safe space to try writing for Erin Beattie, another SPU journalism alum. She originally wanted to go into music therapy, but after discovering that she enjoyed writing, she joined The Falcon as a features and opinions writer.
She now works as a social media director for the Northwest Institute on Intimacy, where she utilizes the technological skills that she gained through the journalism program.
She believes student journalism is worth celebrating because of the impacts that it has on campuses and because it is preparing the next set of professional journalists for the world.
"I think student journalism is worth celebrating. I think it's important to be aware and look at the past of student journalism and see the impact that it truly has on college campuses," Beattie said.
"I am hopeful for the future of journalism. I think that education is the key and that's what student journalism is doing — preparing for the future."