Job brings joy to sports information directors
Lepse, Moschetti, prepare weekly news for Falcon fans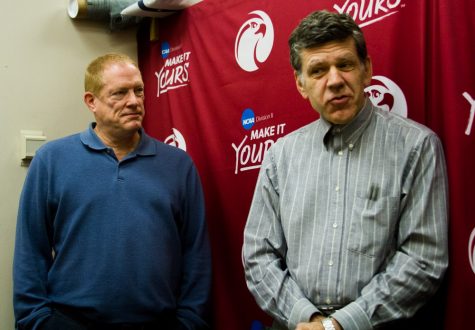 Head and Assistant Sports Information Directors Dan Lepse and Mark Moschetti have been at their jobs since 2008. As sports information directors at Seattle Pacific University, the pair covers each and every Falcons team and updates the Falcon fans on how the teams are performing. 
With their job also comes the passion and love for sports. Moschetti and Lepse both fell in love with sports at a young age.
"Growing up, until sixth grade, I had no interest in sports," Moschetti said.
But that eventually changed. 
"One night, I was 12 and my mom had a Sonics vs Portland Trail Blazers game on TV. I had come home, and they were just starting the second half. I started watching it and kind of got hooked. From then on I have been a sports fan." 
Growing up, baseball was a part of Lepse's childhood. He is a big fan of the Chicago Cubs, where his love of sports began. When he was seven, he went to a Tacoma Cubs game. A year later, he went to a double header at Wrigley field and he said he also "was hooked."
As sports information directors, they do many things behind the scenes such as cover the SPU teams, as well as working with others from around the conference offices to collaborate on things like awards, and sending them whatever information is needed
 For their job, there are processes that they must take each day so that they can be prepared for any sporting events are happening during the week or, typically, weekends.
They will put together notebook like packages that include previews on the upcoming games and a quick report on the Falcons opponents. These go up on the website and they also have printed game programs as well for people attending the games.
Lepse started his career as a sports information director at the University of Washington while he was a college student. He was aware of the SID position at UW, but did not pay much attention to it. 
"I didn't start until my last 2 years over there. I went in, and asked if they needed any help and they had some students and it was great," Lepse said.
Eventually, the travel schedule for the University of Washington was no longer ideal for Lepse, and he took the open position at SPU in order to spend more time with his three daughters and wife.  
Moschetti, who has lived in Seattle his whole life, worked for a newspaper in South King County for 33 years before getting a job at SPU. 
"In 2006, the paper was sold. It was a daily. The new company converted to a twice-weekly," he said. 
He ended up staying a little bit before moving on from the newspaper. Right after he left, Moschetti started to look for a new job, which is when he came across SPU's position of assistant sports information director, which was recently created.
 Moschetti and Lepse have covered some memorable moments during their time at SPU, whether it be for big titles or achievements by the student athletes.
Moschetti talked about a moment that happened two years ago in Volleyball with a former athlete named Hannah Lauterbach. The first match of her college career, she got a game-winning kill versus Concordia University Portland. 
"I was talking to her for a future story, we talked about that a little bit and she said we thought that it would be cool if she got the kill on match point on the very last match of her career which was also at Concordia-Portland. Sure enough, she did," Moschetti said.
Lepse remembers his first Fall at SPU when the women's soccer team won the national championship. 
The game had gone into overtime and everything was on the line for SPU. During that year, they had played an undefeated West Florida team in the 2008 national championship. 
"It was phenomenal. It was scoreless in overtime. It started raining in overtime. And a gal named Janae Godoy kinda spun and fired and ended the game with the goal," Lepse said. "It can't get much better than that. It was amazing to watch."
All in all, Moschetti is completely satisfied with the decision he made to join the staff at SPU.
"To me, I get to come to work everyday. I don't have to come to work, I get to come to work. And I figure if you can say that, you are in the right job … I came here and I can't imagine being anywhere else."