Another victory on road
Moffitt scores 29 as Falcons take down Point Loma while away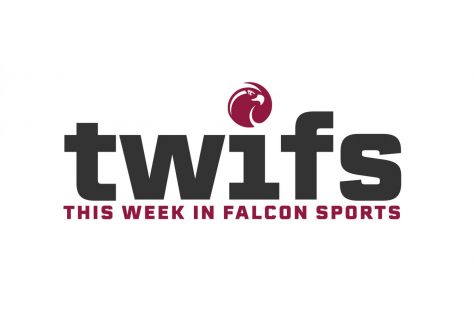 Sophomore point guard Divant'e Moffitt set a career high with 29 points, and also added 8 assists and grabbed 7 rebounds, in a 96-89 win against the Point Loma Nazarene University Sea Lions Saturday, Nov. 29. He was named GNAC player of the week for his efforts. The win was significant for the Seattle Pacific University, as the Sea Lions were the second place finishers in the NCAA Division II basketball tournament last season. 
"PLNU is a very good team and have been very efficient as a team on offense all season," Falcons men's basketball Head Coach Grant Leep said. "They shoot and make a lot of threes, and we knew it would be important to guard the three-point-line well."
The Falcons were behind early, as Point Loma's Ben Okhotin hit a three-pointer to extend the Sea Lions lead to 13-5. From there, the Falcons fought back and eventually pushed into a 29-28 lead. The score continued to be close throughout the half, as Falcons freshman Shaw Anderson fouled Okhotin on a three-point attempt, and Okhotin made all three free throws to tie the score at 46.
In the second half, the Falcons pushed ahead to get a lead of eight point, off of three straight shots made by junior Harry Cavell. Every time the Falcons surged ahead, however, Point Loma had an answer. The Falcons extended the lead to nine thanks to an Anderson layup with 3:24 to go, but another Okhotin three, and a layup and free throw from Kaden Anderson, got Point Loma within three again. 
Luckily for the Falcons, Moffitt scored the Falcons last eight points of the contest off of a three pointer and five made free throws. The free throws made by Moffitt proved to be too much for the Sea Lions to overcome, and the Falcons pushed their record to three wins and four losses on the season. 
"Divant'e has worked so hard all season," Leep said. "He has improved his decision making with the ball, his command and ability to run our offense and, with that, his confidence has grown."
The Falcons made 60% of their shots, and out-rebounded the Sea Lions by 14 (38-24).
Some of the Falcons' other contributors in the game included Cavell with 16 points and seven rebounds, and senior Gavin Long with 12 points.
Anderson lead the Sea Lions with 27 points and 10 rebounds, and Okhotin was not far behind with 23 points. Sterling Somers also contributed 17 points.
Next up, SPU's men's basketball will open GNAC play next weekend, taking trips to face Central Washington University Thursday, Dec. 5, and Northwest Nazarene University Saturday, Dec. 7. 
Women's basketball will begin conference play with the exact same road trip on the exact same day, taking on both opponents right before the men do.
The gymnastics season is also right around the corner, as the Falcons first meet will take place Jan. 11 in Corvallis, Oregon. The Falcons will compete against Oregon State University and Centenary College, a Division III school in Louisiana.