Letting go of classic fairytale tropes
Frozen II develops characters through new villain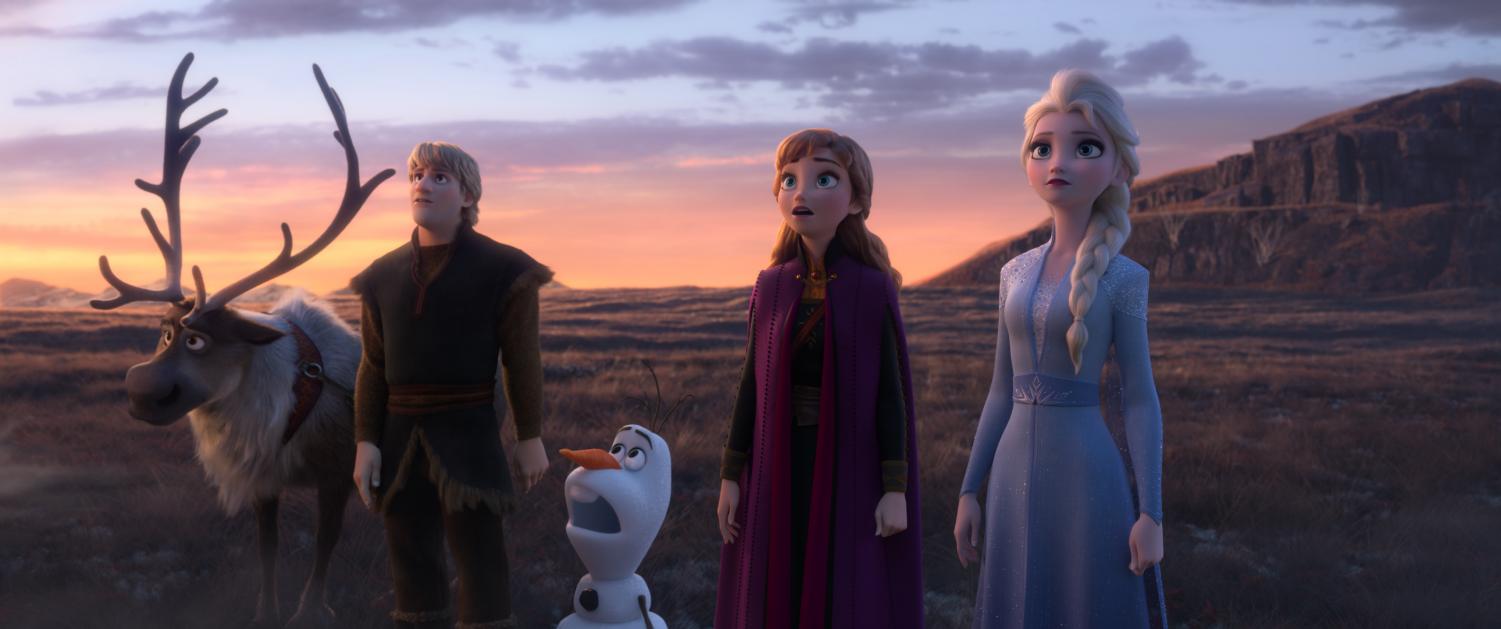 Arendelle, now a peaceful kingdom, celebrates once again with a grandiose festival. Unlike in "Frozen" (2013), however, they are celebrating the onset of fall, which brings colorful leaves and crowds cheering over the calm peace they have observed after the last film.
Elsa (voiced by Idina Menzel) looks out of her castle overlooking the large crowds on the street. She hears an unfamiliar voice, knowing that once again she will be called out to leave her kingdom to protect it. Elsa must venture forth into a misty, dark forest that is full of mysteries. In the process, she must uncover the long hidden truth of both her past and the past of her kingdom.
This quest to uncover the secrets of the past is one of the most striking components of "Frozen II," Walt Disney Animation Studios' new animated film released Nov. 22, directed by Chris Buck and Jennifer Lee.
"Frozen II" is a fresh take on many of Disney's previous 'princess fantasy' films through its blatant disregard of typical villain archetypes and character development, while also maintaining a remarkable film score commonly expected of this genre.
At first, it seems like the film will be a boring stroll through a forest as it becomes apparent that, unlike the first film in which had Elsa to face up against Anna's (Kristen Bell) evil prince charming Hans (Santino Fontana), the film does not have a clear villain like many of Disney's classic animated films. 
Instead, the film subverts this expectation by making the focus of the movie the history of Arendelle and its past encounters with the forest Elsa is called to investigate. 
Elsa encounters people and does have conflict with them. However, they serve as a vessel of how the forest environment is a villain in itself for the protagonists to overcome. 
"Frozen II" is not a movie about a woman's sacrifice caused by her falling in love with a prince or having to overcome a scary villain. Instead, the villain is their past and how they must change themselves and their beliefs in order to overcome the obstacle and rectify past injustices.
This creates a dynamic, refreshing take on the princess fantasy genre as the character development of both Elsa and Anna continues to paint them as strong, multifaceted characters who must look inward in order to succeed — an uncommon trait in these films. 
In what is another genre-defying move, Anna, who is a supporting character, sees the most drastic development throughout the film.
In the beginning, just like in the last film, she is still the protector of her older sister and seeks to keep herself and Elsa together no matter what happens. When Elsa is called to explore the forest, Anna follows after her. However, Elsa is called to uncover the secrets alone and goes out on her own. 
This puts Anna, who was more of a follower in "Frozen," in a leading, and ultimately pivotal role — a necessary part of the plot that makes her an equally substantial character as Elsa. 
Expectedly, "Frozen II" also excels musically.
While "Frozen" produced the hit song "Let it Go," "Frozen II" had an exceptional score, once again composed by Kristen Anderson-Lopez and Robert Lopez, which, in many ways, outdoes that of the previous film.
From songs like "Into The Unknown" performed by Menzel and AURORA, and "Show Yourself" by Menzel and Evan Rachel Wood, the score proved to once again create perfect music to accompany the journey of the characters, as well as to invite viewers to sing along during pivotal moments in the movie.  
It is through the combination of a focus on a less action-packed, and more character-focused story, and great music, that "Frozen II" becomes a powerful successor to one of the most popular Disney movies in recent history.