Spreading wings in new role
Becoming enigmatic SPU mascot, Talon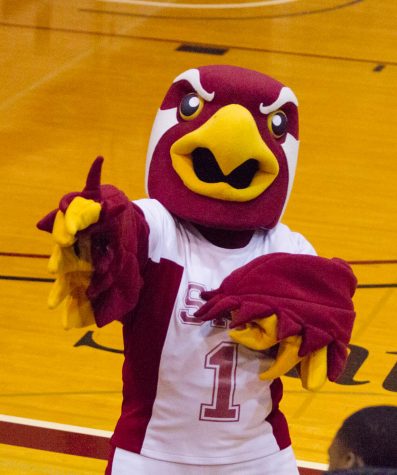 Editor's Note: To maintain anonymity, the student in this article is referred to as 'Talon.' Talon the mascot is male. The pronouns used in this article do not necessarily reflect the gender of the student inside the suit. 
At any Seattle Pacific University sporting event, there is one thing that fans cannot miss. It's not the players on the court or the field, the cheerleaders doing stunts or the food in the concession stand.
When attending an SPU sporting event, one is sure to see Talon greeting fans, snapping a few pictures and maybe even throwing a t-shirt into the crowd to get the crowd pumped up.
This year, a new Talon has assumed the role, and he is quickly learning valuable information to help him do his job better.
"I never realized how hard it was to throw in a mascot costume until I came here," he said.
When not being a mascot, Talon enjoys walking around his new campus, as well as watching movies or tv shows and knowing obscure pop culture trivia.
Talon also has a deep love for sports, as it was a big part of his family growing up. Talon played soccer, basketball and track as a kid, and now enjoys watching soccer, football and baseball.
When he was unable to continue playing sports, Talon was asked to be his high school mascot during his freshman year. The mascot was new to the high school, so Talon was the first person to wear the suit for that school.
Coming into life at SPU, Talon was not planning on continuing to be a mascot, but he applied for the job anyway and ended up getting to be the one inside the suit.
"I'm really grateful for the opportunity they gave me to do this because I really enjoy it," Talon said.
Talon has always had a respect for college mascots, and that's led him to where he is today.
"They're juggling student life and then, all of a sudden, this, like, different persona," Talon said.
"Putting on the mask, and being someone else, it's a weird but awesome feeling because no one knows who you are under the mask. And then all of a sudden, you're making all of these people's memories happen because you're just kinda dancing around next to them."
The biggest part of being a mascot is the fan interaction, and Talon enjoys contributing to student life on campus and getting students enthusiastic about the games going on.

Talon interacts with many different groups of people over the course of a game, including students, staff, alumni, opposing fans and families.
But interactions with little kids can be a mixed bag.
"There are some that are absolutely terrified of Talon, and kids who are like 'this is my new best friend!'" Talon said.
Talon loves working with kids, but because of where his eyes are situated, he does not always see them coming.
"All of a sudden I feel something like brush up against my leg, and I'm like 'what is that?' and the next thing I know, a kid's hugging me," Talon said.
Fan interactions can also be a difficult part of the job as well. Sometimes, people try to look down the suit to see who's inside, or yell "who are you?" at Talon at every sporting event.
Still others try to get a little bit too close to Talon, but in a different way.
"I have had a lot of people — both men and women — flirting with Talon, not knowing what Talon's gender was … I've gotten a lot of kisses on the beak, that's for sure," he said.
Still, Talon appreciates the love he receives from the fans, especially the love from the faculty of SPU. Talon mentioned one of his favorite moments of this year being Halloween, when he got to interrupt some classes and hand out candy to the students.
Everything Talon does is to improve fan experience, and getting gratification from the fans makes it more worthwhile.
"A little bit goes a long way, and it kinda helps make the experience a lot better for me as Talon," he said.

So the next time you see Talon, you don't have to give him a kiss on the beak. Just smile and wave, and know that inside the mask, he's smiling back too.