Finding ways forward
Baby steps to update human sexuality statement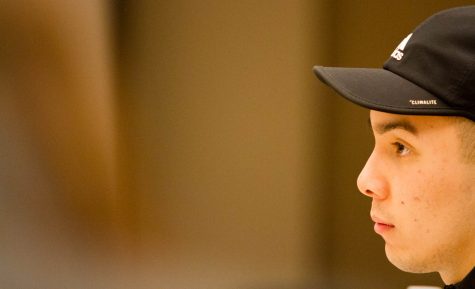 ASSP President Nathan Samayo is on a mission. He wants to see the Seattle Pacific University Statement on Human Sexuality change while he is in office, and he is determined to see that vision through.
"If it impacts students' lives, I'm not willing to compromise it," Samayo said. "I'll do as much as I can just to see the whole proposal roll out."
Samayo, along with Lila Fowler and Joseph Cagley, are continuing their efforts to have the Statement on Human Sexuality at SPU revised or replaced to be more inclusive of the LGBTQ+ community. Fowler and Cagley are former ASSP senators and they co-authored the original proposal to revise the statement last year.
"There were three things we proposed: one was to revise the Statement of Human Sexuality and replace it with the Statement of Affirmation. The other one is to revise the non-descrimination title under University Policies to extend protection to sexual and gender minorities, and the last is to revise Section eight under the Student Standards of Conduct," Samayo said.
Up to this point, Samayo, Fowler and Cagley have had several meetings with members of upper administration discussing the progress of the revisions, but there have been no changes this academic year.
This summer, conversation continued about the proposal. According to Samayo, the Board of Trustees brought in outside help to review the proposal with them and help them reach a conclusion.
"There were professionals who did workshops, or just seminars to unpack the proposal, to give the board of trustees a more [informed] decision," Samayo explained. "At the end of the day, they said they're not open to changing it."
However, the Board of Trustees did not completely close the door on the possibility for Samayo, Fowler, Cagely and supporters to succeed.
"What they are allowing is for us to give them revisions about the human sexuality statement as it stands right now," Samayo said.
Samayo and the co-authors are currently in conversation trying to find a way forward.
"The heart of it is really to advocate for the identity and the representation and the honoring of students of whatever gender or sexuality that they identify as," Samayo said.
Last year, Cagley and Fowler brought the original proposal to revise SPU's official Statement on Human Sexuality to the senate floor. In that meeting, they explained to their fellow senators why acknowledgement of all students is vital.
The proposal passed through senate on Nov. 19, collected signatures and letters of support, and went to the upper administration where it stayed until the school year ended, despite student efforts to push progress forward.
The only success of the proposal was a change of section eight of the Student Standards of Conduct, which removed the word "homosexual" to make the section more inclusive.
Section eight currently states that it prohibits, "Sexual activity outside of a married relationship. Cohabitation between two persons in an amorous relationship who are not married to each other is also prohibited."
Before the change, it distinguished homosexual relationships from other relationships and marriages.
Samayo also specified that last year's efforts ended with the Board of Trustees not fully accepting the proposal, but not completely shutting down the team's ideas.
"Ultimately, the decision was that they didn't want to remove the statement of human sexuality, but they were open to offers of revising it in some way," Samayo said.
From the beginning of Samayo's campaign for reelection, Samayo was clear that one of his major goals was to see the proposal passed this year.
This year, Samayo said, he and the co-authors are not giving up on that dream, but they are hoping for student input and engagement to help them plan their next steps.
"We're hoping to host a campus-wide forum just for folks who are interested to know the update on this proposal," Samayo said.
"With the authors and I giving an update on where the proposal stands, and just asking for if anyone has ideas of what we can do next."
Samayo assured that, even though they are stalled at the moment, he feels that their efforts are nonetheless significant. He thinks that the proposal will result in more engagement with the topic on campus.
"Even if in this exact moment the changes aren't being made, it's still leaving space for the conversation to be had."
Samayo said that he recognizes the weight that this proposal and the conversation surrounding it holds for so many students, faculty and supporters.
"I also think there are people whose identities and lives are at stake," Samayo said.
He said that not talking about these issues is harmful to students in the LGBTQ+ community, and he hopes to make those students feel comfortable and acknowledged.
"The hope of this proposal is just to honor students and what they identify as their sexual orientation and gender identity," Samayo summarized.
"I will do everything I can to advocate for the students [for] who that is something they're exploring, especially at SPU."