A silent walk against human trafficking
A21 Walk for Freedom brings awareness to global issue
The air was filled with excitement as people were preparing for Seattle's A21's Walk for Freedom, which was one of 500 walks happening globally that day.
Seattleites gathered in the lobby of Churchome, a church in downtown Seattle, donning all-black attire and chatting with one another.
A21 is an organization that works to fight human trafficking globally. Annually, A21 hosts walks as a way to spread awareness of this crime. This is the fourth year that Churchome has hosted A21 for this event in Seattle.
According to data gathered by A21, Seattle has one of the highest rates of human trafficking in the United States. A21 partners with organizations in different cities, such as Seattle, as a way to combat issues like this through its strategy of "Reach, Rescue and Restore."
"Reach" meaning to educate the public, "rescue" meaning to help the victims out of their slavery by connecting them with the police and "restore" meaning to help the victims post-rescue with their needs. This strategy was highlighted in the opening speech of the event.
"The solution is you. The solution is all of us together like this and bringing awareness to do something about it," said Melissa Korrell, one of the lead organizers of the Seattle walk in the opening ceremony.
"Although there are millions trapped in bondage, there is a billion of us, so we can make some noise and bring awareness, bring change to this epidemic happening."
Following the opening ceremony, the participants lined up against the walls of the church in anticipation for the walk.
Signs labeled with statistics and statements against slavery were being passed out for people to hold as they made their way to Pike Place along First Avenue.
"Raising awareness is the hugest thing. People don't realize and think about it [human trafficking], but it happens," said Eric Christensen. Christensen's wife Yolanda is the founder of Free to Fly, a partner organization with A21.
This sentiment is echoed by Carolyn Eller, who is part of REST, one of Seattle's A21 partners. She believes that it is her duty to help those who are forced into human trafficking. She believes that no matter how small of a role she plays, she is going to do it anyway.
"I can't not do this work because once you learn about something like this issue, you just can't go back to not knowing," Eller said.
"And so, if I can play a very small role in raising money and raising awareness for individuals to have an opportunity to leave a life of exploitation, then that's what I am going to try to do."
At 11 a.m., the walk began and the participants showed their solidarity with those being trafficked and brought awareness to what was happening.
The participants walked in a single file line, because they walked for "one," being intentionally silent to stand in solidarity with those who are voiceless. Their signs did all the talking.
"I think this is important because there are so many who are enslaved and people are ignorant to the fact that this is something that even exists. Bringing awareness is so important," said Samantha Ortiz, a first-time participant.
Ortiz has been following A21 for a few years now but has never participated in the walk. She has always wanted to show her support and honor the victims, and was excited to be able to this year.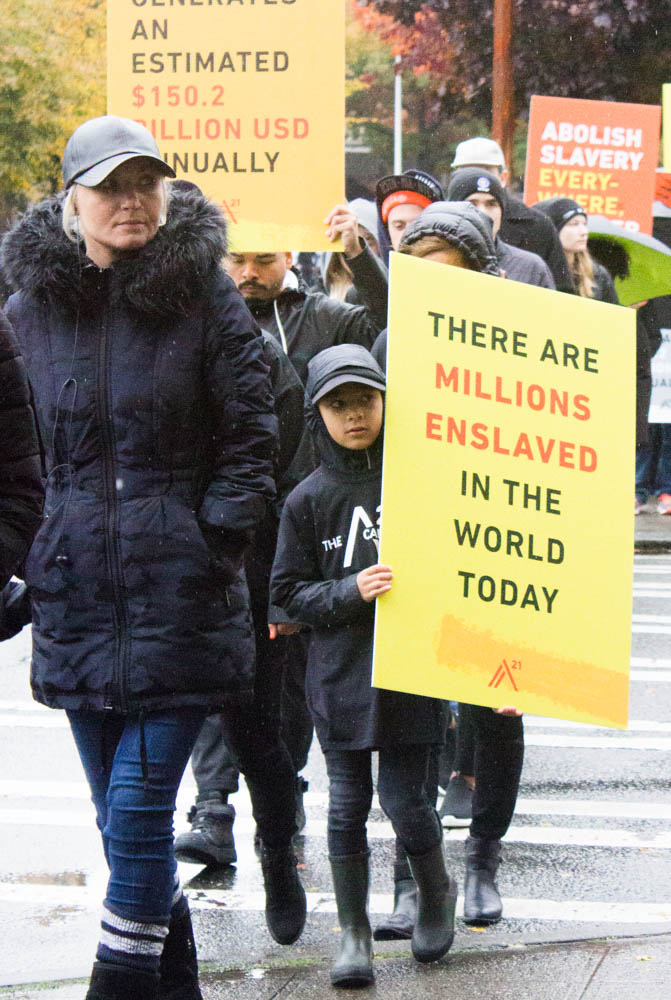 Melissa Korrell has been actively bringing awareness to human-trafficking for over five years now, realizing the importance of doing so after reading an article online about children being trafficked.
"It really broke my heart," Korell said. "I was devastated. I just remember feeling 'Okay, I am mad, now what am I going to do about it?'"
A few weeks after reading the article, Korrell watched a video showed during a Churchome service that promoted the upcoming Walk for Freedom. She knew she had to get involved.
Since then, Korrell has been participating and volunteering in each year's walk. She feels this issue needs to be brought into the light.
"I think this is important because so many people are unaware that human trafficking is even happening. And because they are unaware and don't know it exists, not enough is being done about it," Korrell said.
"There is so much more we can do about it, and the more awareness that we bring and the more that people know then it can't be as hidden."