Resisting stereotypes by telling personal stories
How SPU Stories helps fight against stereotypes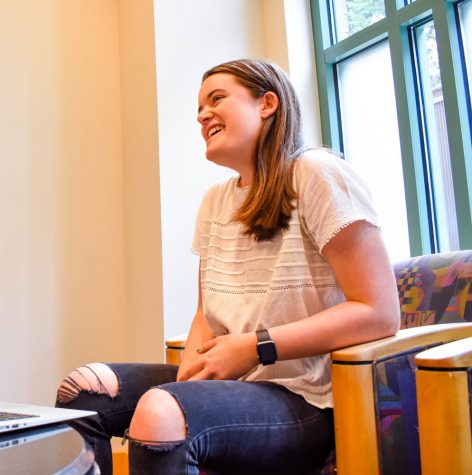 The word "Strong" is written on a whiteboard held by a student who is smiling for the camera.  "Weak," also written on a whiteboard, is held by the same person, looking down and away from the camera.
These are examples of the images posted on the "SPU Stories" Instagram page.
"I think labels can be very stereotypical and very hurtful and harmful," said senior Ashleigh Roth, who works for SPU Stories. 
SPU Stories gives people the chance to tell their own story, to help resist stereotypes. 
The project was developed by assistant professor of psychology, Dr. Brittany Tausen, in her social psychology class. Originally created as a blog, it soon transitioned into the current Instagram page.
It seeks to challenge stereotypes by learning about the personal stories of students in the Seattle Pacific University community. 
The page shows the faces and stories of SPU students, holding words that both represent how they believe others perceive them, and words that describe how they perceive themselves.
The deeply personal stories found on the page cover the topic of stereotypes.  
SPU Stories seeks to counteract stereotypes by sharing the stories of how people are affected by labels. By giving someone the chance to tell their own story, they allow others to see how people truly feel about the stereotypes that label them.
"We walk a fine line between acknowledging [stereotypes] in a way that perpetuates them, and acknowledging them in a way that allows us to move beyond them," Roth said.
SPU Stories was inspired by the "Humans of New York" project, an Instagram account that allows people from all walks of life to share their stories with others. 
"I think we all see life through a lens — everyone has their own lens… I think through this, [SPU Stories] has really helped me see how I can be an ally," said Amy Funabashi, a senior psychology student featured on SPU Stories who got to share her story through this project.   
By reading these personal stories, people can see how stereotypes affect others in a way they otherwise never know unless they take the time to learn about it. 
This is why SPU Stories allows people to share their own personal stories as a way to not only help themselves learn and grow, but to help the community at large. 
"It's an opportunity to see people at the core of who they are," Funabashi said.
Through gaining a deeper perspective of fellow students' stories people are also able to examine their own life.
 "It allows you to think about where you're at in life," Funabashi said.  
At the center of SPU Stories, the goal is to fight back against stereotypes and allow people to show their true selves. 
"I think it's to expand that to the whole SPU community and learn that we have frequently, and constantly, been labeled as certain things that don't match up with how we see ourselves," said Roth.
As a community, it can be hard to see everyone for who they are. 
Not only does SPU Stories allow people to share their own personal experiences with stereotypes, but it shows others how easy it can be to perpetuate these stereotypes. 
"I think it's really important to just accept that, whether intentional or not, we all have stereotyped and discriminated against people. And I think if we can really accept that, then we can really learn to see the other person's side," Funabashi said.
SPU Stories presents the idea that it can be easy to accept the stereotypes of others. That is why sharing these personal stories are so important.
The project gives people on the outside a chance to learn what someone else is going through and how they view themselves on the inside.  
"I feel so lucky to be apart of every single story, but I think some of the coolest ones that affect me personally are about people who I know," Roth said.
Whether it's a close friend or a stranger, students can never know what's going on inside someone else's mind.  SPU Stories shows people that it can be easy to stereotype or label people, even if they know them well.
Through the stories shared on SPU Stories, students are able to connect with other students and fight against harmful stereotyping.  
By breaking down these harmful labels and stereotypes, SPU Stories hopes to create a more genuine reflection of everyone at SPU. 
"I want to break down labels and stereotypes and help us expand beyond that, and that certainly affects me personally, but it affects everyone.  For everyone it is really personal," Roth said.