Making a statement
Senate debate arises over cultural posters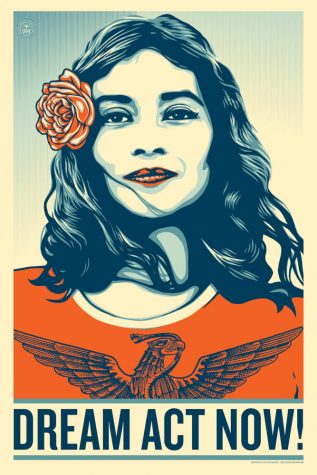 In Monday's senate meeting, Vice President of Intercultural Affairs (VPIA) Aden Yilma took the floor to discuss a set of posters she and her office hope to hang up around campus. She was supported by coauthor Mysonne Brown, who serves as ASSP club coordinator.
The proposal, "2019-2020-002 NF Hanging of Cultural Posters," intends to "create an atmosphere of inclusion regarding underrepresented groups at SPU."
Yilma passed the selection of posters around to the senators, who each took a turn viewing and considering the images while she explained that she intends to use the posters to make students of diverse backgrounds feel acknowledged and welcomed at SPU.
The posters, which were all created by artists at Seattle-based, social-change art organization Amplifier, featured images of people of many different ethnicities, cultures and abilities. They also contained slogans like "WOMEN'S RIGHTS ARE HUMAN RIGHTS," "BUILD COMMUNITIES," "BLACK LIVES MATTER" and "HEAR OUR VOICE."
"Being able to physically see somebody who looks like you, or see somebody who you can relate to, will not only create a sense of comfort but a feeling of belonging for new students and current students as well," Brown said.
It was made clear by Executive Vice President Nate Canny that Yilma was not required to ask the support of senate in order to hang posters. As VPIA, Yilma only needs permission from building managers. However, she and Brown clarified that they brought the proposal before senate because they wanted to garner support.
Yilma and Brown stated that they hope future VPIAs and Club Coordinators will follow suit and hang posters of a similar nature, depending upon what ethnic and cultural backgrounds they see present on campus that year.
The proposal ultimately passed, with 11 yeas, 3 nays, and 2 abstentions. However, before passing through senate, it spurred a significant period of debate, which was extended once by motion of Sen. Oliver Armand and seconded by Sen. Hannah Waterman.
The proposal was enthusiastically supported by some senators, but other senators expressed concerns about the "political nature" of the posters, as Sen. Cade Huston put it.
Specifically, he clarified that he was referring to posters such as the one reading "BLACK LIVES MATTER," and another reading "DREAM ACT NOW!"
Earlier in the meeting, Waterman had asked about the Dream Act poster, and whether there was a precedent for legislation-related commentary from ASSP. Campus Program Director Alli Bautista, Sen. Cross Crabbe and Vice President of Finance Liam Smith clarified that ASSP senate has not previously taken a stance on any national legislation. However, administration and ASSP Officer Core have both publicly expressed acceptance for undocumented students in the past via school-wide emails.
Huston's concerns were in regard to the message portrayed by all of the posters, including but not limited to the one referencing the Dream Act.
"I worry that we are pushing a political agenda, and that we as senators, at least for myself, should not push either way," Huston explained.
Sen. Ben Jenkins also expressed concerns, specifically about the subject matter of the posters and the emphasis that many of the posters place on ethnicity and race.
"I'm compelled to vote no on this because I feel that these posters place a heavy emphasis on race and ethnicity, and I'm not sure that that in-and-of-itself is a particularly good thing," Jenkins said.
He referenced a Martin Luther King quote several times, in which King expresses hope that he might one day be judged first by the content of his character rather than his race.
"We as senate, and we just as general good people, should include others and love others and accept others. I'm not sure that the heavy emphasis in this manner is the best way to do so," Jenkins said.
Conversely, several senate members — including Crabbe, ASSP President Nathan Samayo, Waterman, and Sen. Tash Knipp — spoke up in support of the proposal.
"A lot of the posters are just like 'hey, people are people,' and if that's not a message we want to spread on our campus, then I think we're doing something wrong," Waterman said.
"We are not trying to put an emphasis on race, society already does that," Yilma said to Jenkins. "We're just trying to make people feel comfortable in the fact of what's happening right now."
Towards the end of the period of debate, Samayo reminded the room that the focus of senate is to be on its constituents, and those constituents might have many different perspectives.
"To some people this actually isn't political. That's a lens that we're looking at it through, but for some folks this is literally life," Samayo said.
Brown noted that a political focus is not the goal of the posters. Thus, ASSP plans to hang content cards near each poster, naming the artists and explaining why each poster was chosen. This, he hopes, will eliminate the ambiguity and explain the intention of inclusivity.
Senate ultimately passed the proposal. Yilma and Brown will move forward with this project.
In other business:
Chaplain Lisa Ishara visited senate to discuss ways that students could be better supported on campus. She asked the senators what their ideas were regarding spaces that promote rest and student support, and senators such as VPCA Andew Josslyn gave input on accessible locations and convenient times.
Cambria Babbitt was unanimously appointed senator for the school of humanities.
Samayo updated the group about his progress revising the SPU's Statement on Human Sexuality, specifically that he and the authors of the original proposal met with President Daniel Martin and "several vice presidents." He and the authors are now discussing holding a public forum to discuss the status of the proposal a