Relationship and reflection in Morocco
Students experience growth during study abroad trip.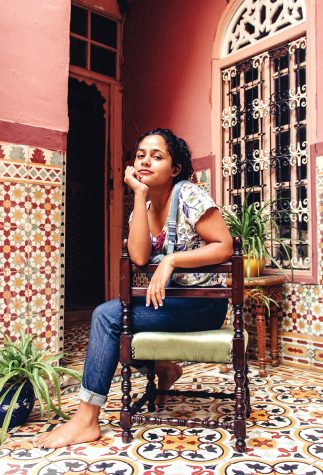 Sitting around a purposefully placed dinner table in the middle of a color-tiled courtyard, I felt washed with fullness. The smell of fresh mint tea filled the air while the sound of authentic laughter fluttered past my ears. 
In the last week of our stay in Morocco, I, along with three other SPU students, had the honor of eating dinner with Hafsa Bouzekri, a Moroccan college student who soon became our dear friend.
After a long day in the 110 degree heat, a simple meal sounded like a gift in itself. Instead, Bouzekri gave us an experience that taught us hospitality and humility. 
She made us feel like a part of her family. 
Inviting us into her home, she prepared a traditional Moroccan meal for us. For hours, we sat in deep conversation about culture, community and how it applies to our own lives. 
Sophomore Sana Hakim, a sophomore studying journalism, reminisced on how she felt sitting at the dinner table that night.
"You get to be a part of the family for the afternoon, which is a dream," Hakim said. "Those intimate moments made the trip." 
The Spain and Morocco study abroad offered me and the eleven other students on the trip enriched experiences similar to this one.
 The three-week seminar that took place Aug. 20 to Sept. 8 was led by English and cultural studies professor Dr. Kimberly Segall, who has previous experience teaching and leading students abroad.
I and the rest of the students, all from different majors,  found ourselves on the other side of the globe, immersed in a different culture, completely outside of our comfort zones. 
Although the group had gathered in a classroom setting during the Spring quarter before the trip to prepare for our time abroad, the consensus was that none of us felt completely prepared or equipped for the journey ahead of us.
"What I did not know at the time of saying goodbye to my wife and family [is] that I would be going on a trip with people who I consider brothers and sisters to me,"  Ernest Thomas, a senior integrated studies major, said in one of his blog posts on the group's collective study abroad blog page. "You learn a lot about others when you spend weeks with them."
The best part about traveling with a small, tight-knit group of students was that everyone had each other to lean on because all of us were going through the same experience together.
As part of the reflection process, the class was responsible for composing blog posts about the topics that were explored, experienced and felt throughout the trip. The two courses that set the tone for the study abroad were Writing Across Cultures and Arab Spring: Gender, Islam, Democracy. Within the blog, each one of the students wrote about how they returned home with deepened relationships and many stories about experiences of cultural intimacy. 
At the beginning of our six-night stay in Meknes, the city we stayed in the longest,  Moroccan college students who were learning English invited us to have juice with them. These students immediately made us feel like family, showing us the ins and outs of their city and their culture. 
In an interview, Thomas also discussed how one of his favorite moments on the trip was the opportunity to have home-cooked, traditional Moroccan meals with local students and their families. 
"It was just great because ever since we got to Morocco, it felt like they made us feel like we belong and we had always been there," Thomas said. 
The theme of relational and intimate growth is reiterated in each student's stories of hospitality. 
While each student took relational leaps, they also experienced self-reflection and growth in the most uncomfortable corners of their personal lives. 
"The three weeks of the educational tour in Spain and Morocco changed my life. I felt like my decision to become a teacher was the right course," Thomas wrote in a blog post. "It took one class of teaching English to Moroccan students to let me know that I want to be a person who helps students ignite their passion and never let it be extinguish[ed]."
While Thomas felt he found assurance in his calling, another student, Lucila Morseletto, a senior social justice and cultural studies major, discussed how her "experience leaving was completely different" than when she arrived. 
Before the trip, Morseletto was anxious and afraid. Afterward, she felt confident.
"I was sad to be leaving the people I felt that I had connected with, but I wasn't scared at all. And even though I was going alone, I didn't necessarily feel alone," Morseletto wrote. 
"I left feeling more intelligent, more knowledgeable, more well rounded." 
The majority of our time abroad was spent discussing and reflecting on the cultural tendencies we were both learning about, and experiencing, all at the same time.
Thomas took the time to discuss why his educational experience was enhanced by traveling abroad. He noted that it was just as important that this trip was a time of reflection and self-growth for him.
"I think maybe recognizing certain privileges I have as a man," Thomas said.
He continued to talk about what privilege could mean in relation to Muslim culture in Morocco and Christianity in America.
"I also took the time to get out of my own comfort zone and be vulnerable with the people I just met," Thomas said.
On the last night of our stay in Marrakech, nearing the end of our seminar, the group sat around in a circle with the sound of a guitar being lightly strummed. Each of us spoke with content, discussing the moments of the trip we were still in awe about. 
"It was so intimate, I feel like this trip was just filled with intimate moments … it's funny how, like, we experience intimacy with total strangers," Hakim reiterated.