Building bonds before academics
Atmosphere of positivity creates opportunity for new relationships
Music blasted from speakers playing popular songs like Lil Nas X's "Panini," as students danced the night away in a pit of foam. 
First Friday, held Oct. 5 and hosted by the Student Union Board (STUB) and The Office of Student Involvement and Leadership (OSIL), gave Seattle Pacific University students the opportunity to let loose after a busy first week of classes. 
With a foam-covered dance floor, mini-golf, dodgeball, life-size foosball and a variety of snacks, students had many activities to choose from. 
Students in attendance kicked-off the school year with a positive atmosphere, coming together before the arrival of academic stress.
"It [First Friday] sets the tone off right. If you start off with positivity, you are going to take that positivity with you, so I think it sets everyone in a good mood before getting back into the stress [of school]," said junior Gracie Kavanaugh, a STUB Programmer.
"I think that this event is just so fun to start the year off. You can come with your friends or your floor. I know that for me these kinds of experiences were how I made friends."
This becomes even more important considering that, in just a few weeks, many students will be back to the hectic schedules of student life, juggling work, homework and a social life.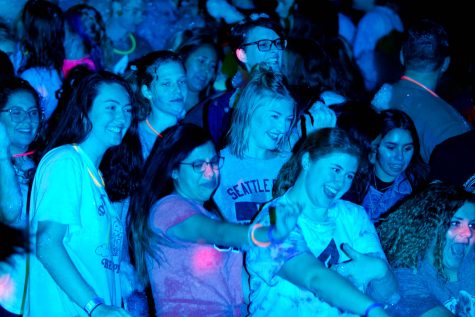 Junior Kelly Walsh enjoyed that the event allowed her to connect with people at the beginning of the quarter rather than towards the end.
"Whenever school starts up I only study, so it's nice to get this out of away in a sense," Walsh said. 
Beyond this, lies the ability of this event to forge a bond between both on-campus and off-campus residents, which is something not all events at SPU do. 
"I think it brings the whole campus together whether on-campus or off-campus," Walsh said. 
"Like my boyfriend — he lives off campus but still comes to this, so it brings people from the dorms, CHA [Campus Housing and Apartments] and off-campus together to foster a community." 
First Friday allowed students to begin to feel like they are connecting with campus, starting the school year by cultivating relationships that have the potential to grow throughout the upcoming school year.