This Week in Falcon Sports
Women's Soccer, Volleyball get first conference wins
Seattle Pacific University's Women's soccer team got off to a great start in conference play this week, earning a 3-0 win over Northwest Nazarene University and a 2-0 win over Saint Martin's University.
Forward Sierra Smith scored her second goal of the season, freshman forward A.J.  Depinto scored the first goal of her career and Sophomore goalie Kaylie Nelson earned her first shut out. 
Junior Forward Sophia Chilczuk, the team's leading goal-scorer last year, got her first goal of the season late in the game as well.
Chilczuk scored again early in the second half in the game against Saint Martin's, and the Falcons had another freshman score their first goal: midfielder Chloe Gellhaus. 
The Falcons only allowed the Saints to take one shot the entire game.
"Getting wins is difficult, and getting road wins is even harder. To shutout two quality opponents on the road is awesome for our team," said women's soccer head coach Arby Busey. "We played very well in both games and did a great job of creating quality chances for ourselves while limiting our opponents' chances. We now need to build off the momentum created over the weekend."
Women's cross country took a trip down to Sacramento to participate in the Capital Cross Challenge, and sophomore Kaylee Mitchell finished the race in first place with a time of 20:30. 
Backed by Mitchell's first place finish, as well as Kate Lilly in 12th and Dania Holmberg in 24th, the Falcons finished in eighth place out of 40 teams. 
Volleyball's week started out rough with another three-set loss, this time to Central Washington. The Falcons fought hard but still came up short, losing 25-20, 25-22 and 25-12. Maddie Batiste had nine kills and 10 digs in the loss.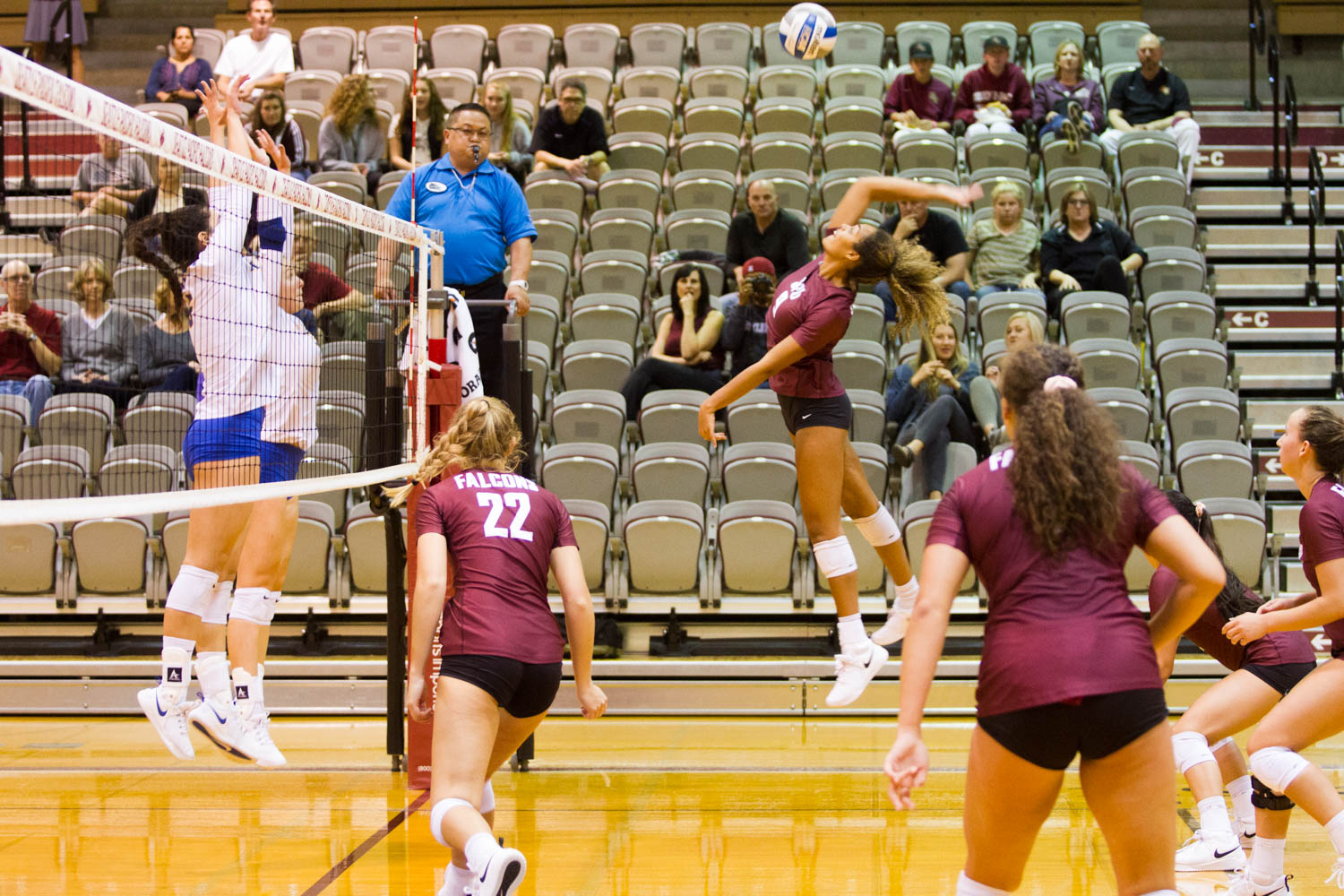 The Falcons did achieve their first conference win on Saturday Sep. 28, defeating Northwest Nazarene three sets to one and breaking a 13-match winless streak against the Nighthawks. Close wins in the first and second games were followed by a third game loss, but the Falcons bounced back well and won the fourth set 25-11. Gabby Oddo had 20 kills to lead the Falcons, Gabi Stegemoller had 13 kills, and Lindsey Lambert had 39 assists and 10 digs.
Men's soccer had another game to play after their thrilling overtime victory, and their opponent was third-ranked Azusa Pacific. The Falcons had multiple opportunities to score in the second half but could not capitalize on them. Unfortunately for the Falcons, Cougars midfielder James Ndubueze scored on both of his shot opportunities in the second half, and the Falcons lost 2-0. Ndubueze's two goals pushed his season total to seven, tied for third in all of NCAA Division II soccer. 
Falcon Men's soccer opens up conference play against Western Washington at 7 p.m. at Interbay Stadium Thursday, Oct. 3.