Guiding SPU leaders towards better listening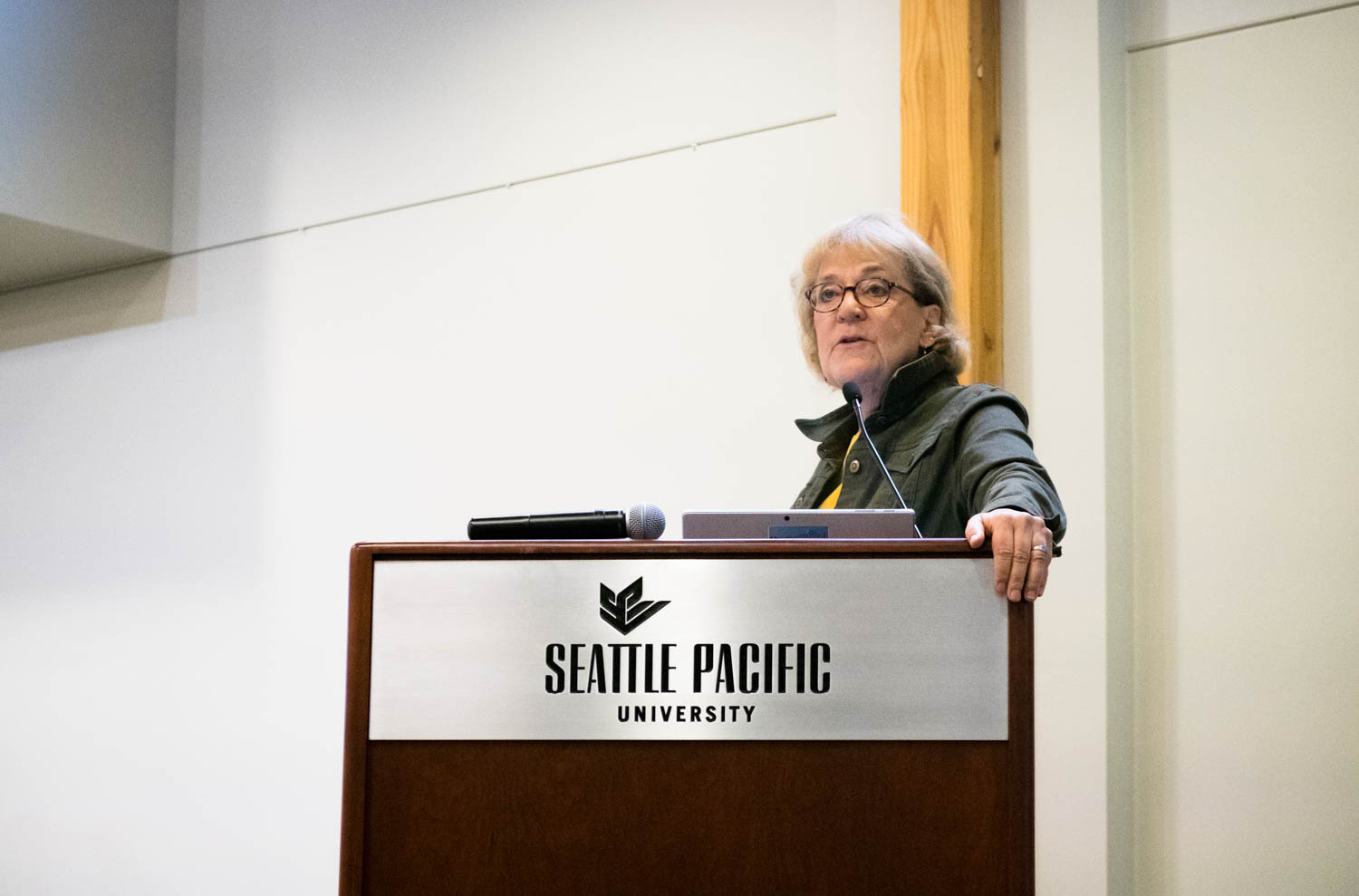 In 1988, in the police interrogation room of a hotel in Soviet Russia, Patty Burgin had a conversation that stuck with her for decades to come. 
Working for a nonprofit organization that brought her to the Soviet Union, Burgin had led a team that aimed to serve people living in an oppressive police-state, hoping to fill the needs of those who were, in her words, "restless, ambitious and poignant."
During her keynote speech in Upper Gwinn Sunday, Sept. 22, 2019 — more than 30 years later — she told the story of how she was arrested to Seattle Pacific University's student leaders at this year's Student Leadership Conference. 
The conference, which began on Sept. 21 and ended on Sept. 25, guided SPU's student leaders in growing their skills and learning new methods of leadership. In her speech, Burgin talked about the importance of connecting, listening, engaging and respecting.
After being arrested, she and her friend were interrogated with the aid of a translator. Once the interrogators had walked away, the translator turned to Burgin. The young woman paused for a moment, then asked, "So, do you believe in God?"
Burgin weighed her options. "Maybe it's a trap. Maybe, she is very confident that we're the only English speakers in the room. Maybe she's crazy," Burgin remembered thinking. 
"And then I thought, maybe, she is restless, ambitious, and poignant," Burgin said. "I looked back at the translator and I said 'I do, do you?'"
The young woman explained to Burgin that her son had been sent to Siberia; he was alone there, she was alone here, and she wanted to know if God cared. 
"In the next few moments … we had a conversation about stuff that was big enough to matter," Bergin said. "And I think that even now, years later, there's an older woman who lives in the city that is now called St. Petersburg who still remembers that conversation."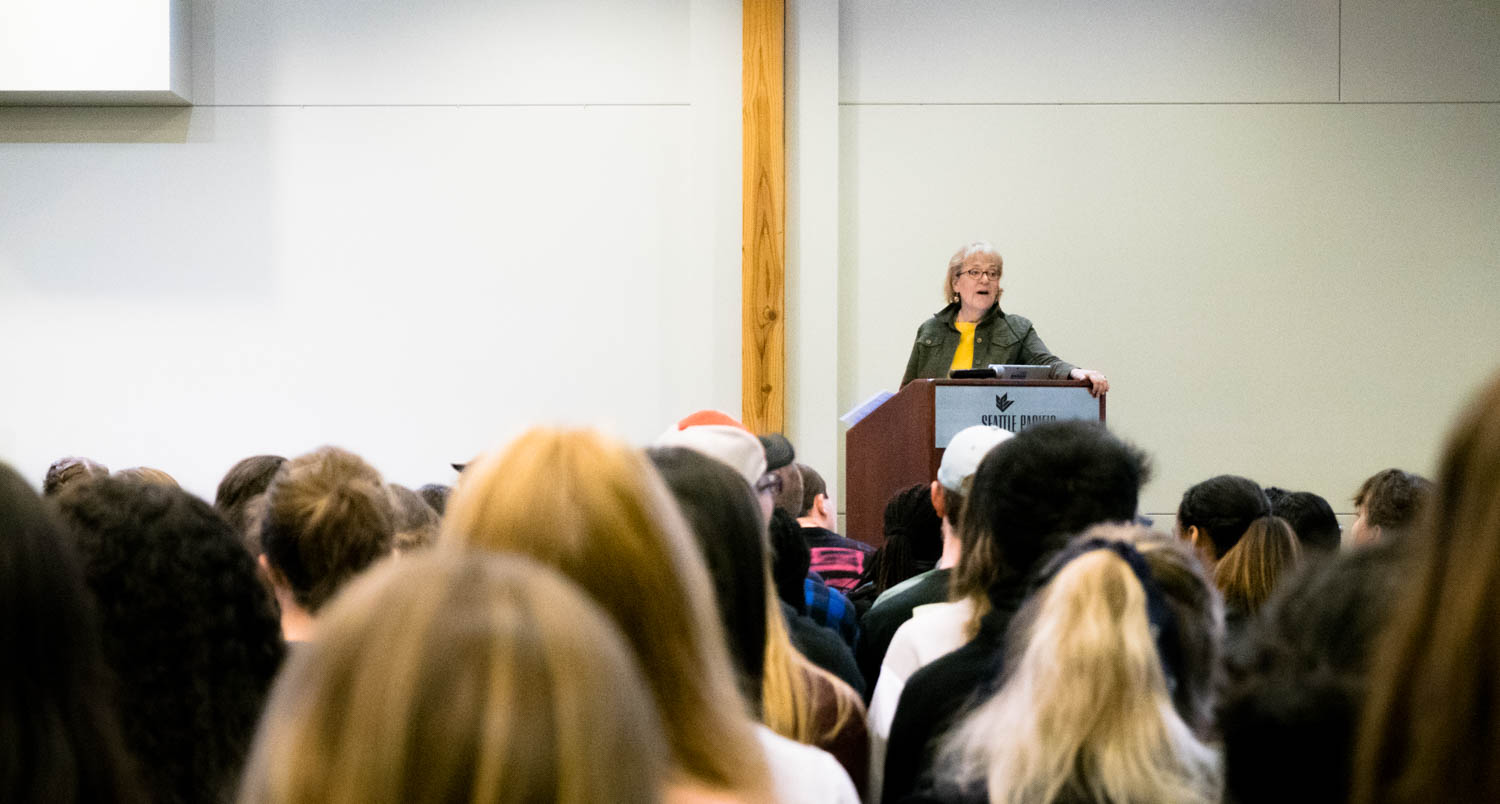 This experience shaped her understanding of leadership and helped her become the coach she is today. 
In 2008, Burgin became a certified Master Coach, and she currently works at SeattleCoach, an organization she founded in 2003. 
Leaders, she believes, are good at looking into the future and planning; she said in an interview that she loves working with student leaders because, "most leaders are pilgrims; they're not stuck, they're ambitious about growing. I love that." 
One main piece of Burgin's advice for the leaders was to engage with people in ways that fit the acronym 'R.E.A.L', which stands for the terms "respect, energy, acknowledgement and listening." 
When asked in an interview about the most important piece of leadership advice she had ever been given, her answer was, "Ask again." She explained that it is vital to continue to question, challenge and encourage the people that the leaders work with. 
She challenged the leaders to use the tools she provided to think about where they are in their quest for good leadership. 
The goal of good leaders, she said, is "to be able to support with grace and tell the truth. To be direct when we need to be when it's in the best interest of the people we serve"
"I want you to stand up tall and confident and cultivate that kind of leadership this year," Burgin said, "and as you go off into the rest of the world, you'll make it a better place"