Lights flashed in the dimly lit room as photographers captured models strutting down the runway, all wearing one of a kind designs created by SPU students.
On May 12, SPU's MODE Fashion Group put on their annual fashion show in Royal Brougham Pavilion. With the Pavilion packed, designers prepared to show off fashion pieces they had been working on since the beginning of the year.
Thirteen student designers and stylists created these pieces, which were all showcased by student models. Dressed elegantly in black, the artists introduced their collections on stage. They each described their inspirations, giving the title of their collection as well as the company they were designed for.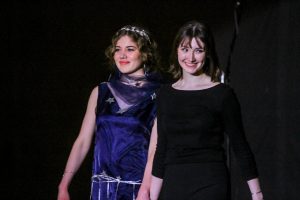 Strutting to upbeat music, models exhibited designs with unfaltering confidence. They circled around the room, stopping at several points to pose and allow the audience to take in the creative apparel. The entire audience watched and cheered enthusiastically.
Junior Faith Wang stated that her inspiration was drawn from the silhouettes of flowers. She presented her collection, "Fiore Amore," which was designed for Meadow Boutique.
Wang's collection included bright pinks and greens, imitating spring flowers through form and texture.
Sophomore Siang Thluai titled her collection "Wild Flower" and styled it for GAP. She incorporated styles from Burma with everyday items from GAP, including a touch of her culture and emphasizing the use of vibrant, traditional pieces.
A special tribute was given to Tristan Kern, an apparel design major who passed unexpectedly earlier this year.
While he was unable to finish his work, his classmates came together to bring his designs to life and honor him at the show.
At the end of the night, five awards were given to students.
Katie Carlson was awarded for being the most trendsetting, Nina Selset for her collection's marketability, Abigail Diaz for best inspiration translated into design, Tasheanna Pratcher for show stopping detail and Theresa Maloney for technical merit.
While the fashion show ended quickly, the skills and experiences students acquired will last much longer than the event itself. To many students, the show is an opportunity to bring the skills they have developed in the classroom to life.
While participating in the fashion show is not required, it is highly recommended, and allows students to develop skills that will be useful when entering into their perspective career fields.
For senior apparel design major Diaz, sewing is something that she loves to do, so she saw the hard work as an opportunity for growth rather than as a chore. This is her third year participating in the show.
"It serves as a lot of experience that you won't just get from a class," Diaz says. She describes the work that goes into the Fashion Show as a "fun pressure."
In the sewing lab two days before the event, students were hard at work adding finishing touches to their pieces. This lab was their home away from home for the last month as they spent numerous hours working on their designs.
Designers found inspiration for their collections through various means and each brought a creative twist to their outfits. Diaz was inspired by the '70s use of denim and corduroy. She mixed this with earthy and sunny tones.
Junior Marina Shcherbinina found her inspiration in the mountains and urban Seattle, creating a minimalistic collection with pieces that are reflective, loose and drapey, like water in a lake.
After gathering these ideas, students began sketching to bring their plans to life. Each student met with advisors to show their ideas and ensure that their plan was cohesive.
Designers selected their models, gathered measurements, and began flat patterning or draping.
An important part of the process was rehearsal, which allowed designers to see their work come to life through the models and being onstage.
The rehearsals also helped build confidence in the models in preparation for the real show.
As a culmination of their hard work, designers were proud to watch their models strut down the runway, knowing that this would be the fun part of the process.
For Diaz, the best part of the show was, "seeing all the hard work that you put into it actually on the stage, and people seeing it and thinking, 'Wow that's cool.'"