Mozek looks towards the future
By Mikayla Logue–Staff Reporter
Senior nursing major Noah Mozek was filled with satisfaction as he reflected on his time at SPU and looked ahead towards his future outside the walls of the nursing skills lab.
Originally from Northern California, Mozek spent a great deal of time searching for the right university to help him pursue his passions.
In high school, Mozek thought that the field of study that resonated with him the most was life science, but in his senior year, an anatomy class changed his mind.
"I knew I wanted to do health care. I didn't know what in health care, but that was the direction I wanted to land. I also had the opportunity to serve a lot in high school, and I knew that serving people in the healthcare field was the thing I wanted to do," he said.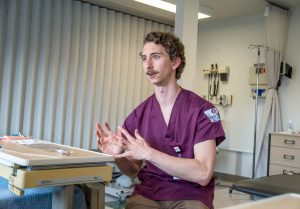 With this intention to pursue pre-med, Mozek's search landed him at SPU. However, in his first year at college, Mozek quickly found his passion to be drawn somewhere else: nursing.
"The things the nursing program focuses on and [the program's] values, nursing as an art, being patient-centered, and the advocacy on relationship has been really cool, and the work is very diverse," Mozek said.
Despite having some initial reservations about switching majors, Mozek came to find that he made the right choice. During his first year in the nursing program, Mozek began working at a clinical site twice a week for one of his classes.
"I was able to walk with a nurse who took care of one specific patient. I got to see this patient multiple times while I was at this hospital, and I got to provide care for him and listen to his story," he said.
Through spending time with the patient, Mozek felt that he was contributing to his care, even though it was only by listening. In time, the patient sought him out and told him just how influential he had been in his life.
"He said, 'Thank you for encouraging me, for listening to me, and for inspiring me.' I was just amazed because I didn't do anything except for listen, and sometimes that's just what people want the most: to be heard and [to know] that they have value," Mozek said.
"Then I knew this is what I wanted to do."
Mozek then began working and interning at other places in the nursing field. Currently he is doing his preceptorship, an elective mentored experience, at Evergreen Home Health, and he is finishing his work as a nurse technician at Harborview Hospital.
Although he originally planned on applying to Harborview Hospital to work full-time after graduation, Mozek felt called to pursue a different path.
"I felt like God allowed me to consider doing a discipleship school at my church, which is something I've always wanted to do, but didn't have time for."
Once he made the decision to go to the discipleship program at his church, he began to search for a part-time job that fit with his schooling. Eventually, he landed a job at an assisted living home with elderly patients.
"God was so faithful, and I didn't think it was going to work out at all, and God totally made a way," he said.
Mozek has loved his time at SPU, but has faced his own set of challenges, one of which being his identity as a student in the nursing program.
"One of the biggest challenges is learning how to fulfill your role from your identity instead of how you think it should be filled. In order to do something well, you have to do it knowing who you are."
"That's something just this year I've learned how to do, how to be a nursing student and do it in a way that honors who I am."
In his cohort of 65, Mozek is one of three males graduating this year, but he does not mind being in the minority. He has "gotten very used to being the only guy in a group project," but considers it to be a special opportunity.
"I don't have to go through the same things that females have to go through in male workplaces," Mozek shared.
"For a male walking into nursing, it's kind of cool, special and unique, and there's almost some privilege for a male coming into nursing. Even though I am a minority in my field, it definitely doesn't feel like I don't have a place."
After graduation, Mozek plans to finish his training at his new job at the assisted living center, which he will begin this month. In July, he will begin his discipleship school, along with continuing his part-time job once he gets his registered nursing license.
Overall, Mozek believes that the people who have supported him in pursuing his dreams have made the greatest impact on his life.
"My parents have contributed to who I've become through the way they loved me and cared for me and supported the things I've been doing, but I've also had some friends and mentors that have invested in me," he said.
"Now that I look back at those seasons, I just appreciate how they gave their life away, so I could thrive. They believed in me when I didn't know who I was."