Crew trawls through rough waters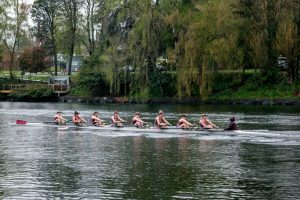 The Seattle Pacific University rowing squad defeated Western Washington University and claimed a second place finish behind the top ranked University of Central Oklahoma team, which won all three races the Falcons hosted in Regatta on the Lake Washington ship canal.
After a break last week due to inclement weather, Andy Derrick, head coach for the Falcons, was happy to bounce back, saying, "It was a good turn out in support. We got off to a good opening round and had a couple of good races. Weather wasn't that much different from last week but the chance to compete is something that will only make us better."
UCO broke out ahead early winning a head-to-head bout which featured a crew of eight varsity rowers.
UCO posted a top time of 6:30.3 in a 2,000 meter course.
The Falcons finished shortly after at second place with a time of 6:42.0, and Western Washington trailed behind with a time of 6:47.3.
Last time SPU met Western Washington University, the Falcons fell victim to their varsity eight team.
However, this time the crew team broke free from Western at the 500-meter mark and finished with an open-water advantage.
Despite improving against Western, the Falcons were unable to claim the No. 1 spot against UCO.
Derrick had previously coached UCO from 2011 to 2016, and has great respect for his former team, but is ready to look forward to what's ahead.
"We have to keep moving forward and keep fighting as we look ahead and working steady in the weeks to come, so we can see the results," Derrick said.
In two weeks the Falcons look to improve as they compete in Gold River, California off Lake Natoma in the Western rowing championships. Heat races and times are yet to be announced.
Looking ahead, the Falcons still have hope of earning a spot at the NCAA Championships in late May, but after rowing this Saturday and beating Western, confidence levels are up, according to Derrick. "Things look promising for us next week if we continue to stay hungry and perform."