Protecting the lives of students
Combating school massacres shows a need for regulations
By Tori Hoffman
Recently a close friend of mine got a $400 ticket for passing a school bus that had its stop sign out to allow for children to get off the bus and cross the street.
From her perspective, there were no children near the crosswalk, and she had gathered that they had already finished crossing the street in front of the bus.
She passed the bus assuming the bus driver was moments away from turning off the red lights and returning the stop sign to its locked position, and she went on with her day.
She didn't hit any children with her car, and, after assessing the situation, she knew that there was almost no chance of her coming close to hitting a child.
So after she passed the bus, she didn't think much about that moment at all, until she received a citation in the mail roughly 30 days later.
Now, she has a $400 ticket to pay within the next two weeks or else the fine increases.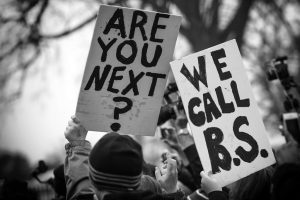 As I talked through financial options with my 22-year-old friend on a tight budget, the situation started to hit unexpectedly close to home.
The more I thought about her position, the more I saw it signify a larger societal value placed on the safety of children.
Most folks will endure the inconvenience of stopping for a school bus to avoid rigid financial repercussions for themselves.
These types of consequences reinforce the value of the lives of children, an idea that is not difficult for us to buy into.
We, as a collective, recognize that since young kids don't always understand the consequences of their actions around traffic, we must take on the responsibility of ensuring their protection.
As a survivor of a school shooting in Centennial, Colorado, in 2013, the thought of taking on a communal responsibility to protect the lives of young people in a specific set of circumstances made my mind jump to this: Why can't we, in a similar way, protect the lives of the 17 people — minors included — who were killed, and the 17 more who were wounded by a 19-year-old at Marjory Stoneman Douglas High School in Parkland, Florida?
Like the tragedy at Stoneman Douglas, incidents of inappropriate, potentially harmful conduct by the student who opened fire in my high school had been reported to my school administrators.
Though the knowledge was less public than that of the Parkland shooter, it was still widely known at the school.
A defective system of reporting failed the Stoneman Douglas community long before the former student, who had been expelled and known for violent tendencies, ever entered the school on Feb. 14 with an AR-15.
Unfortunately, we cannot undo the calamity set in motion by the mass production of automatic and semi-automatic weapons, violent games, movies and other media combined with a growing sense of individualism and accessibility in society.
We can, however, fund the installation of more mental health support services; create laws mandating the increase of the minimum age to purchase firearms and changes in the background check system; ban bump stock devices, which allow semi-automatic guns to fire faster, operating like a rapid fire machine gun; and so much more.
Just last week, the bill known as "red flag" legislation, which would ban bump stocks and consider threats of gun violence on social media as evidence, among other provisions, went to the full House for a vote.
That's a step in the right direction, but, if we do not ensure tighter regulation on more comprehensive reporting of harmful threats to our communities, then ill-intentioned folks, as wide-ranged as they come, will continue to be capable of obtaining and operating a firearm with more convenience than stopping at a school bus with its stop sign out.
The system of reporting threats is so inadequate that a less-than-subtle tip to the F.B.I. about the motives of the Parkland shooter over a month prior to him carrying out his attack was not even enough to protect the
Stoneman Douglas community from harm.
The grieving parents, survivors and fellow classmates of the victims have exhibited tremendous courage in the past month since tragedy struck their community. I have faith in their courage, dignity and resolve, and I know this fight for change is long from over.
The brave student activists have been pushing for an identifiable commitment to immediate action, such as improving the system of reporting threats, and so am I.
Tori is a senior studying communications.