Two All-American awards for SPU
By Konner Hancock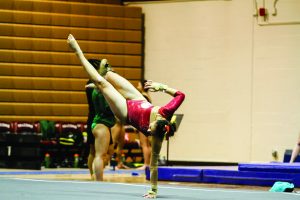 Out of a number of gymnasts Seattle Pacific University sent to nationals, two earned All-American titles.
The high flying Falcons had several individual gymnasts compete in the USA Gymnastics Women's Collegiate National Championships, which spanned from April 13 through April 15.
The team sent a total of seven competitors: Autumn Huskie, Darian Burns, McKenna Zimmermann, Lena Wirth, Itzia San Roman, Sienna Brane and Miyuki Matsune.
Out of those seven gymnasts, Huskie and Burns earned All-American titles in their individual events during Nationals.
"[Burns] and [Huskie] did a great job in the [All-American]," said Laurel Tindall, head coach of the gymanstics team. "Burns competed in the early session and had the top [All-American] score in that session. As scores sometimes tend to go up in later session it was great that she was able to hold onto second place. The [All-American] winner was far ahead and untouchable at a 39.6."
Burns had steady control during the first session, but one gymnast managed to surpass her total and another gymnast matched it. Schyler Jones from host Texas Woman's University compiled a winning total of 39.600 points, while Cornell's Amy Shen equaled Burns' second-place mark of 39.100.
Jones remarkably recorded the day's top scores on the vault (9.850) and uneven bars (9.900), and had the second-best score of 9.925 on both the balance beam and floor exercise.
Burns' finish at No. 2 is a distinct mark for SPU.
Throughout SPU's entire history only four all-around national champions from SPU have been crowned: Maria Hundley (2016), Debra Huss (2005), Deni Boswell (1988) and Kathie Cradduck (1992).
For Huskie, this was her first time ever competing at the collegiate national meet. She nailed a vault score of 9.7375 to claim ninth place and her All-American title.
Meanwhile, Burns collected her third All-America certificate of the three-day championship, and the sixth of her two-year collegiate career.
The other five Falcons that took part in nationals unfortunately did not advance past Friday's qualifying competition.
San Roman placed tenth in the all-around (38.125); Wirth compiled scores of 9.725 on the beam and 9.625 on the vault; Matsune narrowly missed qualifying for the event finals with a mark of 9.825 on the beam; Brane received a 9.100 on the bars; and the only SPU freshman gymnast to make it to nationals, Zimmermann, placed No. 13 in the all-around competition.
"McKenna did well in three events but struggled on bars unfortunately," Tindall said. "I think she was disappointed but she has three more years to go and I'm sure that she will make some good improvements for next year."
As for the entire team, the Falcons did not qualify for nationals.
Previously, Seattle Pacific has claimed three team championships in 1986, 1997 and 1992.
This is just the second time in 37 years that the Falcons as a team did not qualify.