Ballard supports business, arts
While strolling through the streets of historic Ballard, a gentle hum of music lulled passerby's off the streets and into the entrance of a small shop.
Inside of Jax Joon, clothing was arranged neatly along the sides of the walls and workers went about their particular duties, but one man stood with his guitar near the back of the store.
Joshua Kendrick's soulful voice mesmerized all who came by while he performed his rendition of "Breakeven" by The Script and drew people into the store.
This was a typical scene on Saturday, April 14, along the roads of NW Market Street for the monthly Ballard ArtWalk. This event featured 26 different locations, each with a performer or artistic work on display, or both.
Walking through the streets, one could stop to enjoy live music, art demonstrations or go about shopping at their favorite stores. The event aimed to celebrate the creative arts of the city while promoting the community's vibrant businesses.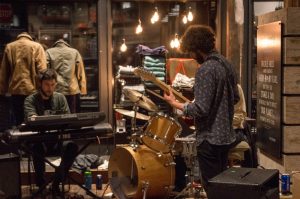 For artist Judy Rayl, the opportunity to display her work was something that brought her a great deal of gratitude. In the past year, Rayl has transitioned from working as a physician to pursuing her love of photography.
Rayl's shots are unique, as they are completely unedited and taken with her iPhone.
"It's all real, authentic experiences," Rayl explained.
"There's no alteration, no Photoshop — it's unedited. My goal is to capture a meaningful moment."
Rayl's work was displayed in the front and back ends of the Patagonia store as the live trio "Doctor Doctor" entertained spectators. The store itself served chili to all who came through as well.
Rayl was happy to display her work in Patagonia, as she believes that they embody a similar theme to her own. Her photos displayed natural images of water and sky.
Just a few stores down, artist Hailey Coral set up her display of work inside Kavu. Although she described most of her work as "doodly," Coral also enjoys color paintings.
Coral graduated from Seattle Pacific University in 2005 and takes part in all kinds of artistic events or craft fairs around the area.
A central hub among the spectators was Caffe Umbria, paired with the musical talents of Hannah Abrams and Mark Brainard. The small shop was arranged to allow for spectators to stand, sit or gather around tables to watch the performers.
The atmosphere was calm, intimate and encouraged visitors to join in the small community to support these rising artists and sip on a cup of joe.
As the rain pelted down in the streets of Ballard, passers-by could take cover in any number of these shops, which encouraged them to enjoy community with one another and many of the artists.
The art walk also helped to promote nearby businesses, as spectators were drawn by the sights and sounds of artists into stores that they may not have otherwise explored.
Artists and performers alike found fulfillment in the opportunity to share their passions in a thriving city and with a receptive audience.
Speaking of her experience in the medical field, Rayl said, "As a physician, those years of caregiving were rewarding but in a different way …. now it's almost like I'm being seen through different eyes and speaking with a new voice."
Rayl, like many of the artists represented at the Ballard ArtWalk, was happy to share her work as well as her story. She urges all to remember one piece of advice.
"Whatever you do, don't be afraid to try something new."
The Ballard ArtWalk is held each second Saturday of the month. For more information, go to visitballard.com/artwalk.