Hill Hall shepherds camaraderie through creativity
Floors compete for Decade Skate awards
From the opening act, students from Hill Hall had the audience roaring with laughter and energy. Cardboard props and outrageous costumes made the night one to remember, but the participants and their inventiveness ultimately stole the show.
Ivy Malone, a theater production major and resident on fifth Hill, was one of many dedicated participants in the production. The show, to her, was made up of laughter, creativity, and watching people work together.
"It's such a huge, dorm-life kind of thing," Malone said. "Everyone has a great time."
On Feb. 24, Hill residents turned Brougham Pavilion into a scene of laughter and chaotic storylines. Each floor that participated was given a character and a song to combine, and were tasked with pre-recording a soundtrack to lipdub during the performance. Each skit lasted less than ten minutes and ranged vastly in plotline.
One performance followed Kronk, a character from Disney's "The Emperor's New Groove," and his Tinder escapades. Another told the story of Shaggy from "Scooby Doo" and Phineas from "Phineas and Ferb" and their defeat of Jennie Brott from Gwinn, who in the story had captured the references box.
Brott was also, coincidentally, the surprise judge of the night.
"It was fantastic. It was a wonderful show," Brott said after the performances were over. "I enjoyed every part of it."
After an entertaining two hours of skits, the emcees announced the winners of the night. Third North won Best Props, Third South won Best Representation of the Decades, Fourth South won Best Soundtrack, Fourth North won Best Choreography, Fifth North won the Bronze Skate Award, First North won the Silver Skate Award and Third South took home the Gold Skate Award.
Brott said that compared to other years, 2019's Decade Skate saw "more invested characters."
"I really feel like this year every skit had so much time put into it," Brott said. "I was very impressed."
Jeanne Coyle, a member of Hill Hall council, can vouch for the time each floor put into the event.
"This year, people put a lot of effort into getting people involved on their floors … and making their scripts really accessible to the audience," she said. "It plays off the experience that we all share at SPU."
In light of the SPU experience and the sense of community that Decade Skate brings, many other participants — even those whose floors did not win an award — were proud of their work, and received words of praise for their creations.
Kiana Kahusi, one of the creators of the Fourth North production, said she appreciated the inclusiveness of the jokes in each performance. The audience loved it, too.
"It's fun because they understand how hard we worked," Kahusi said. "To find all these obscure plotlines — it's so hilarious. It's totally worth watching."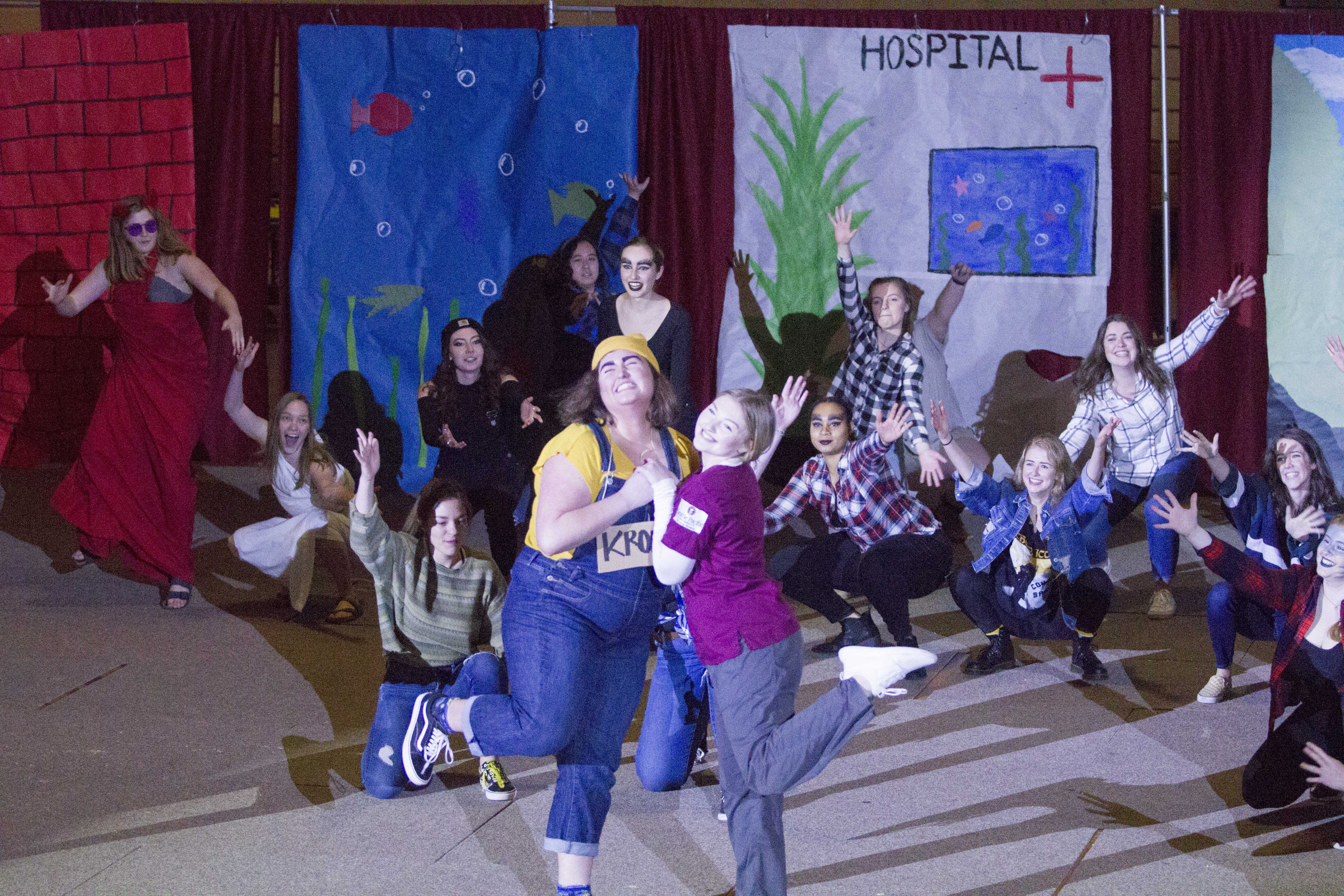 Coyle agreed with the statement, emphasizing the importance of each skit's uniqueness.
"None of these skits were remotely the same at all," Coyle said. "It's really fun to see what people can come up with and how hard they're willing to work on something that's not school-related."
The Hill Hall council started planning the event months in advance. On Sunday morning, they arrived at Brougham Pavilion at 6:00 a.m. to spend the day making final preparations.
On the second week of winter quarter, each participating floor at Hill was randomly given a character and a song, and a week later were required to have a list of the audio they were including in their skit. Then, they submitted scripts and audio and launched into regular practices to prepare for the night of the 24th.
Kahusi's floor split into choreography, script and props committees to accomplish their goals. She said that sometimes, instead of hanging out with friends from other halls, she attended floor practices for the event. "We'd tell people, 'Oh, I can't tonight, I have Decade Skate,'" she said.
Each performance proved that everyone was dedicated to their skits, and the audience loved the final products.
Camille Marrs, a Fifth Hill resident, had never seen Decade Skate before, and enjoyed it. "It was just fun, all-around," she said.
Many others from Hill Hall and other parts of SPU were not disappointed by the inclusive show that their peers put on. Jokes, memes, and other references, including a nod to different professors and President Dan Martin, had the audience cheering.
"We really love this event, and really love that Hillians and SPU loves it too," Coyle said.
Videos of each skit will be posted on YouTube and available for everyone.