The Seattle Pacific University women's basketball team celebrated Senior Day, on Saturday, while also grabbing the 67-60 win over Alaska Fairbanks.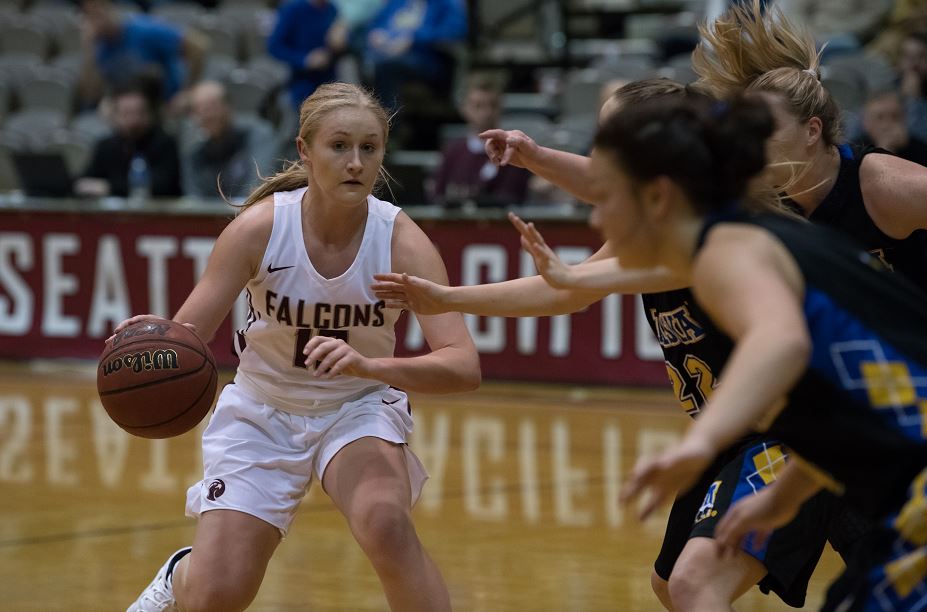 Junior Madi Hingston who stepped up and scored a career high 17 points to lead the Falcons to  the win against AFU. Hingston also had some help from the seniors, as every senior who played in the game scored at least one bucket.
"It is almost as emotional for coaches as it is for players," said head coach Mike Simonson about senior day. "When kids succeed and have grown up under your watch, you are beyond proud. I am extremely happy for Riley, Carly, Jaylee, Cici and Jane."
The offense was hard to come by for both teams in the beginning of the game, with the Nanooks only making four of their 19 shots in the first quarter. The Falcons didn't fare much better, going five of 17 in the quarter, but held a 13-9 lead, thanks to forward Cici West's eight points and a 7-0 first quarter run.
The Falcons continued to try and expand the lead, going on a 7-2 run to make their advantage 10 points, but the Nanooks came back with a 9-2 run of their own to cut the gap to 27-24. It was at about that point that Hingston began to take over. From the end of the second quarter to the middle of the third, she scored 15 of the Falcons next 20 points, opening up a 49-39 Falcon lead.
The Nanooks were always in the game, but whenever the Falcons needed to make a stop or hit a clutch shot, they did it. The Nanooks got the deficit down to six points with a 7-2 run with 5:47 to go, but the Falcons fought back with an 8-2 run. With a 9-point lead and 36 seconds to go in the game, the seniors got to walk off the Royal Brougham court one last time, victorious.
"I felt extremely blessed," said senior Jane Grisley, who sat out of the game and most of the season due to injury. "Our teammates and coaches did an amazing job of honoring us and it was a fun day to reflect on the last four years with some of my best friends!"
"As a coach, you want to win and have the seniors have a great night. To get the win and have each senior contribute on the floor, it is a real blessing. I have been honored to coach this group and see them grow. They have represented our University well and have been huge in developing our team's culture," said Simonson.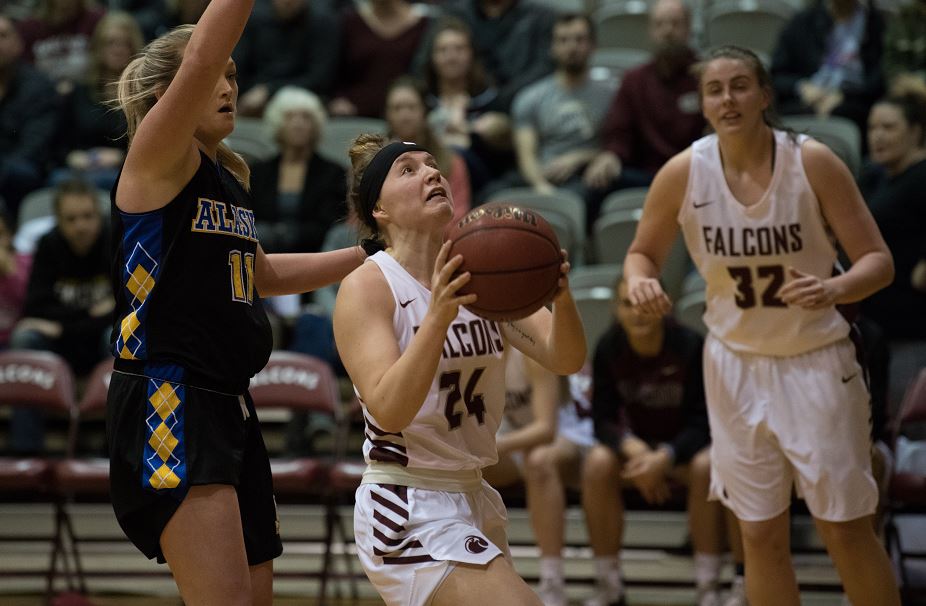 All of the seniors contributed to the win in different ways. Cici West achieved her ninth game with both double digit points and rebounds, with 14 points and 11 rebounds.
"The senior day experience was awesome! We have so many people that have invested in our experience at SPU and it was great to see people in our community come and celebrate with us." West said.
Center Carly Rataushk had six points and seven rebounds. Guards Riley Evans and Jaylee Albert didn't have the best of shooting nights, but Albert led the team with five assists and Evans hit a clutch three to put the game away for good.
"Senior Day was awesome and very surreal. I thought it was so far away and all of a sudden it was here. It went by so quickly, I wish I could've slowed it all down," said Evans
The Falcons also got some inspiration from the underclassmen, with Hingston's 17 points and three assists. Fellow junior guard Jade Skidmore scored 10 points, and so did sophomore Hailee Bennett.
Part of the Nanooks downfall was their inability to make 3-pointers, only making five out of the 24 they attempted in the game. Guards Brittany Richards and Sabrina Ungaro made five 3s and combined for 19 points, while forward Ashlie Blackburn led the team with 16 points off the bench, and guard Kylie Wallace had 12 points and seven rebounds. Forward Marian Wamsley also contributed seven points and 11 rebounds.
The win was one that the Falcons needed, especially after falling to conference leaders Alaska Anchorage 68-53 on Thursday. The Seawolves jumped out to a 15-4 first quarter lead, and never looked back, pushing their lead to 40-13 before the first half ended, when the Falcons began to make a comeback.
Hingston and guard Kaprice Boston had 10 points apiece. Hingston also added four rebounds and three assists, and Boston grabbed six rebounds. Skidmore had eight points, three rebounds and three assists.
The Seawolves were led by guard Sydni Stallworth with 12 points, followed by guard Yazmeen Goo's 11 points and three assists off the bench, and guard Kyan McNair had 10 points.
That loss makes things a bit harder for the Falcons to get into the GNAC tournament. They now sit tied in seventh place with Montana State Billings, with a conference record of seven wins and 11 losses.
Concordia University and Western Washington University are tied for fifth place, with nine wins and nine losses. If either one of those teams win one of their next two games, they are into the tournament.
If the Falcons want to make it in, they have to win both of their games next week, and get some help from other teams. Their next game will be against Western Oregon University on Thursday, and then they will face Concordia University Saturday, in a game that could have huge playoff implications.