The Seattle Pacific University men's and women's track teams had one last chance on Saturday for individuals to qualify for the Indoor Track National Championships, and senior Kate Lilly made the most of it, achieving a personal best in the mile, finishing the race in 4:52.21.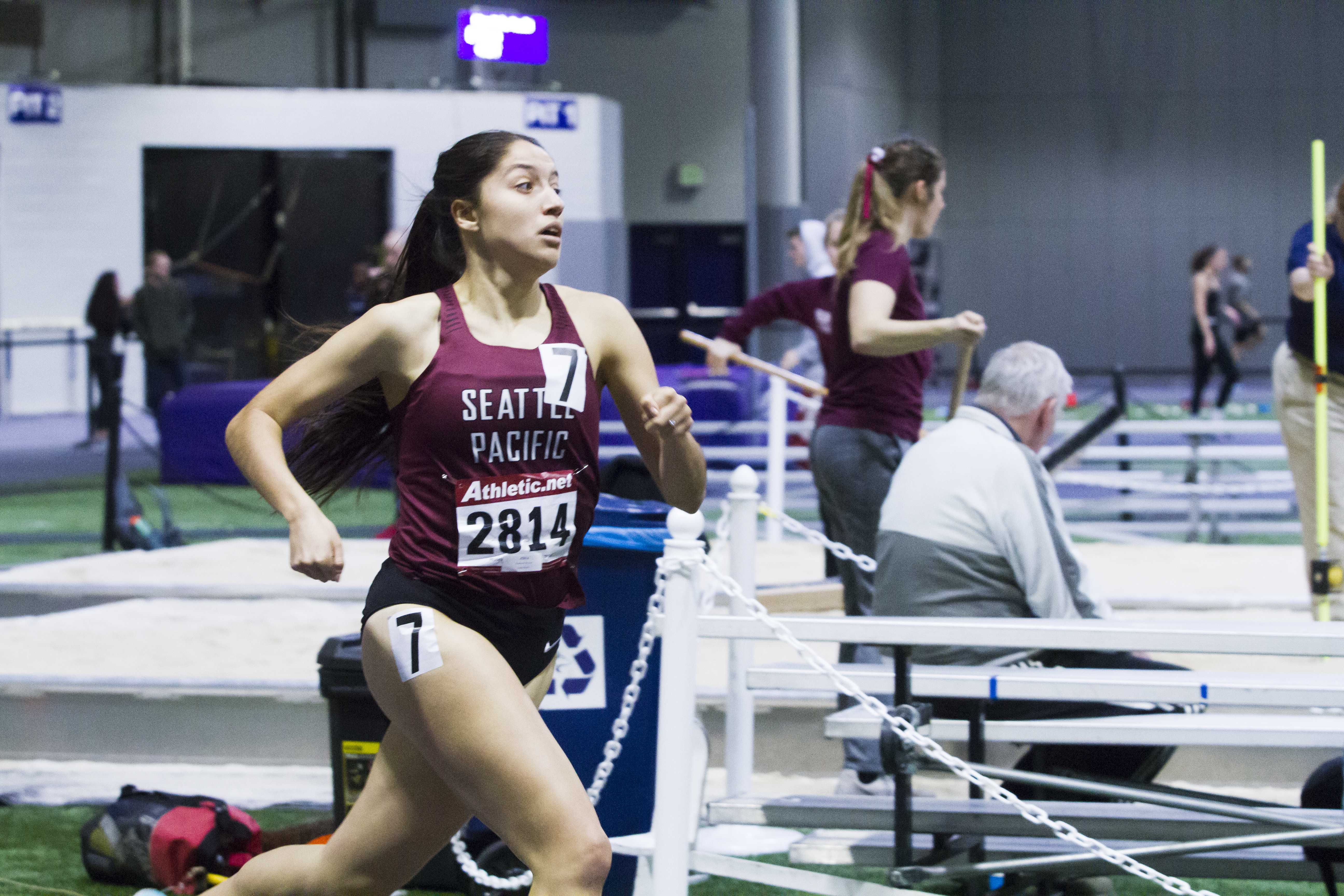 "I loved how we competed on Saturday, and the athletes earned their success," said assistant coach Chris Reed. "Nearly every athlete was able to go out there and achieve personal bests. It was a fun day from that standpoint."
Lilly's previous personal best was 4:56.96, achieved during her first year on the team. The time she achieved on Saturday was 15th best in the nation, which put her in a good position to qualify for the championships in Pittsburg, Kansas.
The top 16 in the nation qualify for each event, but the NCAA sometimes sends more athletes, depending on the strength of the times. The official list of all qualifiers will be released on Feb. 27.
Someone who will definitely be on that list will be Scout Cai, as the score she posted in the Heptathlon last weekend is third in the nation. Cai also posted her best height of the year in the pole vault this weekend, clearing a height of 12 feet and 8.25 inches. This puts her in a tie for 11th place in the nation in the event. Cai is also close to qualifying for the high jump, tied for 20th place in the nation with a mark of 5 feet and 6.5 inches.
Also looking like she will be heading to Kansas is first-year Peace Igbonagwam, as she is ranked sixth in the nation in the long jump, with the mark of 19 feet and 7.5 inches that she achieved in the GNAC championships last weekend.
Coach Reed said of Igbonagwam, "She has been jumping very well lately and, as we saw at the GNAC Indoor Championship, Peace is someone who thrives in high-stakes environments."
Renick Meyer couldn't improve on her jump of 18 feet and 11.75 inches from the GNAC championships, and is tied for 21st in the nation in the event.
It doesn't look like any of the Falcon men will be headed to Kansas next week, but something of note did happen for them this weekend.
First-year Colby Otero ran a personal best time in the 3000m, and broke a school record along the way. His time of 8:29.42 broke Will Harrison's record that has stood since 2013.
The Indoor Track Championships will take place on March 8 and 9, but in the meantime, the men's and women's track teams will open up their outdoor season this next Saturday at the Ed Boitano Invitational at the University of Puget Sound. All the athletes will be trying to improve their times and distances as the season progresses.