DII Falcons surpass DI squad
The photo above features Itzia San Roman fighting through her injury to perform on the uneven bars. Jacky Chen | The Falcon
The Division II Falcons found a way to top the Division I Hornets by scoring just two-tenths of a point higher.
Seattle Pacific University hosted Sacramento State in a one-on-one matchup last Friday, Feb. 22. SPU was able to post a score of 192.375, which was just slightly lower than their previous week's scoring, but still enough to push them above SSU, whose final score was an incredibly close 192.175. This is the first time the Falcons have been able to win over Sacramento State during a regular season meet.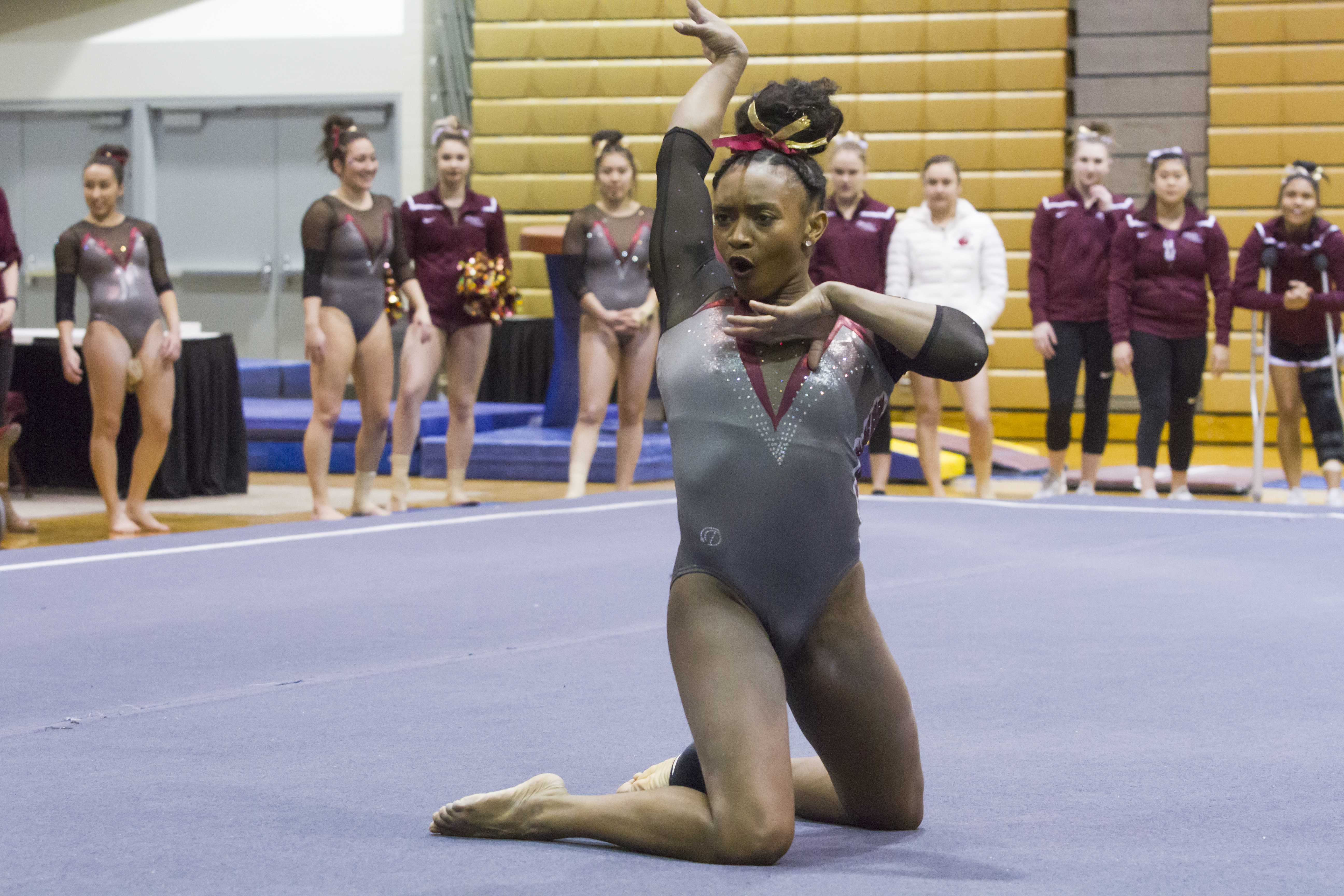 "I think the thing to note is that we just beat a D1 school that we haven't come close to in many years," Falcons head coach Laurel Tindall said. "It also really does show that every tenth matters.  We won the meet by .2, which is a very small margin, but reinforces the importance of every cast handstand, every landing etc."
"A [win] always feels great, especially when it is another team in our conference!  We are really proud of the team for stepping up in adversity," said Falcons assistant coach Sarah Jean Marshall.
The Falcons were able to conquer their opponents with several gymnasts scoring big.
Darian Burns was able to tie her career high with a first-place score of 9.825 on the vault. Burns also owned the winning floor exercise score of 9.850 and all-around total score of 38.600.
McKenna Zimmerman was No. 3 in the all-around totals with 37.725, while Lena Wirth was able to earn the No. 2 spot and her season high on balance beam with 9.775.
Marshall said the team and coaches were happy to earn the victory but need to be focused on mastering routines and scoring higher and higher.  "Our goal is still to push our score above 193. We will be back in the gym this week working to clean up our routines and continue to focus on consistency and confidence as we compete," she said.
Tindall emphasized higher scores as well. "Yes, I was disappointed in another 192 as I know that we are so capable of scoring a 193 if we can put everything together," she said.
As the team moves closer and closer towards the conference and national meets an emphasis to score higher and perfect routines grows in the gymnastics coaching staff.
While the team was not able to gather a 193 and up performance last Friday, earning that score may be more achievable in future meets, as senior Itzia San Roman was out this previous meet.
Roman fell prey to an ankle injury during warmups right before facing off against Sacramento State. Several Falcons had to fill in for her routines, and although none made top three in any routine, the SPU score was not extremely impacted.
"We had some tough scoring on vault on Friday so that made it a bit difficult to raise our score and Itzia tweaked her ankle in warmup and was only able to compete on bars," Tindall said.
Marshall then added, "We've had a few really unfortunate injuries in the past couple weeks, but this team has not let it hold them back. We made line-up changes just before the competition and the athletes stepped in and stepped up."